At scamorno.com, we stick to strict standards of a review process. We may receive compensation from the companies mentioned in this post.
[insert_php] $id = $_GET["id"]; [/insert_php]
Udimi Solo Ads REVIEW
Summary
Udimi Solo Ads is a new breakthrough solo ads platform
Read 100% Free Udimi Solo Ads Review by Scamorno Team
Details
FULL REVIEW OF Udimi Solo Ads
Udimi is the brand of a network of solo ad vendors that protect its buyers by ensuring that a vendor provides quality clicks to your website as you ordered them. If you decide to use any other solo ad platform, then be careful of click fraud.
This happens when a vendor sends robots, or what is known on the internet as "bots", to your website. This can be wasteful to you as no real person actually sees your offer. Robots do not convert into sales. They do nothing for you and this is what causes internet businesses to lose money. Therefore if you decide to use any other solo ad provider be sure to research carefully the solo ad provider and ensure that they are not fraudulent.
How Much Does It Cost To Use Udimi Solo Ads?
Solo ad vendors charge per click so you can always research the sellers and look at their charges before you decide to purchase.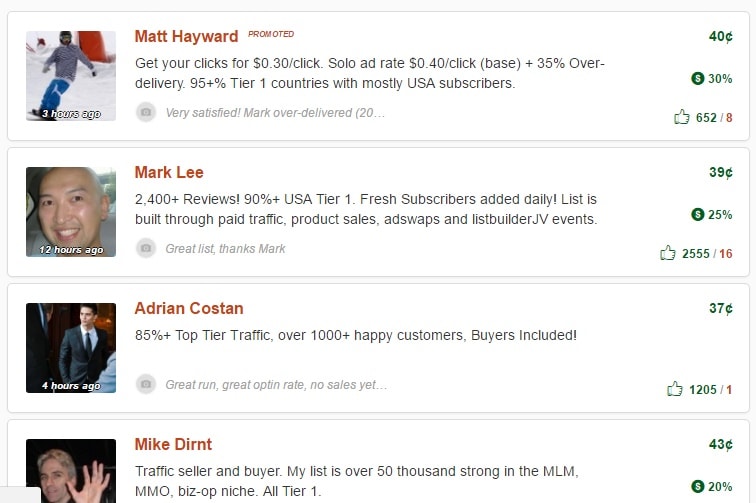 In the above image, on the right side you will see the statistics for the particular vendor in green and red. Solo ad vendors understand that their business is competitive so they will try to match their price per click to the quality of their leads.
Depending on what your budget is feel free to try out each vendor depending on their price. In the image posted above, the cost per click is represented by the cents symbol. So Matt Hayward charges buyers 40 cents per click. Therefore if you wanted 100 people to check out your website you will be charged $40.00.
Also pay attention to the sellers' sales ratio. The higher the ratio the better probability you have at making sales on a first solo ad traffic run. In the above image again, the sales ratio is portrayed by the "S" inside the green circle and the corresponding percentage.
What Sales Ratio Vendors Should You Use On Udimi Solo Ads?
Whenever we are using Udimi we use vendors that have more than 50% sales ratio. Therefore we will have a 50% chance that we will get a sale during a solo ad run.
However you must be aware that sellers do not guarantee sales, they do however guarantee clicks to your website. In internet marketing leads usually come before sales so as long as you get that, you will understand the importance of building a list and having a good relationship with your list by following up with them.
Udimi Testimonials
Another way to consider a potential vendor for your traffic is to look at the testimonials.
That is what we love about Udimi. It really protects its buyers so you can always assess the vendor's performance and credibility using the reviews that they get.
If you click on a seller's name you will see a testimonial that reads like this: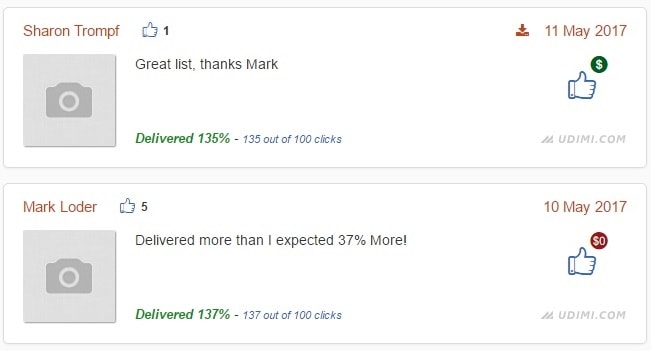 So you will see that this seller received good feedback. They got two thumbs up although the first customer got sales while the second customer got no sales.
Review Verdict: Udimi Solo Ads is a legitimate product that works
Consumer Fraud Alert Regarding Udimi Solo Ads
The success of Udimi Solo Ads has given rise to many frauds who try to sell their own fake platforms in its name. This is a big issue as many customers have lost their money in joining from such fake sites. It is advised that customers should be really careful when they are joining and should do some research before they join from any website. To spot these, watch out and avoid sites that claim to write about Udimi Solo Ads, yet the write-up is completely garbage as they are created by software and spammed all over the internet. It is always better to avoid joining from any other site other than the official one. Therefore, it is highly advised that consumers do careful research, or only join from the site from the official website here – http://UdimiOfficial.com/ (link opens in a new window). The official website that they have includes the legitimate service.
Conclusion about Udimi Solo Ads
Udimi Solo Ads is a great platform to build your list because you are building your list with targeted traffic. Consistently doing so allows you to boost your subscribers numbers which is the machine that drives sales.
Signing up for Udimi service is free. We would recommend creating a free account, looking around and then when you are ready to give it a go, buy your first solo ad order by considering the guidelines that I provided above.
Udimi Solo Ads Preview: