[insert_php] $id = $_GET["id"]; [/insert_php]
OVI Flag Trader REVIEW
Summary
Created by professional stocks trader Guy Cohen
OVI Flag Trader is a time-tested stocks scanning and trade recommendations service
Read 100% Free OVI Flag Trader Review by Scamorno Team
Details
FULL REVIEW OF OVI Flag Trader
OVI Flag trader is the proven trading system that trader Guy Cohen has been using to impart his skills to his students for many years now. With no human interference, no compounding and no leverage, this system earned net profits of over 208% (that's triple the account), and these results include the time of the 2008-2009 crash (the biggest since 1929).
Guy Cohen is the creator of OVI Flag-Trader, The Private Traders Club, , The OVI Index and OptionEasy.  He is also the author of the best selling trading books "The Bible of Options Strategies", "Options Made Easy" and "Volatile Markets Made Easy" (FT Prentice Hall). Guy specializes in stock market trading and he has created numerous online applications for options and stocks traders, with his hallmark being his user-friendly approach and liberal use of illustrations.
Review Verdict: OVI Flag Trader is a legitimate product that works
What Exactly Are The Patterns That OVI Flag Trader Trades?
This is what Guy specialize in, flag patterns.  Breakouts from areas of support and resistance.  O'Neill's CANSLIM system of stock selection requires very strong fundamentals behind a stock before it is even considered for the chart pattern I've just mentioned.
Meaning that any breakout would be underpinned by a solid financial performance of the company.  In this way – a bit like Buffett – O'Neill would have long periods of relative inactivity while the financial markets are "churning" before then getting busy as the patterns emerged.
This is one of the keys of trading success, which is patience, and that is what Guy advocates.  Most of what Guy's traders do it waiting.  Like a predator you simply have to wait until the right confluence of factors converges, and then … WHAM … then you pull the trigger!
Example of a trade from OVI Flag Trader that we profited from:
Take Goldman Sachs (GS), a large position we took back in 2011:
As you can see from the chart, the OVI was negative from around April 14 whereupon the stock hovered right around and above $150.  During this time all you had to do was place a short trade contingent on $150 being broken to the downside … which was what happened on May 9, after which the stock fell precipitously.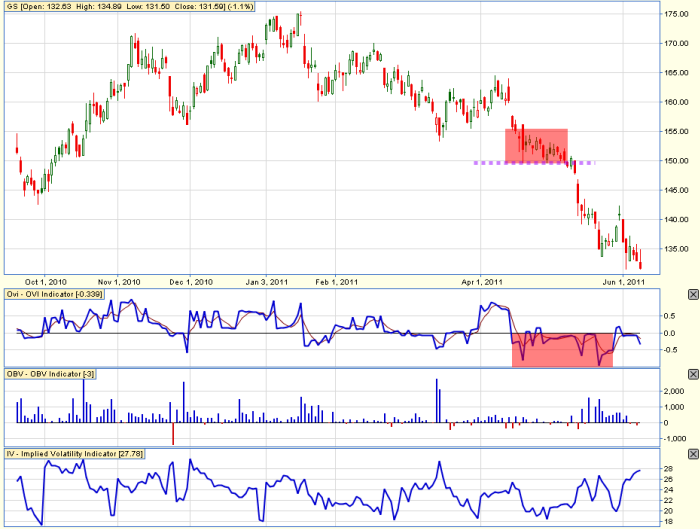 We could also see with GS that there was negative sentiment from the options transaction data we were looking at.  So we had a wonderful combination of a consolidation pattern forming around $150 and we could see the big players in the options markets were positioning themselves bearishly.
How Does The OVI Flag Trader Analyze The Markets?
The OVI measures options transaction data and plots it as a line that bobs up and down between 1 and -1.  When the line is positive we'd be more inclined to observe bullish patterns and when it's negative we'd focus the more bearish patterns.  Guy teaches only to use it in combination with a chart pattern such as a consolidation or flag.
Review Verdict: OVI Flag Trader is a legitimate product that works
Consumer Alert Regarding OVI Flag Trader
The success of OVI Flag Trader has given rise to many frauds who try to sell their own fake indicators in its name. This is a big issue as many customers have lost their money in buying from such fake sites. It is advised that customers should be really careful when they are purchasing and should do some research before they buy from any website. To spot these, watch out and avoid sites that claim to write about OVI Flag Trader, yet the write-up is completely garbage and unreadable as they are created by software and spammed all over the internet, or offering fake discounts. It is always better to avoid buying from any other site other than the official one. Therefore, it is highly advised that consumers do careful research, or only buy from the site from the official website here – http://OviFlagTraderOfficial.com/ (link opens in a new window). The official website that they have includes the legitimate product.
Conclusion about OVI Flag Trader
We have found the OVI to very often be a leading indicator.  This puts it at a huge advantage to the lagging indicators such as Stochastics, MACD, moving averages and RSI which are all smoothed by way of averaging several days of data.  This creates their lagging effect, which means often these indicators will signify something only after the market has made its move. Used correctly in conjunction with chart patterns OVI methods demonstrate that the options markets will often be ahead of the stock market.  And when you are armed with that information, along with the right trading plan, OVI Flag Traders gives any investor or trader a massive advantage in the market.
OVI Flag Trader Preview: (to pause video, simply tap/click on it)