[insert_php] $id = $_GET["id"]; [/insert_php]
Neuroflash AI Writer DEMO
Neuroflash AI Writer REVIEW
Summary
Neuroflash AI Writer is a new breakthrough AI-powered content generation software
Read 100% Free Neuroflash AI Writer REVIEW by Scamorno Team
Details
FULL REVIEW OF Neuroflash AI Writer
Are you currently considering if you should start using the Neuroflash AI Writer software and is this truly one of the fastest, simplest and most time-saving AI content generation tool that can create beautiful texts seamlessly for its users? Neuroflash, Europe's No. 1 AI Content Suite, upholds a motto centered around AI, while placing the human element at its core. Its AI-powered marketing copy creation software empowers marketing teams to generate short- and long-form copy in a faster, smarter, and more intuitive manner.
By incorporating AI-backed performance prediction, the Neuroflash AI Writer supports human creativity, leading to improved performance and ultimately fostering greater confidence among copywriters. With over 400,000 users, Neuroflash has established itself as a trusted solution in the European market for great content creation.
Visit Neuroflash AI Writer Website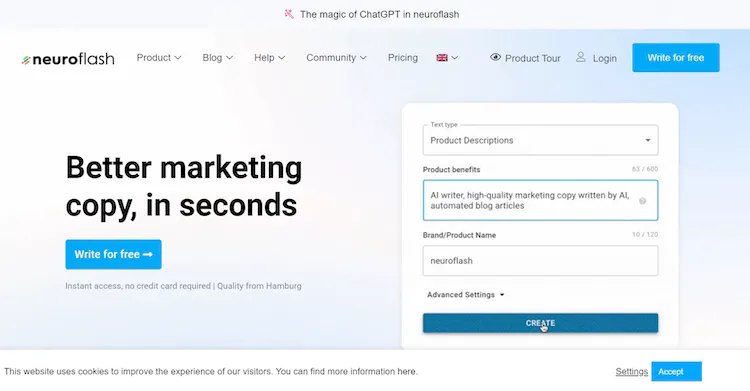 What Are The Neuroflash Pricing Plans?
In contrast to the majority of AI writing software tools, Neuroflash AI Writer stands out by offering a free-forever plan that allows users to access its features without any requirement for a credit card. The free plan includes a monthly limit of 2,000 words and provides access to all features except the AI Tester and a grammar correction tool.
For those seeking a more comprehensive experience, Neuroflash AI Writer offers a Premium plan priced at €199 per month. With the Premium plan, users enjoy unlimited words, AI images, and a host of other features. This plan is ideal for individuals or teams regularly creating fresh content for multiple blogs, eliminating the need to constantly monitor credit usage.
If you have a sizable team consisting of more than five users, you can also schedule a personal demo to explore Neuroflash's capabilities in-depth and tailor it to your specific requirements.
What Are Neuroflash AI Writer's Main Features And Benefits?
Neuroflash AI Writer allows users to generate various types of marketing copy for websites, social media posts, and more. With its foundation in Big Data and neuropsychology, it offers unique functionalities such as an emotions detector, compelling offer generator, metaphor generator, and even a customer service response matching tool.
AI Image Generation Capabilities
Neuroflash AI Writer includes AI image generation capabilities. While still in beta, users can input any text, and Neuroflash will create corresponding AI-generated images. The image quality is impressive, and this feature holds great potential for enhancing visual content creation.
Simple-To-Use User Interface
This software provides a clean and distraction-free environment, allowing users to concentrate on their writing. The interface presents a blank screen with the selected tool, and users can easily switch between tools without navigating to another page using the dropdown menu or the tool selector icon.
Neuroflash AI Writer provides an AI Tester feature, allowing users to analyze their generated copy. Similar to data-driven copywriting tools like Anyword, the AI Tester provides insights through the Flash Score and AI-generated suggestions. This helps users refine and improve the quality of their copy by selecting the most effective options for their content.
Creates Compelling Offers
One of the notable strengths of Neuroflash AI Writer is its ability to create compelling offers. By inputting a sentence about the customer's needs and the benefits they will receive, Neuroflash generates persuasive offer copy. The resulting paragraphs exhibit conversational tones that effectively capture the audience's attention and can be utilised on landing pages and in email campaigns.
In summary, Neuroflash offers a comprehensive set of features to support marketers in their copywriting efforts, combining AI capabilities with user-friendly interfaces and valuable analysis tools.
Review Verdict: Neuroflash AI Writer is a legitimate tool that works
Visit Neuroflash AI Writer Website
Consumer Alert Regarding Neuroflash AI Writer 
The success of Neuroflash AI Writer has given rise to many frauds who try to sell their own fake tools in its name. This is a big issue as many customers have lost their money in buying from such fake sites. It is advised that customers should be really careful when they are purchasing and should do some research before they buy from any website. To spot these, watch out and avoid sites that claim to write about Neuroflash AI Writer , yet the write-up is completely garbage as they are created by software and spammed all over the internet. It is always better to avoid buying from any other site other than the official one. Therefore, it is highly advised that consumers do careful research, or only buy from the site from the official website here – http://app.Neuro-flash.com/AIWriterOfficial (link opens in a new window). The official website that they have includes the legitimate tool.
Conclusion about Neuroflash AI Writer 
Neuroflash AI Writer Preview: