[insert_php] $id = $_GET["id"]; [/insert_php]
Make.com DEMO
Make.com REVIEW
Make.com Preview: (to pause video, simply tap/click on it)

Summary
Formerly known as Intergromat
Make.com is an established visual workflows creation, building and automation platform
Read 100% Free Make.com Review by Scamorno Team
Details
FULL REVIEW OF Make.com
Would you like to know more about the Make.com automation platform and is this really the most intuitive and powerful limitless workflows building tool to seamlessly create and connect apps with one another in just a few clicks? The Make.com platform is a platform that is designed for businesses of all sizes to design, create, build and automate anything ranging from workflows and tasks to systems and apps seamlessly with just a few clicks of the mouse. It allows users to build as through they had developer skills without actually requiring them to know how to write any code. Users can also set their scenarios to run instantly or as per schedule that they set and then let the scenarios run in real-time whenever needed.
Make.com comes with a powerful no-code toolkit that allows users to tap into advanced features such as aggregations, iterations, filtering, conditional logic, execution history log, error handling and more to build complex workflows. After designing their workflows, users can also integrate an infinite number of apps all within a single workflow.
Review Verdict: Make.com is a legitimate platform that works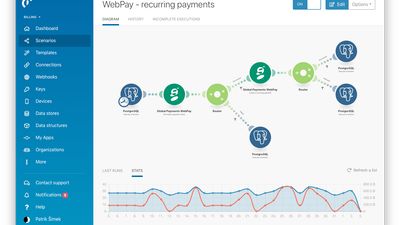 Is The Make.com Platform Any Good?
Besides the powerful building tools that Make.com provides that we have been very impressed with using ever since we first joined, another great aspect about Make.com is the truly amazing support that users are able to get. Users get access to forums and get fast and high-quality replies to queries whenever they get stuck with anything. It has truly helped us save an amazing amount of time on our workflows creation and management processes while also ensuring that we get the best support whenever we need it.
Besides the ease of use, it also seamlessly integrates with many apps like Xero, SQL and Gmail. We were initially very skeptical about using Make.com because of our perceived steep learning curve that will be involved, and we are sure that many new users who are thinking about joining will have the same worries. In the end, the great tutorials and training provided meant that there was really not much of a learning curve and that we were able to fully benefit from Make.com from the very first signup day.
What Are The Main Features And Benefits Of Make.com?
Lets users connect typically unavailable apps through their API to allow users to get data from any source on the internet through GET requests
Ability to build many automation functions and connect apps to work together, sharing data and automating many processes. For example, a user can send new order notifications from their e-commerce store platform like Shopify instantly to Slack while adding shipping information onto a Google Sheet for fulfilment
Drag-and-drop builder tool makes tasks automation processes easy
Capable of integrating with any API while also having a rich library of the most commonly used apps
and much more!
Review Verdict: Make.com is a legitimate platform that works
Consumer Alert Regarding Make.com
The success of Make.com has given rise to many frauds who try to sell their own fake platforms in its name. This is a big issue as `many customers have lost their money in joining from such fake sites. It is advised that customers should be really careful when they are subscribing and should do some research before they join any website. To spot these, watch out and avoid sites that claim to write about Make.com, yet the writeup is completely garbage as they are created by software and spammed all over the internet. It is always better to avoid buying from any other website other than the official one. Therefore, it is highly advised that consumers do careful research, or only buy join the site from the official website here – http://Make.com/Official (link opens in a new window). The official website that they have includes the legitimate platform.
Conclusion about Make.com
In summary, Make.com is truly a legitimate and powerful way for anyone to instantly be able to login and start integrating all the apps that they use to start automating work processes without requiring any coding knowledge. Therefore, if you too would like to start using one of the most powerful ways around today for building everything from tasks and workflows to apps and systems easily using a powerful and intuitive visual platform, then we highly recommend you to learn more about the Make.com platform at the button link below!