[insert_php] $id = $_GET["id"]; [/insert_php]&r=gen
Elai.io DEMO
Elai.io REVIEW
Summary
Elai.io is a new breakthrough AI-powered video creation from text software
Read 100% Free Elai.io REVIEW by Scamorno Team
Details
FULL REVIEW OF Elai.io
Are you interested to find out more about the Elai.io AI-powered videos creation tool and does it really produce amazing quality human-presenter style videos simply from just receiving text inputs from its users? Elai.io stands as a pioneering platform in the realm of text-to-video conversion, enabling users to effortlessly transform written text into captivating video content through the use of authentic human narrators.
When it comes to adding soundtracks to our videos, we prefer a quick and easy approach. Recording a live person's voice can be time-consuming and often requires multiple takes. This is why we find Elai.io's avatars to be a fantastic option. Not only do they possess excellent pronunciation, but they also blur the line between a professional announcer and an artificial intelligence, making it difficult to distinguish between the two.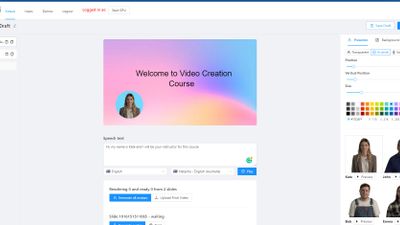 Who Is The Elai.io Software Built For?
Elai.io showcases an exceptional user-friendly interface, ensuring accessibility for individuals of all technical backgrounds, despite the initial complexity associated with utilizing AI for video creation. Whether one possesses expertise in video production or is a novice in the field, the platform provides an array of tools and resources to unlock creativity and produce visually stunning videos.
A notable feature that stood out was the extensive collection of video styles and templates. Irrespective of the niche or industry, the platform offers a diverse range of templates that aptly captures the essence of its users' input content. Whether the goal is to create a polished corporate video, a captivating social media advertisement, or an animated explainer video, Elai.io reliably offers an extensive selection to cater to those needs and beyond.
What Are The Main Features And Benefits Of Elai.io?
No requirement for actor hiring:
Select from a wide range of 35+ diverse avatars to serve as presenters in your videos.
Cost-effective video production:
Generate videos effortlessly using just a web browser and an internet connection, with pricing starting as low as $23/month.
Effortlessly create multilingual videos at no extra cost:
Simplify the process of targeting different markets with Elai's auto-translation and closed caption features, eliminating the need for time-consuming localization procedures.
Faceless video creation:
Establish a YouTube channel without the need to appear on-screen yourself.
User-friendly experience:
Elai.io offers an intuitive and straightforward interface, ensuring a smooth learning curve even for users without prior experience.
Consumer Alert Regarding Elai.io
The success of Elai.io has given rise to many frauds who try to sell their own fake software in its name. This is a big issue as many customers have lost their money in joining from such fake sites. It is advised that customers should be really careful when they are joining and should do some research before they join from any website. To spot these, watch out and avoid sites that claim to write about Elai.io, yet the write-up is completely garbage and unreadable as they are created by software and spammed all over the internet. It is always better to avoid joining from any other site other than the official one. Therefore, it is highly advised that consumers do careful research, or only join from the site from the official website here – http://Elai.io/Official (link opens in a new window). The official website that they have includes the legitimate software.
Elai.io Preview: (to pause video, simply tap/click on it)