[insert_php] $id = $_GET["id"]; [/insert_php]&r=gen
Clipping Magic Remove Background DEMO
Clipping Magic REVIEW
Summary
Clipping Magic Remove Background is an established and reputable background-removing, web-based image editing tool
Read 100% Free Clipping Magic REVIEW by Scamorno Team
Details
FULL REVIEW OF Clipping Magic Remove Background
Are you currently thinking about using the Clipping Magic Remove Background tool and does it really have the proper algorithms to automatically remove backgrounds from images after taking input about foreground and background indications from its users? With this background remover tool, users can simply create transparent images in only a few minutes of time after tracing their subjects. This completely browser-based tool is built to expertly remove image backgrounds and is today one of the most established and effective tools for carrying out this exact task.
The Clipping Magic Remove Background tool is founded by Cedar Lake Ventures, a company that is reputable for building tools and providing information to make their users' personal life and work much simpler without any technical expertise. With this tool, users can customise their images according to their preferred background colors, color alterations, shadow effects and reflections. This streamlined and refined software delivers professional image quality results yet requires no complicated technical knowledge from its users to use.
Visit Clipping Magic Remove Background Website
What Are The Main Features And Benefits Of The Clipping Magic Remove Background Tool?
Auto-clips product photos from large catalogs
Is powered by an AI-engine that continually improves after every photo edited and becomes even more capable of handling future photos
Produces professional and uniform shots for its users after every edit
Generates consistent image cropping and configures users' default settings for effortless color correction
Capable of operating out hair, gradients and some noise that are sufficiently different from distinct and clean backgrounds
Features a Scalpel Tool that lets users get their clip just right in low-contrast image areas
and much more!
Is Clipping Magic Remove Background Tool Right For You?
While there are many background removal software tools on the market that we have tried, we have found Clipping Magic to truly stand out from its competitors. Besides the powerful background removal tools that it provides, it also has some of the most AI-powered capabilities that continually learns from new photos edited. After training on millions and millions of real-world images rather than artificial lab data, Clipping Magic Remove Background tool is consistently able to remove backgrounds effectively for its users with the highest success rates even after the first try.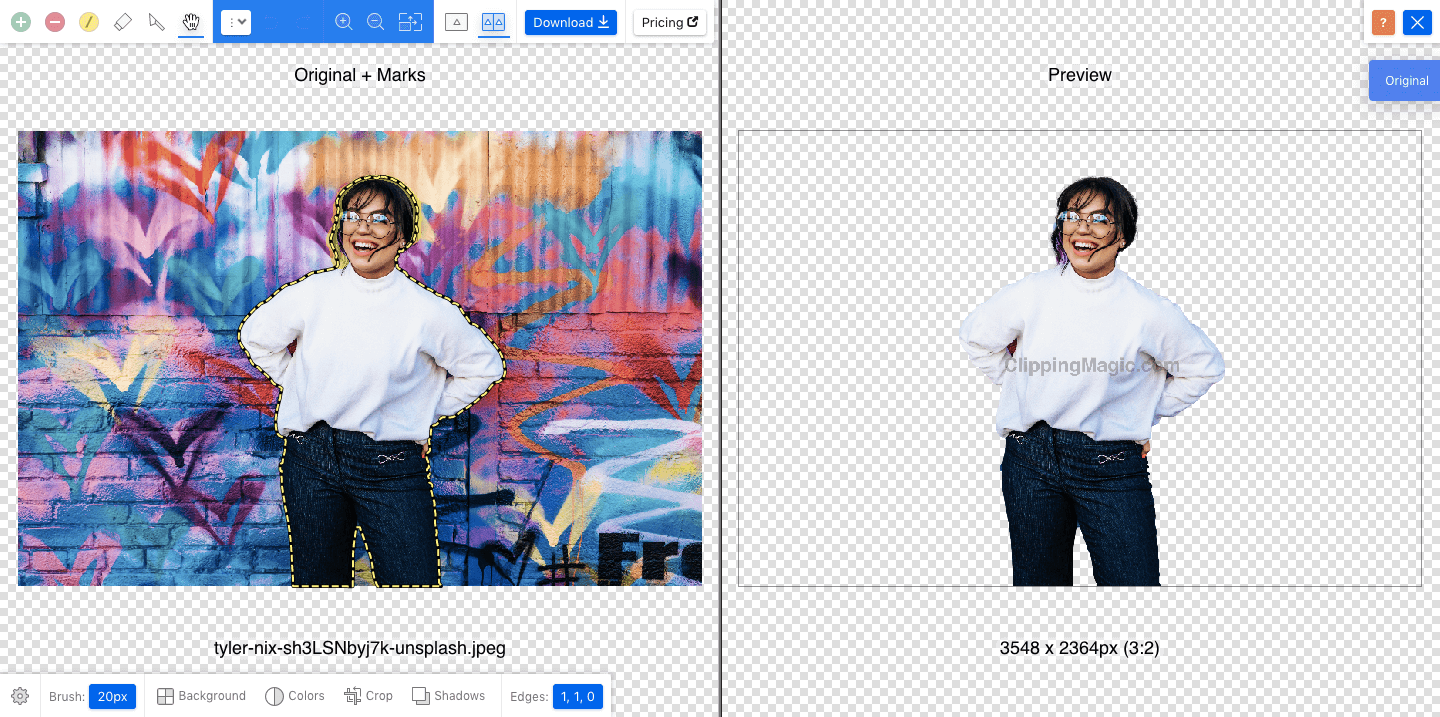 Consumer Alert Regarding Clipping Magic Remove Background
The success of Clipping Magic Remove Background has given rise to many frauds who try to sell their own fake tools in its name. This is a big issue as many customers have lost their money in joining from such fake sites. It is advised that customers should be really careful when they are joining and should do some research before they join from any website. To spot these, watch out and avoid sites that claim to write about Clipping Magic Remove Background, yet the write-up is completely garbage and unreadable as they are created by software and spammed all over the internet. It is always better to avoid joining from any other site other than the official one. Therefore, it is highly advised that consumers do careful research, or only join from the site from the official website here – http://ClippingMagic.com/RemoveBackgroundOfficial (link opens in a new window). The official website that they have includes the legitimate tool.
Clipping Magic Remove Background Preview: (to pause video, simply tap/click on it)