[insert_php] $id = $_GET["id"]; [/insert_php
Tailor Brands Logo Maker DEMO
Tailor Brands Logo Maker REVIEWS
Summary
Tailor Brands Logo Maker is an established AI-based logo generator
Read 100% Free Tailor Brands Logo Maker REVIEW by Scamorno Team
Details
FULL REVIEW OF Tailor Brands Logo Maker
Are you looking to learn more about the Tailor Brands Logo Maker and is their logo-making software really worth using and are they any different or better than all the other logo-makers out there? As you probably already know by know, the logo of a brand can convey a lot about a business in consumers' minds, and the better and clearer it looks, the better the benefits are going to be of the logo for the business. Tailor Brands started out with the mission of being one of the best logo-builders online that would allow any ordinary person to build extraordinary brands online simply through the design of their logos.
Given their success and the quality of logos that users have been able to create with it, we would have to say that Tailor Brands Logo Maker has definitely been living up to its lofty expectations. With this logo-maker, anyone can start building great logos for themselves or their companies without having to be a large multi-national corporation like Nike or McDonald's. With a professional-looking logo, studies have shown that consumers are more likely to buy your products, use your services or simply visit your website over your competition's. Tailor Brands Logo Maker makes use of machine-learning tools that intuitive knows the type of design and elements most suitable in a logo that will help the business yield the best results.
Visit Tailor Brands Logo Maker Website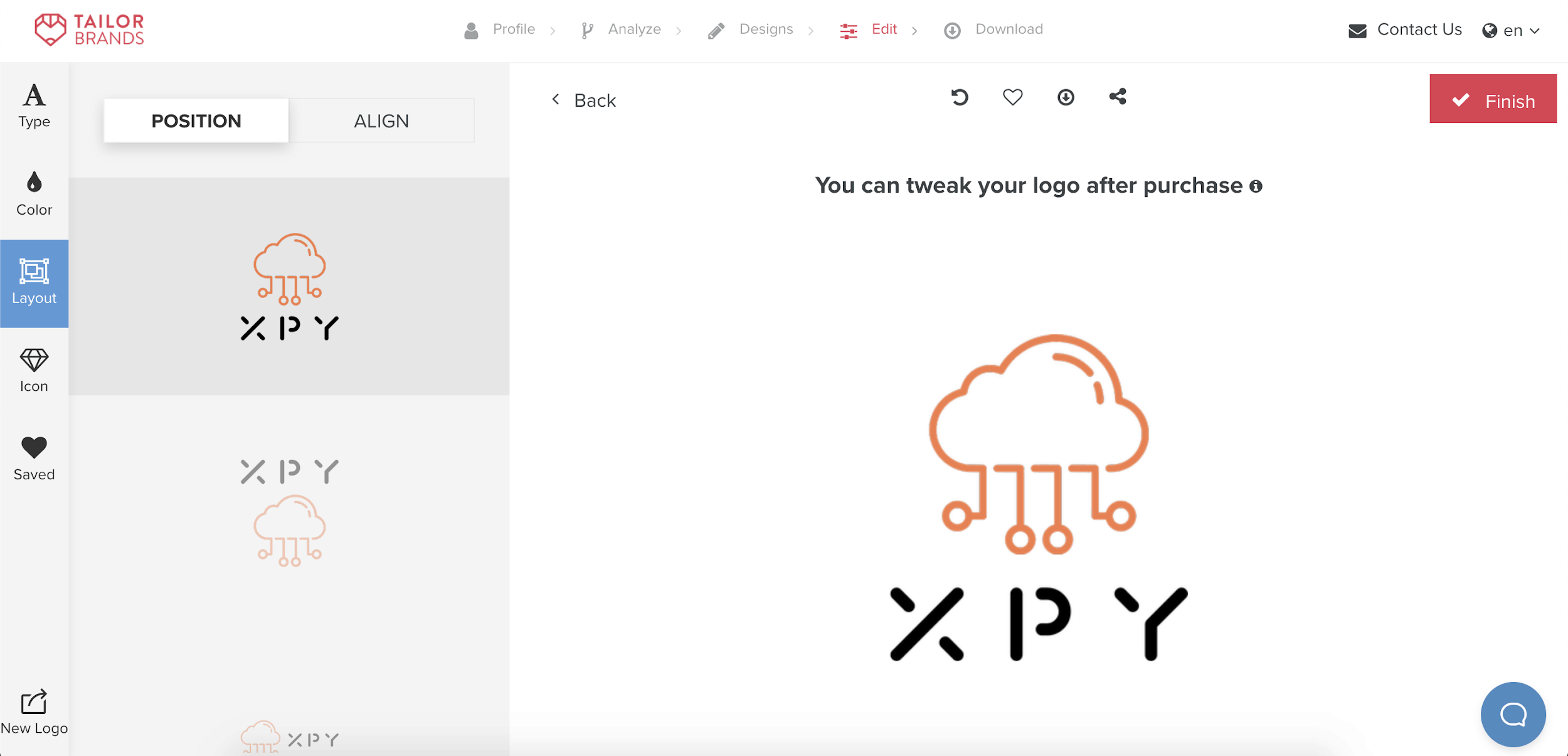 Which Tools Can You Expect To Be Using When You Join Tailor Brands Logo Maker?
Though most of the tools are built-in house, there are several that are in fact 3rd party tools that have been customised by Tailor Brands. Regardless, we have found all of them to be of great quality and none of them have ever failed whenever we had to use them. Their website builder is built on top of the Duda website builder, one of the most reputable online website builders around today. Their social media tools are also 3rd party tools that have been well-integrated into Tailor Brands Logo Maker. Bundled together, all of the tools available in Tailor Brands Logo Maker really complement one another really well, making this tool one of the best overall logo-maker software that we have used.
Is Tailor Brands Logo Maker Right For You?
In essence, this software does its main job, logo-creation, really well and also several others such as making websites and business cards. It is very suitable for small business owners and can work really quickly too, allowing us to create high-quality logos in just a minute or so. There are no pre-made logos or hidden costs when using their services, which is a welcome experience considering many other logo-makers that simply kept asking for more and more for seemingly basic requirements. Therefore, if you too would like to start creating your own professional logos with one of the best logo-makers online today, then we highly recommend you to learn more about Tailor Brands Logo Maker at the button link below!
Review Verdict: Tailor Brands Logo Maker is a legitimate service that works
Visit Tailor Brands Logo Maker  Website

Consumer Alert Regarding Tailor Brands Logo Maker 
The success of Tailor Brands Logo Maker has given rise to many frauds who try to sell their own fake services in its name. This is a big issue as many customers have lost their money in buying from such fake sites. It is advised that customers should be really careful when they are purchasing and should do some research before they buy from any website. To spot these, watch out and avoid sites that claim to write about Tailor Brands Logo Maker , yet the write-up is completely garbage as they are created by software and spammed all over the internet. It is always better to avoid buying from any other site other than the official one. Therefore, it is highly advised that consumers do careful research, or only buy from the site from the official website here – http://TailorBrands.com/LogoMakerOfficial (link opens in a new window). The official website that they have includes the legitimate service.
Conclusion about Tailor Brands Logo Maker 
Tailor Brands Logo Maker Preview: