[insert_php] $id = $_GET["id"]; [/insert_php]
Tugan AI DEMO
Tugan AI REVIEWS
Summary
Tugan AI is a new breakthrough AI-powered fast and content generation tool
Read 100% Free Tugan AI REVIEW by Scamorno Team
Details
FULL REVIEW OF Tugan AI
Would you like to find out more about the Tugan AI content generation tool and is this really one of the best AI-powered customized content generation tools available today? Tugan AI offers both a limited free and a premium version. In the premium version, the user gains access to 250,000 credits each month, a substantial allocation that can yield approximately 600 pieces of content. The Tugan AI app also has a great capacity to convert YouTube video links into newsletters, Twitter threads, or posts, deeming it highly impressive.
Compared to ChatGPT, Tugan AIi far surpasses expectations for content writers and copywriters. Its user-friendliness is a highlighted feature, with the user explaining that all that's required is to provide a web link, newsletter link, or any site and specify the desired output, whether it be a newsletter or a thread. Tugan AI then processes the provided link, producing the desired content. Furthermore, the app offers the convenience of adjusting various parameters through configured menus, eliminating the need for repetitive prompts. This enhanced level of customization is very unique and powerful, marking a significant improvement over previous tools like ChatGPT.
How Does Tugan AI Work To Generate Great Content?
Tugan AI employs cutting-edge AI technology to swiftly produce written content. Users can input an article or a YouTube video URL, after which the platform rapidly dissects the content and extracts essential information. It subsequently utilizes its linguistic expertise to compose text that adheres to the specified style and tone. Tugan AI is a versatile solution catering to various content needs, be it for newsletters, tweets, threads, LinkedIn posts, or any other marketing materials.
What Is The Tugan AI Pricing For Its Premium Version?
The pricing for Tugan AI Premium stands at $37 per month, with an additional free tier available for users to explore before making a purchase. We consistently advise potential customers to consider a trial run before committing to the service.
Furthermore, Tugan AI is tailored to accommodate enterprise-level usage. For those seeking elevated usage limits, enhanced security options, and access to other enterprise-grade features, reaching out to the Tugan AI team is recommended.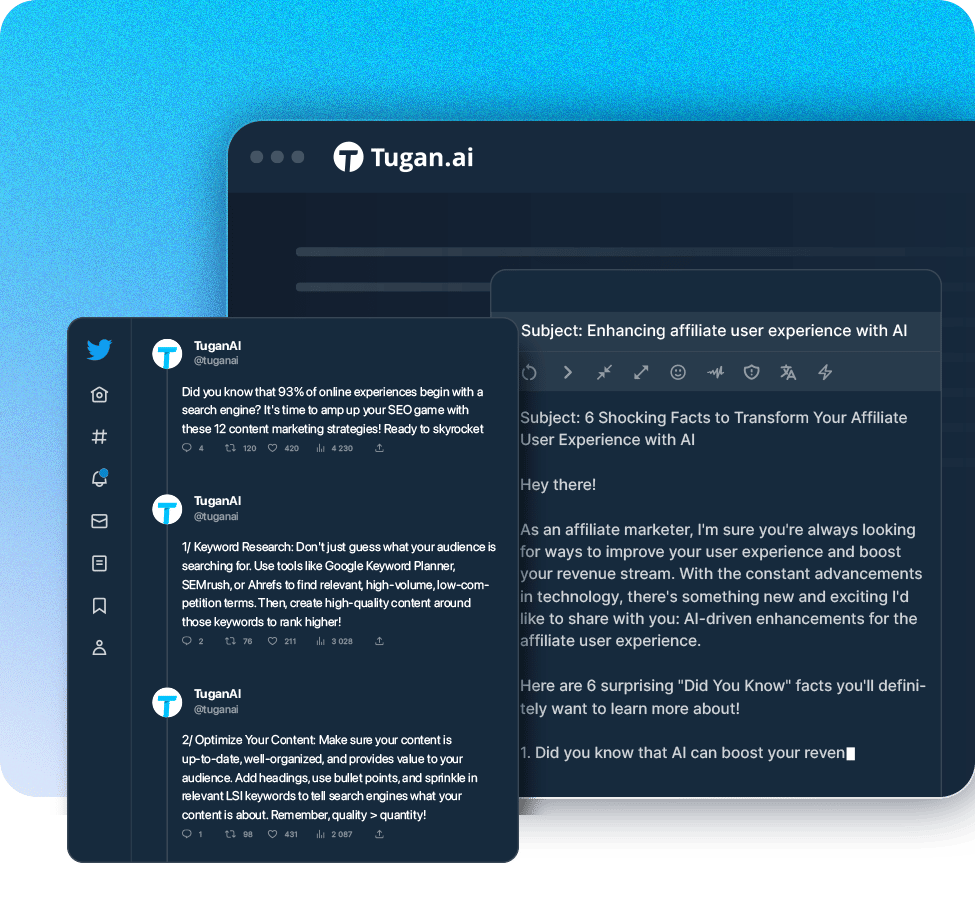 Review Verdict: Tugan AI is a legitimate app that works
Consumer Alert Regarding Tugan AI
The success of Tugan AI has given rise to many frauds who try to sell their own fake apps in its name. This is a big issue as many customers have lost their money in buying from such fake sites. It is advised that customers should be really careful when they are purchasing and should do some research before they buy from any website. To spot these, watch out and avoid sites that claim to write about Tugan AI, yet the write-up is completely garbage as they are created by software and spammed all over the internet. It is always better to avoid buying from any other site other than the official one. Therefore, it is highly advised that consumers do careful research, or only buy from the site from the official website here – http://Tugan.AI/Official (link opens in a new window). The official website that they have includes the legitimate app.
Conclusion about Tugan AI
In summary, Tugan AI is a content-generating tool that successfully achieves its key goals such as time efficiency, higher conversion rates, enhanced profitability, and the cultivation of stronger reader relationships. In the swiftly evolving realm of digital communication, Tugan AI proves to be an invaluable resource. With technology continually shaping the landscape of marketing and content creation, it emerges as an essential tool for individuals striving to conduct more effective and efficient social and email marketing campaigns. Therefore, if you too would like to start turning any content into unique and great content that you can use in your own marketing, then we highly recommend you to learn more about Tugan AI at the button link below!
Tugan AI Preview: