[insert_php] $id = $_GET["id"]; [/insert_php]
Freshsales CRM DEMO
Freshsales CRM REVIEW
Summary
Freshsales CRM is an established and reputable full-fledged sales force automation solution
Read 100% Free Freshsales CRM REVIEW by Scamorno Team
Details
FULL REVIEW OF Freshsales CRM
Are you looking for more information about the Freshsales CRM solution and is this really one of the best, simple and lightweight CRM solutions that fulfils the needs of small and medium sized businesses? This CRM solution aligns with the standard approach for catering to small to midsize businesses (SMBs), combining affordability with a user-friendly interface. It also extends its capabilities to integrate seamlessly with various types of business software, offering a more comprehensive feature set, particularly beneficial for companies well-versed in Customer Relationship Management (CRM). If your required software aligns with Freshsales' compatibility list and you're aiming to start your CRM operations quickly, this package warrants serious consideration.
Freshsales, as a brand, has diligently pursued the goal of creating a unified platform where the CRM tool harmoniously integrates with other business solutions. They have continually expanded their repertoire of integrations, introducing workflow automation and sales intelligence features. Impressively, the software supports over 30 languages, accommodating even those that read from right to left, such as Hebrew and Arabic. Additionally, it facilitates transactions in multiple currencies, delivering flexibility to businesses. For those already invested in other Freshworks solutions like Freshcaller and Freshdesk, incorporating these with Freshsales CRM is a seamless process, offering a cohesive suite of tools for various business needs.
What Are The Main Features Of Freshsales CRM?
Freshsales CRM is characterized by its user-friendly design, a notable advantage for those who engage with it. The platform offers an intuitive interface that is both clean and straightforward, ensuring that its features and functions are easily accessible. This design makes it an excellent choice for individuals new to CRM systems, as it is conducive to a swift implementation process by sales and marketing teams. In fact, it boasts a commendable implementation time of approximately 18 days, a stark contrast to other CRM systems that can take up to 72 days to set up.
Full-Fledged CRM Capabilities
Freshsales CRM presents a wealth of functionalities designed to empower businesses. The software facilitates the retrieval of critical information related to contacts, accounts, and deals, and it excels in transforming website visitors into leads while providing insights for more effective prospect engagement. Furthermore, Freshsales CRM offers robust reporting and analytics capabilities, making it possible to track deals and predict revenue. Users can produce comprehensive reports regarding their sales activities, tracking key metrics like conversion rates and deal stages. Real-time insights on performance provide businesses with the tools to make data-driven decisions, enhance productivity, and optimize their sales processes.
Another appealing aspect of Freshsales CRM is its extensive customization options. These features enable users to adapt their CRM to align perfectly with their business requirements. The system is malleable enough to cater to the unique needs of individual users, a particularly valuable trait for sizable sales teams. Users can introduce and track custom fields, establish workflows, and define specific rules for data management and entry. This level of customization extends to creating activities tailored to the sales process, monitoring prospects throughout their purchasing journey, generating custom fields, groups, modules, and even presenting data in the user's preferred language.
Freshsales CRM offers a comprehensive suite of integrations with popular third-party tools and platforms. This serves to centralize all customer information in one convenient location. The integrations span various functionalities, including email synchronization with Gmail, Outlook, and other email clients, along with integration capabilities for leading marketing automation software like HubSpot and Marketo. Furthermore, users can effortlessly scale their operations by integrating Freshsales CRM with the Freshworks platform, which encompasses connections to services such as Slack, Gong, Google Workspace, and many others. These integrations facilitate the seamless connection of Freshsales with other tools and systems already in use, ensuring a harmonious and efficient workflow.
Workflows and Automations
The platform excels in providing a range of workflow and automation features geared toward enhancing the efficiency of sales processes within businesses. Users can leverage these tools to establish customized and automated workflows triggered by specific conditions. For instance, workflows can be configured to automatically dispatch follow-up emails to leads, update lead statuses, reassign leads to different team members, and issue alerts to the team when specific events transpire.
Additionally, Freshsales CRM extends advanced automation capabilities through its Freshworks automation platform. This allows users to craft intricate workflows that seamlessly integrate multiple applications and systems. Such sophisticated workflows are capable of automatically updating customer profiles in various systems upon purchase, effectively reducing errors and streamlining the sales process.
What Are The 3 Freshsales Pricing Plans?
Growth – Starting at $15.00
Ideal for small and fast-growing teams.
Features include contact, account, and deal management.
Offers pipeline management and built-in phone & email services.
Classic forms and 2-way email sync are included.
Integrates with Gmail and Outlook via plugins.
Provides access to the marketplace.
Predictive contact scoring to enhance sales efforts.
Live chat and Facebook Messenger for communication.
Pro – $39.00
Suited for larger teams and considered the best value.
Includes all the features from the Growth plan.
Adds advanced custom fields and supports 10 multiple sales pipelines.
Offers advanced lead scoring and reporting capabilities.
Custom roles for team management.
Smart forms and event tracking for lead generation.
Includes a lead generation bot and an answer bot.
Features territory management for sales distribution.
Enterprise – $69.00
Designed for enterprises with advanced needs.
Encompasses all the features of the Pro plan.
Offers 25 sales sequences per user.
Provides 100 intelligent workflows.
Includes audit logs for monitoring and accountability.
Auto-profile enrichment for enhanced customer data.
Sales forecasting and AI forecasting insights.
A dedicated account manager for personalized support.
Queue callback functionality and field-level permissions.
Supports up to 10 custom modules for customization and scalability.
Review Verdict: Freshsales CRM is a legitimate business CRM solution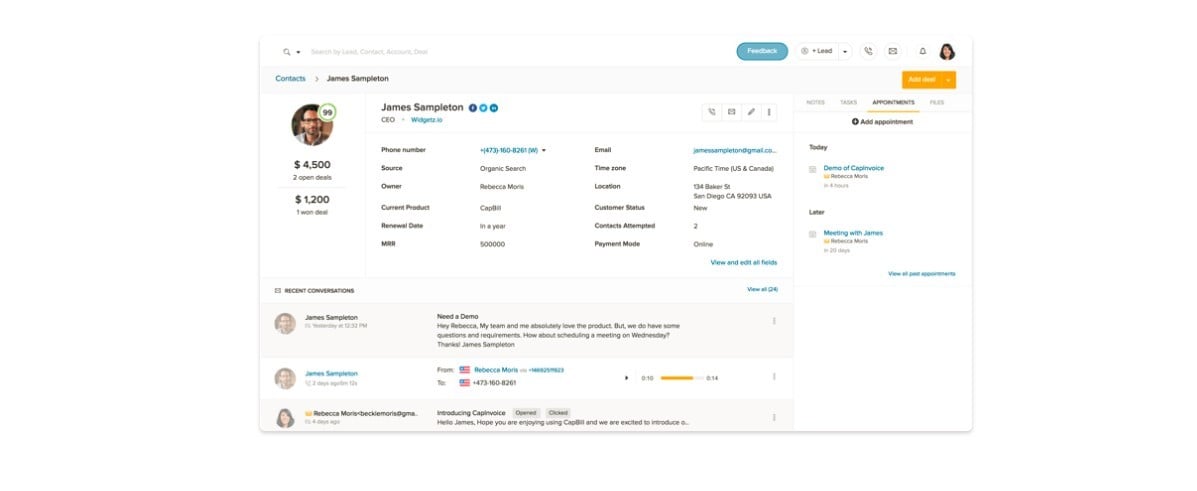 Consumer Alert Regarding Freshsales CRM
The success of Freshsales CRM has given rise to many frauds who try to sell their own fake solutions in its name. This is a big issue as many customers have lost their money in joining from such fake sites. It is advised that customers should be really careful when they are purchasing and should do some research before they join from any website. To spot these, watch out and avoid sites that claim to write about Freshsales CRM, yet the write-up is completely garbage and unreadable as they are created by software and spammed all over the internet. It is always better to avoid joining from any other site other than the official one. Therefore, it is highly advised that consumers do careful research, or only join from the site from the official website here – http://Freshworks.com/FreshsalesCRMOfficial (link opens in a new window). The official website that they have includes the legitimate solution.
Conclusion about Freshsales CRM
Read more "Freshsales CRM Review – Is Freshsales CRM Legit?"