[insert_php] $id = $_GET["id"]; [/insert_php]&r=gen
Privacy Pros Billfodl DEMO
Privacy Pros Billfodl REVIEW
Summary
Privacy Pros Billfodl is a new breakthrough Bitcoin (BTC) or hardware Wallet seed phrases backup device
Read 100% Free Privacy Pros Billfodl REVIEW by Scamorno Team
Details
FULL REVIEW OF Privacy Pros Billfodl
Would you like to find out more about the Privacy Pros Billfodl device and is this really one of the best ways to secure the 12 or 24 word seed phrase backup that you created while setting up your cryptocurrency hardware wallet? With so many different wallets, crypto-coins and crypto investing and trading strategies, things can easily get overwhelming if one does not have the right way to safeguard their funds. While the world of crypto is exciting, there is nothing worse than losing your crypto due to hacks or losing access to your crypto through losing access to your own seed words. Unlike keeping your money in the bank, those who choose to keep their funds in cryptocurrencies and store them in digital wallets are in full control of their finances.
While this is mostly an advantage since we now have total control of our money, it also means that we are now 100% responsible for their safety and security, a concept that is foreign for almost everyone. It is only through using the Privacy Pros Billfodl device and learning why it was made that one can truly appreciate how useful it is for enhancing the security of cryptocurrency wallets. If you are like us and you have always felt that leaving your funds protected only through a couple of seed words is insufficient, then you will definitely want to learn more about Privacy Pros Billfodl.
Visit Privacy Pros Billfodl Website
Why Should You Use Privacy Pros Billfodl?
The usual process of setting up a hardware cryptocurrency wallet is that during setup, the user has to write down the backup seed words and then store them safely. Every hardware wallet owner goes through this process and are taught the importance of safeguarding these words. However, do you also know that many hardware wallet owners lose access to their funds forever due to losing their seed words?
This is why safeguarding seed words with a solution like Privacy Pros Billfodl is absolutely essential if you are keeping any significant amounts of money in crypto secured by your hardware wallet. Words are usually written on pieces of paper, which is exactly where most hardwire wallet owners write their seed phrases on, yet paper is hardly a durable material and will definitely not give you a piece of mind. With Privacy Pros Billfodl, users can now restore their cryptocurrencies if they lose their hardware wallet by keeping their seed phrases on this device and restoring their wallets from there. It is made from highly durable material that is resistant to all the elements like water, fire, electric shocks and hackers.
Your seed phrases are the only saving grace of recovering access to the cryptocurrencies you have secured by your hardware wallet should you ever lose your device or your PIN. As such, we hope that we have emphasised enough about how important it is to safeguard and backup these phrases in durable material such as Privacy Pros Billfodl. This is by FAR the best way to ensure that your recovery seed is safe and cannot be destroyed. In this new era of "Becoming your own bank", that also comes with a new responsibility of being a banker that put safeguards in place to protect you in the event of an unforeseen event.  We recommend that anyone that has more cryptocurrency than they can afford to lose, should have one of these. After all, if you lose your hardware wallet AND you lose this, you are completely out of luck and will have no one to blame but yourself.
What Are The Main Highlights Of Privacy Pros Billfodl?
Ledgendary Customer Support
All Top Hardware Wallet Brands
Accept Crypto Payments
Built By Hodlers For Hodlers
125% Money Back Guarantee
Review Verdict: Privacy Pros Billfodl is a legitimate product that works
Visit Privacy Pros Billfodl Website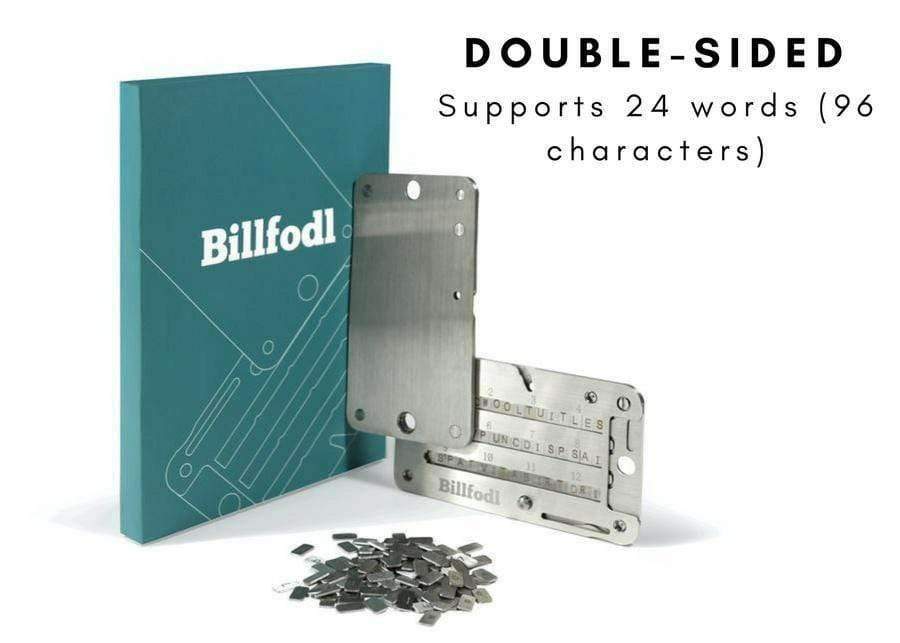 Consumer Alert Regarding Privacy Pros Billfodl
The success of Privacy Pros Billfodl has given rise to many frauds who try to sell their own fake products in its name. This is a big issue as many customers have lost their money in joining from such fake sites. It is advised that customers should be really careful when they are joining and should do some research before they join from any website. To spot these, watch out and avoid sites that claim to write about Privacy Pros Billfodl, yet the write-up is completely garbage and unreadable as they are created by software and spammed all over the internet. It is always better to avoid joining from any other site other than the official one. Therefore, it is highly advised that consumers do careful research, or only join from the site from the official website here – http://shop.PrivacyPros.io/BillfodlOfficial (link opens in a new window). The official website that they have includes the legitimate product.
Privacy Pros Billfodl Preview: (to pause video, simply tap/click on it)