[insert_php] $id = $_GET["id"]; [/insert_php]
Midas Investments REVIEW
Summary
Midas Investments Crypto is a new breakthrough custodial crypto investment platform
Read 100% Free Midas Investments REVIEW by Scamorno Team
Details
FULL REVIEW OF Midas Investments Crypto
Are you interested in finding out more about the Midas Investments Crypto platform and is this really a high compounding interest platform that you can trust to earn interest on your BTC, ETH, USDT and other crypto assets? Midas Investments Crypto is an interest-generating platform for crypto assets that highly respects clients' privacy while making sure it operates legally. Throughout our experiences using the platform, we have found that the team behind the platform also place heavy emphasis on innovation and are constantly adding new features regularly according to users' feedback.
Midas Investments Crypto is a platform that is user-friendly and suitable even for complete newcomers to the Decentralised Finance (DeFi) space and love passive income. They also do not request for more information than is necessary from its users while providing a fuss-free and seamless user experience on their platform. As a relatively newcomer in the crypto staking space. Midas Investments Crypto is quickly building up its reputation as one of the more user-friendly and reliable staking platforms with great customers support.
Visit Midas Investments Crypto Website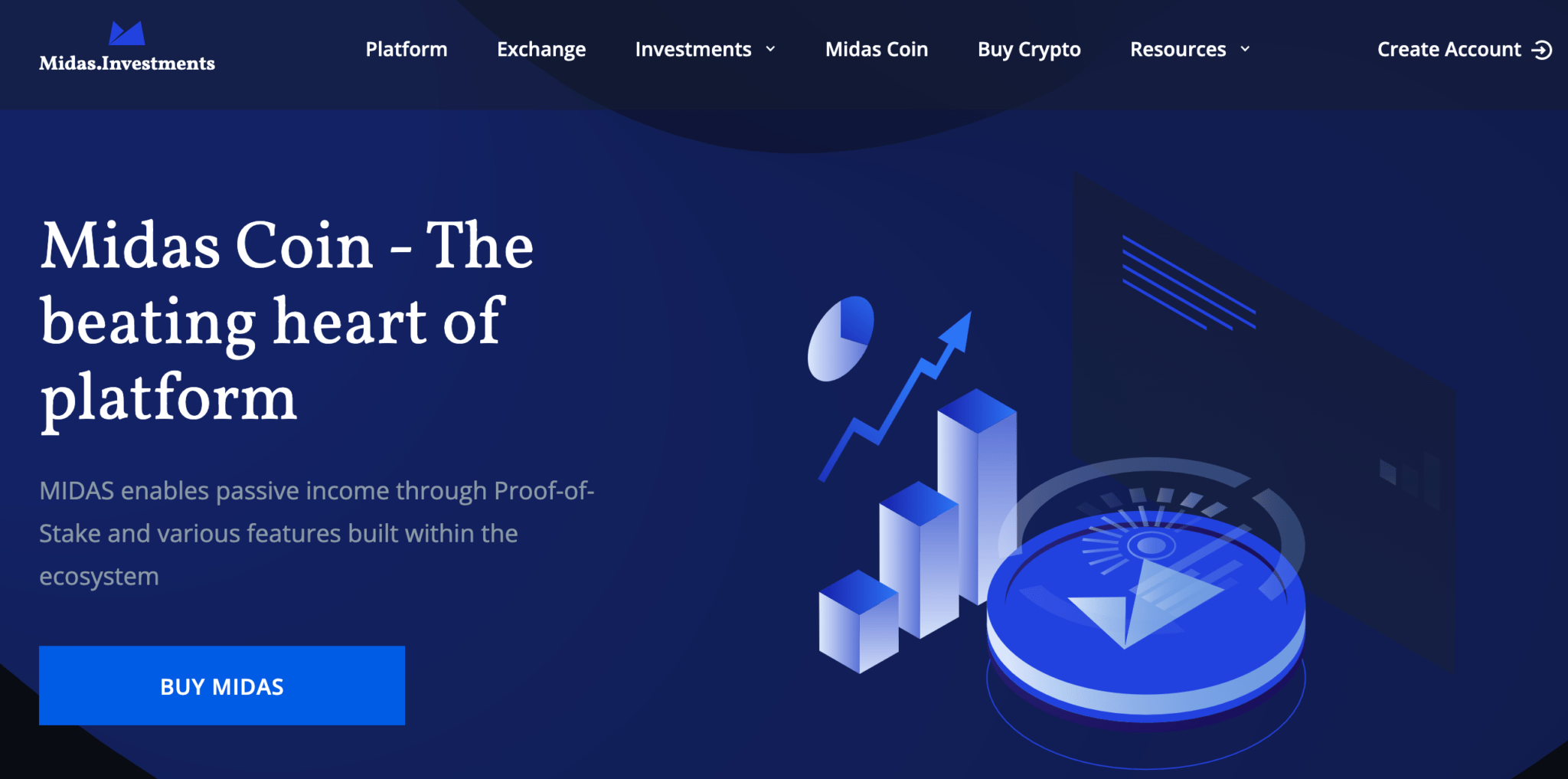 How Exactly Do You Use Midas Investments Crypto?
This platform provides users with a range of strategies to choose from that best suits their staking needs and goals. With so many investment options to choose from, users are able to pick the dividends earning plan that best suits their investment time-horizons. To get started, all users have to do is choose their preferred cryptocurrency to earn a yield from and then let Mida's algorithms to do the work behind the scenes.
The earnings rates for its most popular cryptocurrencies are:
Bitcoin (BTC) 17% APY
Ethereum (ETH) 23% APY
Tether (USDT) 19% APY
Avalanche (AVAX) 17% APY
USD Coin (USDC) 19% APY
Fantom (FTM) 17% APY
Cosmos (ATOM) 16% APY
Binance Coin (BNB) 17% APY
Chainlink (LINK) 12% APY
Litecoin (LTC) 11% APY
What Is Midas Investments Crypto's Stable YAP Product All About?
You may already have heard about Midas's Stable YAP Product that includes Bitcoin, Ethereum, MIDAS and Tether, but not sure what it is all about. Midas YAP stands for "Yield Automatic Portfolios" which is their longer-term investment strategy that pays out weekly BTC rewards. In this portfolio, the profit that is derived from increasing asset values are used for reinvestment into undervalued assets, and this allocation in the portfolio is automatically rebalanced every month. Users are able to buy the SYAP token which is backed by the listed assets and priced according to the values of the underlying assets in their respective markets.
Review Verdict: Midas Investments Crypto is a legitimate platform that works
Visit Midas Investments Crypto Website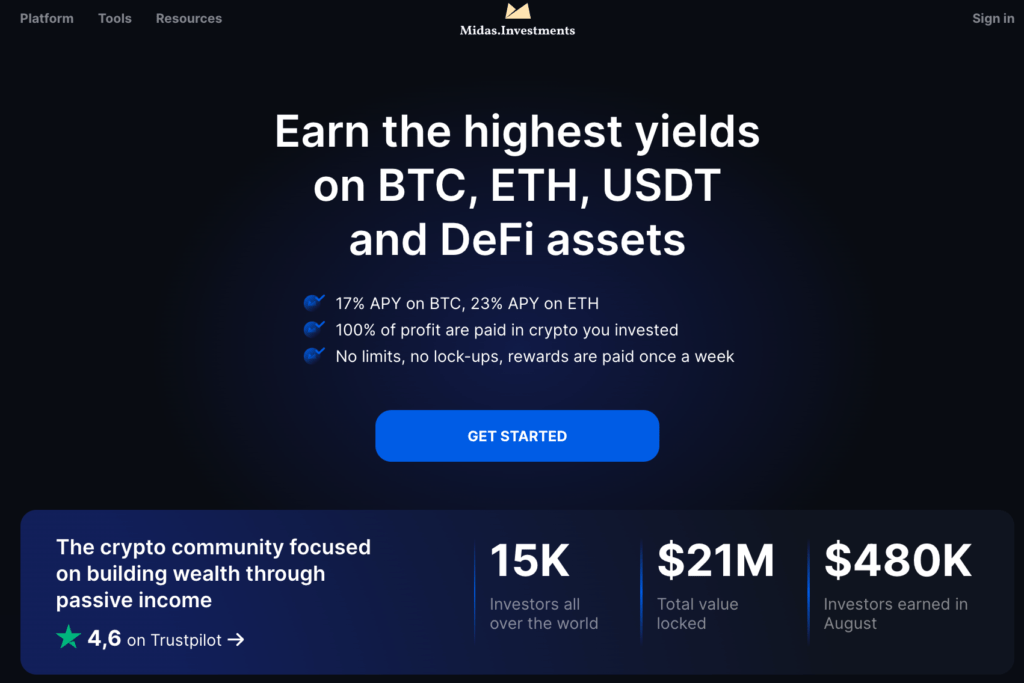 Consumer Alert Regarding Midas Investments Crypto
The success of Midas Investments Crypto has given rise to many frauds who try to sell their own fake websites in its name. This is a big issue as many customers have lost their money in buying from such fake sites. It is advised that customers should be really careful when they are purchasing and should do some research before they buy from any website. To spot these, watch out and avoid sites that claim to write about Midas Investments Crypto, yet the write-up is completely garbage as they are created by software and spammed all over the internet. It is always better to avoid buying from any other site other than the official one. Therefore, it is highly advised that consumers do careful research, or only buy from the site from the official website here – http://Midas.Investments/Crypto (link opens in a new window). The official website that they have includes the legitimate platform.
Conclusion about Midas Investments Crypto
In summary, this crypto staking platform has been operating for the past 3 years at the time of writing without any scam or lost funds reports. Therefore, if you too would like to join one of the most reliable and highest earning crypto staking platform around today, then we highly recommend you to learn more about Midas Investments Crypto at the button link below!
Midas Investments Crypto Preview: