[insert_php] $id = $_GET["id"]; [/insert_php]
LeadsLeap REVIEW
LeadsLeap Preview: (to pause video, simply tap/click on it)

Summary
LeadsLeap is a new breakthrough all-in-one advertising platform
Read 100% Free LeadsLeap REVIEW by Scamorno Team
Details
FULL REVIEW OF LeadsLeap
Are you thinking about using the LeadsLeap platform and does it credibility help users generate more leads and sign-ups consistently for their online business? LeadsLeap is an online platform that comes with many useful features, all of which are geared towards helping users advertise their websites and links. It has built up a strong reputation of being one of the best platforms for list-building and traffic/leads generation. Those who have looked to it to advertise their businesses and websites have reported much better results as compared to other leads-generation methods that they used in the past.
Review Verdict: LeadsLeap is a legitimate platform that works
What Are The Main LeadsLeap Tools?
LeapsLeap provides members with both free and premium tools, all of which are great value for money. Each of these tools have alternatives that are selling for hundreds of dollars that marketers are happy to pay for their uses.
Free LeadsLeap Tool #1 – All-in-one Popup Generator
This tool allows users to capture their visitors' attention quickly and get their contact details for future promotions. It allows for the creation of stunning opt-in popups and animated offers with customisation and tracking capabilities, all of which can be done in less than 5 minutes and no technical experience.
Free LeadsLeap Tool #2 – The Real Tracker
This tool is very useful for tracking clicks and is able to differentiate between bot clicks and real visitor clicks. As one of the most important tools of LeadsLeap, it also allows the creation of ad bar and rotators which are useful for optimising and making sure that you are showing the best ads to your visitors.
Free LeadsLeap Tool #3 – OTO List Builder
This is essentially like getting a free autoresponder email system that also comes with a One-Time-Offer system to generate instant cash from site visitors.
Free LeadsLeap Tool #4 – Cookie Generator
With this tool, users can increase their opt-in and engagement rates by choosing to show online specific and different pop-ups to different visitors.
What Is The LeadsLeap Pricing For Its Pro Version And What Are The Benefits?
The Pro version of LeadsLeap costs $27 per month and they will get the following benefits over the Free subscription:
Increase monthly clicks of 600-1,000 along with 10 PRO Ad slots
Larger and more than 60+ of traffic on the platform is directly towards Pro member links
No need to worry about running out of credits
Ability to encase credits that are unused
https://www.youtube.com/watch?v=ox1_ku0YFyA
Review Verdict: LeadsLeap is a legitimate platform that works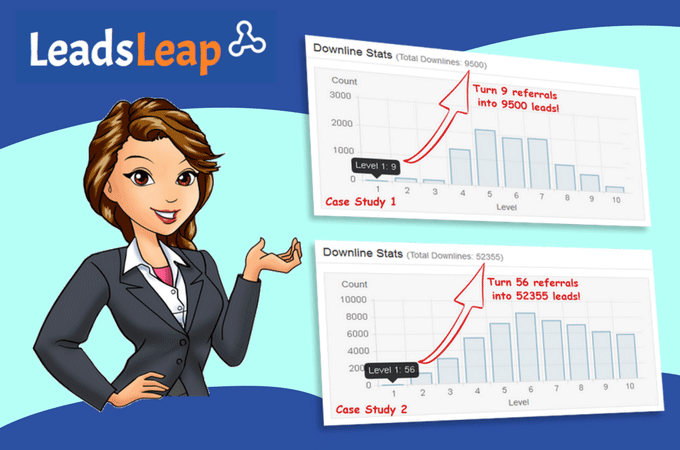 Consumer Alert Regarding LeadsLeap
The success of LeadsLeap has given rise to many frauds who try to sell their own fake platforms in its name. This is a big issue as many customers have lost their money in joining from such fake sites. It is advised that customers should be really careful when they are subscribing and should do some research before they join any website. To spot these, watch out and avoid sites that claim to write about LeadsLeap, yet the writeup is completely garbage as they are created by software and spammed all over the internet. It is always better to avoid buying from any other website other than the official one. Therefore, it is highly advised that consumers do careful research, or only buy join the site from the official website here – http://LeadsLeap.com/PricingOfficial (link opens in a new window). The official website that they have includes the legitimate platform.
Conclusion about LeadsLeap
In summary, LeadsLead is proving to be a useful platform for online business owners to generate high-quality leads from their landing pages. This has subsequently led to increases in real sales and followers. Most importantly, these have been shown to be real human traffic and not bot traffic like many other bad leads platforms are giving to their members. Therefore, if you too would like to start using one of the most reputable and powerful leads-generation platforms for internet marketers. we would highly recommend you to learn more about LeadsLeap at the button link below!