[insert_php] $id = $_GET["id"]; [/insert_php]
Swyftx Australia DEMO
Swyftx Australia REVIEW
Swyftx Australia Preview: (to pause video, simply tap/click on it)
Summary
Swyftx Australia is a new breakthrough digital currencies trading exchange based in Australia
Read 100% Free Swyftx Australia Review by Scamorno Team
Details
FULL REVIEW OF Swyftx Australia
Are you interested in learning more about the Swyftx Australia exchange and is this really a cryptocurrencies platform that you can trust to trade and invest your money with? Out of all the cryptocurrency exchange platforms accessible to Australians, Swyftx is perhaps the fastest exchanges that we have found for buying and selling digital currencies in AUD. Their platform is quite easy to get started with and their entire user-interface is also well constructed such that even new users will have no problems doing what they want to do, whether it be buying-and-holding or trading. In terms of customer support, we have also found them to be very prompt in answering and are knowledgeable enough to answer even the more technical and in-depth queries.
What Are The Fees For Depositing And Trading on Swyftx Australia?
In the past, Swyftx used to charge a 0.4% – 0.6% Forex fee when converting to USD, but this fee is no longer in effect. Users are now able to deposit AUD onto Swyftx Australia and convert it to USD for no additional fees for transfers more than AUD$200. Fiat deposits and withdrawals for less than that would incur a $2 fee. In addition, users are also able to deposit cryptocurrencies such as BTC, ETH and XRP.
The entire conversion rate can be found on their deposits page just prior to make a deposit. Their exchange rate has always been very competitive from our experience, charging very closely to what a trader would be getting when doing Forex trading with no significant mark-up.
Review Verdict: Swyftx Australia is a legitimate exchange that works
Visit Swyftx Australia Website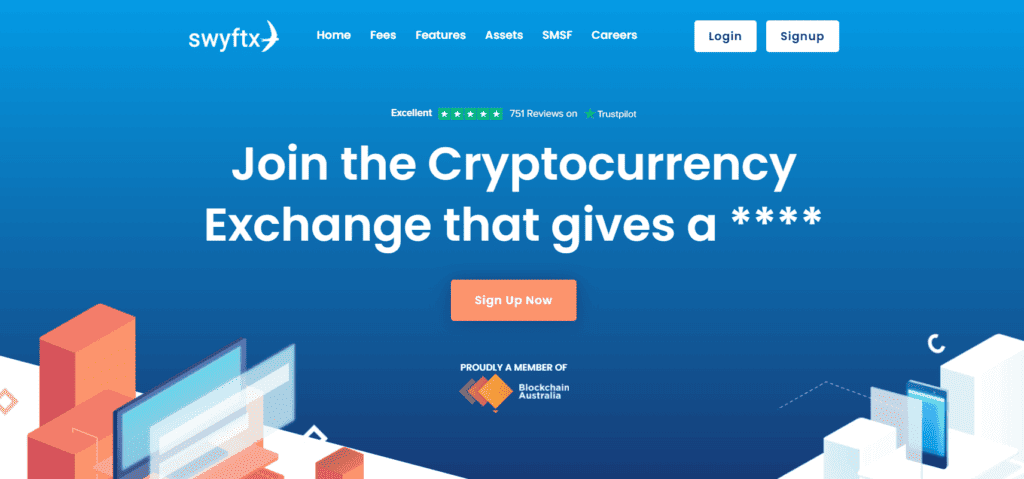 KYC Verification On Swyftx Australia
There is a need to do KYC identify verification in order to start trading on Swyftx Australia. This can be done by clicking on the "Profile: link on the left sidebar under "Verification". This is typically a very fast process and as long as your identify is clean, should take not longer than 2 minutes to complete. The information required to complete the process are: Mobile Phone Number, Email Address and ID Document Number.
Email verification is done through a verification link sent directly to the email address provided. Phone verification is done via a 6-digit PIN that is sent to the mobile number provided. Finally. ID documents are verified by entering information exactly as they appear on them, without the need to scan and upload these documents.
What Are The Main Features Of Swyftx Australia That Separate It From Other Exchanges?
Great security and verification features to ensure only the right users are able to withdraw their own crypto balances
Friendly and competent support staff that give traders plenty of confidence
Consistently fast support whenever we had any queries
Allows for the trading of one of the largest range of cryptocurrencies in Australia
Charges minimal fees for transactions and provides highly competitive rates
Seamless charting tools with clean interface for those looking to trade more often
and much more!
Is Swyftx Australia Right For You?
For anyone living in Australia and would like to purchase and trade cryptocurrencies, Swyftx Australia is definitely one of the leading choices for that. They have one of the lowest fees and spreads in the industry, keeping themselves close to that of one of the best exchanges in the world, Binance. They have also built up a strong reputation on 3rd party review websites like TrustPilot. Hence, if you too would like to start using a top-notched Australia cryptocurrency exchange with instant verification, low fees and the best suite of trading tools and functionality, then we highly recommend you to learn more about Swyftx Australia at the button link below!
Review Verdict: Swyftx Australia is a legitimate exchange that works
Visit Swyftx Australia Website
Consumer Alert Regarding Swyftx Australia
The success of Swyftx Australia has given rise to many frauds who try to sell their own fake exchanges in its name. This is a big issue as many customers have lost their money in joining from such fake sites. It is advised that customers should be really careful when they are joining and should do some research before they join from any website. To spot these, watch out and avoid sites that claim to write about Swyftx Australia, yet the write-up is completely garbage and unreadable as they are created by software and spammed all over the internet. It is always better to avoid joining from any other site other than the official one. Therefore, it is highly advised that consumers do careful research, or only join from the site from the official website here – http://Swyftx.com/AustrliaOfficial (link opens in a new window). The official website that they have includes the legitimate exchange.
Conclusion about Swyftx Australia