[insert_php] $id = $_GET["id"]; [/insert_php]
MooMoo Trading Platform DEMO
MooMoo Trading REVIEWS
Summary
Subsidiary of Futu Holdings Ltd.
MooMoo Trading Platform is a new breakthrough regulated trading platform
Read 100% Free MooMoo Trading REVIEWS by Scamorno Team
Details
FULL REVIEW OF MooMoo Trading Platform
Are you thinking about joining and trading on the MooMoo Trading Platform and is this really one of the best and safest trading platform for the trading of securities today? MooMoo Trading is a subsidiary of the company Futu Holdings Ltd. (NASDAQ: FUTU) and is backed by the venture capital affiliates of Sequoia, Matrix and Tencent.
With trading apps available on Google, Apple and Windows devices, the commission-free MooMoo trading mobile app is one of the most convenient and affordable ways to start trading securities. They are also regulated by the Securities and Exchange Commission (SEC) and the Financial Industry Regulatory Authority (FINRA), hence traders can have a peace of mind that their funds are being safeguarded according to the highest regulatory standards.
Visit MooMoo Trading Platform Website
What Are The MooMoo Trading Fees?
MooMoo Trading Fees are some of the competitive in the industry. At the time of writing, their fees structure for trading on their platform are as follows:
| | |
| --- | --- |
| US Stocks & ETFs | S$0.99 |
| $0.0049 USD / Share or Min. $0.99 USD / Order, whichever is greater | |
| SG Stocks & ETFs | S$0.99 |
| 0.03% of transaction amount, minimum SGD 0.99 (zero during the commission-free period) | |
| SG Stocks, ETFs, DLC & Warrants | S$0.99 |
| 0.03% of transaction amount, minimum SGD 0.99 (zero during the commission-free period) | |
| HK Stocks & ETFs | S$3 |
| 0.03% of the investment amount or HK$3 which ever is higher | |
Other Fees

Platform Fee
S$1
US$0.005/Share or min. US$1
What Are The Main Features And Benefits Of Joining MooMoo Trading Platform?
As highlighted above, MooMoo Trading Platform is one of the lowest commission fee brokers right now, charging only 0.03% of the transaction amount for stocks on SGX and US$0.0049 per share for US stocks. For trades made on the US, Singapore and Hong Kong market, MooMoo is definitely the most competitive in the industry. Its closest competitors, Tiger Brokers charges a minimum fee of US$1.99 per trade for US equities, while IBKR charges a minimum of US$1 per order for US stocks and S$2.50 for Singapore stocks.
180 Days Commission-Free Trading
All new traders get to enjoy 180 days of commission-free trading in the US, HK and SG stock market as soon as they have received their MooMoo IDs. Traders can also get access to Level 1 Market Data for the SG stock market and China A Shares market, as well as the Level 2 Market Data for the US stock market.
Wide range of stock and assets filtering and analysis tools
The MooMoo Trading Platform comes with a wide range of tools that help users filter the thousands of assets and find the right ones for them to invest and trade in. Besides fundamental filters, there are also technical-based filters that can find stocks based on metrics like MACD, RSI, BOLL and more. With just a few clicks of the mouse, users can quickly identify their ideal stocks and industries to put their money into.
Be part of a global investment community
Users are able to learn about stocks that might have slipped under their radar by becoming part of a like-minded global investment community. This community is not just one that pumps their own stocks but rather, is a group that we have found to be highly intelligent and analytical when it comes to discussions about the latest trending stocks.
Review Verdict: MooMoo Trading Platform is a legitimate broker platform that works
Visit MooMoo Trading Platform Website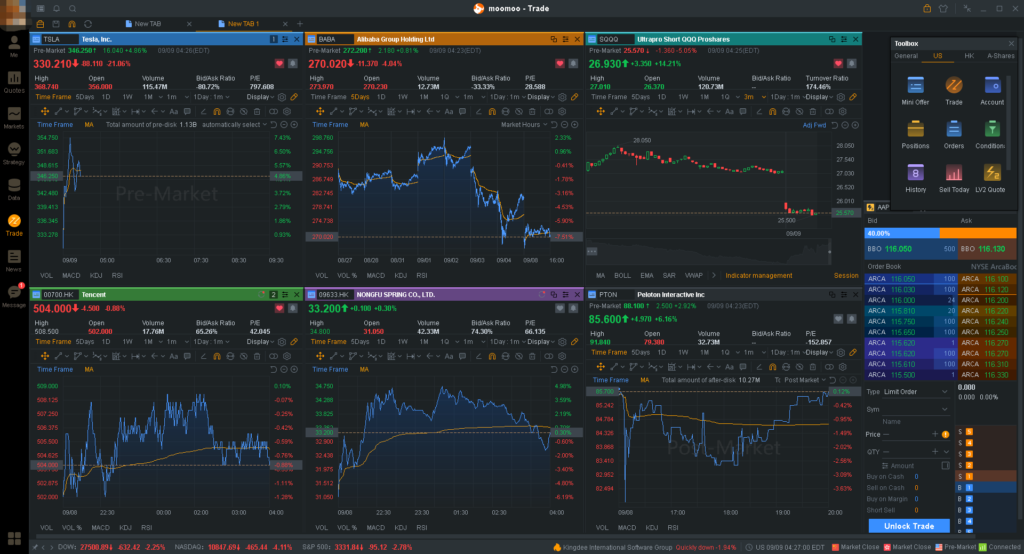 Consumer Fraud Alert Regarding MooMoo Trading Platform
The success of MooMoo Trading Platform has given rise to many frauds who try to sell their own fake trading platform services in its name. This is a big issue as many customers have lost their money in buying from such fake sites. It is advised that customers should be really careful when they are purchasing and should do some research before they buy from any website. To spot these, watch out and avoid sites that claim to write about MooMoo Trading Platform, yet the write-up is completely garbage and unreadable as they are created by software and spammed all over the internet. It is always better to avoid buying from any other site other than the official one. Therefore, it is highly advised that consumers do careful research, or only buy from the site from the official website here – http://MooMoo.com/TradingPlatformOfficial (link opens in a new window). The official website that they have includes the legitimate trading platform.
Conclusion about MooMoo Trading Platform
In summary, while the MooMoo Trading Platform is still relatively new in the financial services world, they have already demonstrated that they are able to provide really high-quality brokerage services and have some of the most comprehensive analytics tools to help users filter through and find the best stocks quickly. All assets are also held safely in custodian accounts  and are untouchable by others even if MooMoo happens to go bust. Therefore, if you too would like to start investing or trading with a revolutionary broker using an all-in-one account for accessing the US, HK & SG Stocks, China A-Shares, US Options, ETFs, Futures and Funds seamlessly, then we highly recommend you to learn more about the MooMoo Trading Platform at the button link below!
MooMoo Trading Platform Preview: (to pause video, simply tap/click on it)