[insert_php] $id = $_GET["id"]; [/insert_php]&r=gen
Xero Shoes DEMO
Xero Shoes REVIEW
Summary
Xero Shoes is a new breakthrough high-quality barefoot shoes brand
Read 100% Free Xero Shoes REVIEWS by Scamorno Team
Details
FULL REVIEW OF Xero Shoes
Are you currently looking for more information about Xero Shoes and are they really the best brand of barefoot shoes made of the highest quality, durability and functionality? Throughout our experiences with wearing Xero Shoes, we have always found every single one of them to be very comfortable to wear and great value-for-money. They have shoes that are suitable for all occasions, whether you are looking for a good pair for running, gym, CrossFit or even the slackline. They are definitely a barefoot shoes brand that any active person will want to seriously consider if they have not already gotten a pair of Xero Shoes.
While Xero Shoes are not the cheapest pairs of shoes on the market, we can confidently say that their durability, amazing functionality and comfort make them truly great value-for-money in our opinion. Each of their shoes serve a very different purpose, so you will want to be sure that you read up on their descriptions carefully and choose the right pair for what you are mainly planning to use them for.
Xero Shoes HFS vs Prio vs 360: Which Is Right For You?
For our comparisons, we have broken down their pros and cons according to each one's following details:
The HFS model has a reinforced toe with a lightweight synthetic material, while both the Prio and 360 each have a reinforced toe with suede-like materials and thicker leather. All 3 models have upper constructions featuring a blend of materials, with the HFS being the most airy and light for running athlete, the Prio having the thickest upper construction and the 360 featuring breathable mesh with the forefoot featuring additional rubber tread for added resistance to abrasion.
All models come with full rubber soles and traction patterns that optimally help with activities that they are designed to handle. They are also all covered by Xero Shoes' 5,000 mile sole warranty.
The HFS's sole tread is aggressive and built for more propulsion hen running, while the Prio comes with forefoot grooves for more forefoot maneuverability and the 360 having a multi-directional arrow tread on the heel and forefoot with additional circle tread at the big toe's base.
All 3 models provide an additional layer of comfort through their insoles to make them suitable for anyone who is trying out barefoot shoes for the first time. All of their insoles are removable and all shoes also have finished internal constructions, making them suitable to wear and train in even after removing the soles.
Each shoe model features traditional eyelets and eyelets used in the huarache design, featuring 5 main eyelets with a 6th for lace-lock. They are designed to provide wearers with a better snug fit throughout the mid-foot and also have slighter tongues to prevent them from ripping when pulling the shoes on.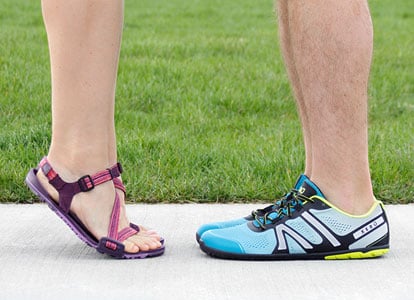 Consumer Alert Regarding Xero Shoes
The success of Xero Shoes has given rise to many frauds who try to sell their own fake shoes in its name. This is a big issue as many customers have lost their money in joining from such fake sites. It is advised that customers should be really careful when they are joining and should do some research before they join from any website. To spot these, watch out and avoid sites that claim to write about Xero Shoes, yet the write-up is completely garbage and unreadable as they are created by software and spammed all over the internet. It is always better to avoid joining from any other site other than the official one. Therefore, it is highly advised that consumers do careful research, or only join from the site from the official website here – http://XeroShoes.com/Official (link opens in a new window). The official website that they have includes the legitimate shoes.
Conclusion of Xero Shoes
Xero Shoes Preview: (to pause video, simply tap/click on it)