[insert_php] $id = $_GET["id"]; [/insert_php]
MarketMuse Content DEMO
MarketMuse REVIEW
MarketMuse Content Audit Preview: (to pause video, simply tap/click on it)

Summary
MarketMuse Content Audit is a new breakthrough optimal content creation and audit platform
Read 100% Free MarketMuse REVIEW by Scamorno Team
Details
FULL REVIEW OF MarketMuse Content Audit
Are you looking for more information about the MarketMuse Content Audit and creation platform and is this really one of the best solutions today for marketers to improve search engine rankings, deliver impactful revenue growth and drive expertise in their industries? This content intelligence platform is built to assist users in enhancing the quality of their content. By leveraging AI technology, the platform increases organic presence, boosts productivity, and drives revenue for its users.
MarketMuse Content Audit's patented AI system is capable of collecting and analyzing content, effectively prioritizing the best opportunities based on authority and ROI. Moreover, it generates initial drafts and constructs industry-leading topic models, thereby empowering the user to consistently produce top-notch content on any given subject.
To streamline the content research, creation, and optimization processes, MarketMuse Content offers a free trial option. This enables users to accelerate their content-related tasks and publish their work more efficiently and confidently.
The features offered by MarketMuse Content include AI-powered content data support, content research assistance, content writing support, content optimization tools, competitive content analysis features, link building capabilities, user-intent tools, content ROI tools, and content briefs support.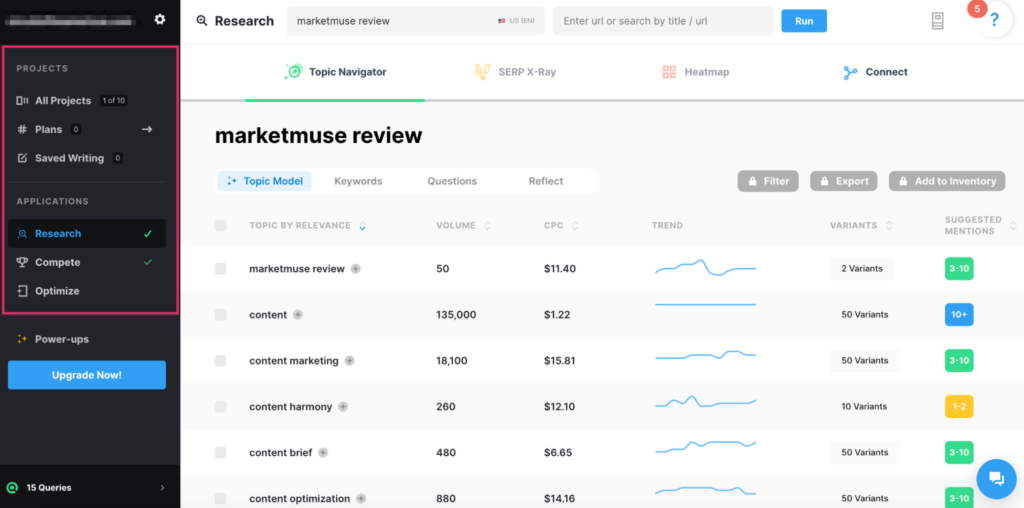 Review Verdict: MarketMuse Content Audit is a legitimate platform that works
Visit MarketMuse Content Audit Website
What Are The 4 MarketMuse Pricing Plans?
Free Plan

Price: $0
Ideal for users with low content volume.
Includes a 7-day free Standard Trial with no credit card required.
Features:

Limited page-level insights
1 user
10 queries per month

Standard Plan

Price: $149 per month or $1,500 per year.
Best suited for individuals publishing content regularly.
Features:

Full page-level insights
1 user
100 queries per month

Team Plan

Price: $399 per month or $3,900 per year.
Designed for agencies and teams seeking to boost their content output significantly.
Features:

Full page-level insights
3 users
Unlimited queries & Briefs

Premium Plan

Custom pricing tailored for large teams tired of managing content in spreadsheets.
Features:

Annual agreements
Page & site-level insights
Inventory & topic tracking
Personalized metrics

Users will need to contact MarketMuse for this customised pricing plan
MarketMuse vs Surfer SEO Content Audit and Optimization
In the realm of webpage analysis and content ranking enhancement, both MarketMuse Content Audit and Surfer SEO offer robust tools catering to content creators and marketers.
MarketMuse Content Audit provides a Competitive content analysis feature that assists users in identifying gaps in their content strategy. By delving into the competition, this feature offers comprehensive insights into the topics covered by competitors and the specific aspects they address. Additionally, MarketMuse Content Audit's Competitive content analysis provides valuable data on keyword density, readability scores, and other essential metrics.
Furthermore, MarketMuse Content's Optimize feature empowers content writers and marketers to optimize their content for better rankings. By simply pasting the content piece, users can access a range of counters on the right-hand side that evaluate the piece's performance against specific standards and competitor benchmarks.
On the other hand, Surfer SEO's Audit tool offers a thorough examination of websites' content, structure, and overall performance. This comprehensive analysis encompasses various SEO elements such as page title tags, meta descriptions, content headers, word count, page speed, and mobile friendliness, among others. The tool aims to pinpoint potential issues that might hinder a website's success and provides actionable recommendations for improvement. Additionally, Surfer SEO Audit offers insights on word count, keyword density, number of headings, NLP entity coverage, internal links, backlinks, meta tags structure, and more.
Overall, we find both MarketMuse Content Audit and Surfer SEO to present valuable tools for enhancing content rankings and optimizing website performance, catering to the needs of content creators, marketers, and website owners alike, though we would say that if we had to pick one, we would pick MarketMuse Content Audit given how it generates more and better insights for its users.
Review Verdict: MarketMuse Content Audit is a legitimate guide that works
Visit MarketMuse Content Audit Website
Consumer Alert Regarding MarketMuse Content Audit
The success of MarketMuse Content Audit has given rise to many frauds who try to sell their own fake platforms in its name. This is a big issue as many consumers have lost their money in buying from such fake sites. It is advised that consumers should be really careful when they are subscribing and should do some research before they buy from any website. To spot these, watch out and avoid sites that claim to write about MarketMuse Content Audit, yet the writeup is completely garbage as they are created by software and spammed all over the internet. It is always better to avoid buying from any other site other than the official one. Therefore, it is highly advised that consumers do careful research, or only buy join the site from the official website here – http://MarketMuse.com/ContentAuditOfficial (link opens in a new window). The official website that they have includes the legitimate platform.
Conclusion about MarketMuse Content Audit