[insert_php] $id = $_GET["id"]; [/insert_php]
WellSaid Labs REVIEWS
Summary
WellSaid Labs AI is an established and reputable VoiceOver software tool
Read 100% Free WellSaid Labs REVIEWS by Scamorno Team
Details
FULL REVIEW OF WellSaid Labs AI
Are you currently thinking about using the WellSaid Labs AI VoiceOver tool and does it really create some of the best quality and realistic text-to-speech voices in the VoiceOver market today? This tool is created by the Wellsaid AI Inc company as an AI-driven text-to-speech platform designed to generate voiceovers for various digital materials. It transforms written text into premium-quality voices that can seamlessly integrate into applications and products through a robust API.
Teams have the option to personalize these voiceovers by choosing from a diverse array of AI-powered voice avatars. These avatars are tailored to enhance content and digital interactions, making them more captivating. Users can simply input their script, and Wellsaid Labs AI takes care of the entire process.
What Are The WellSaid Labs Pricing Plans?
The AI Voice Studio's pricing begins at $49 per month for the Maker tier, offering 4 voice avatar choices and 250 clip downloads.
The Creative and Professional tiers provide more than 35 voice avatars along with 750 and 2,500 monthly clip downloads, respectively.
For details on Custom Voice Avatars and API access costs, interested parties can inquire for specific pricing.
There is a free trial option available for new users to test out the WellSaid Labs AI tool before committing to a plan.
Visit WellSaid Labs AI Website
How Is WellSaid Labs AI Tool Better Than Other VoiceOver Solutions?
WellSaid Labs AI boasts several notable attributes:
Enhanced Productivity: The software facilitates collaborative clip creation, enabling multiple individuals to work simultaneously. It streamlines the feedback process, allows for adjustments, and accelerates audio publishing. Additionally, users can store text in shareable phonetic libraries to ensure greater consistency.
Tailored Customization: Users have the flexibility to choose any avatar for voiceovers or even set up a personalized voice. By describing the desired audio, the AI takes care of the rest, ensuring a seamless experience.
Robust Security Measures: WellSaid Labs AI places a strong emphasis on safeguarding privacy through secure systems.
Overall, we find that WellSaid Labs AI stands out as a robust text-to-speech platform that presents a range of features to optimize speech conversion and enhance comprehension of written content.
Review Verdict: WellSaid Labs AI is a legitimate tool that works
Visit WellSaid Labs AI Website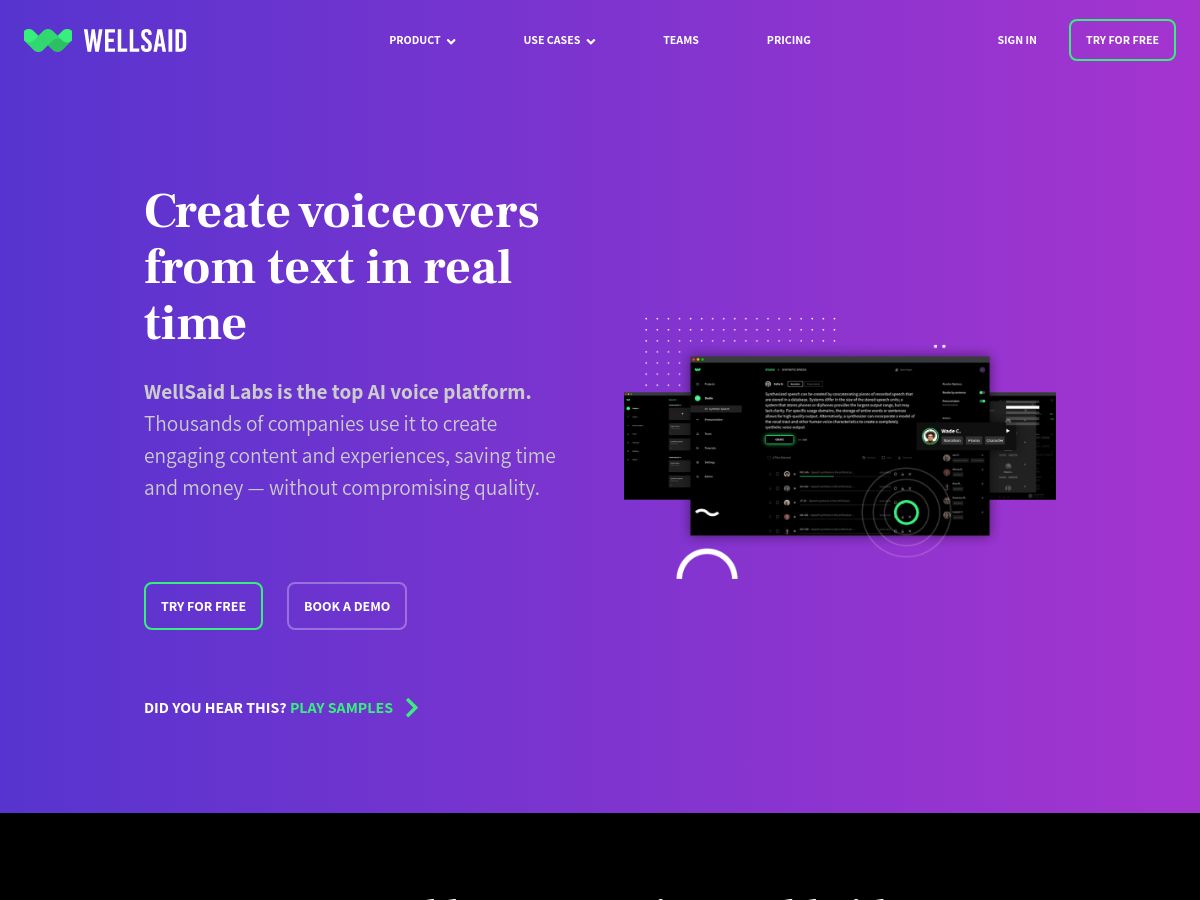 Consumer Alert Regarding WellSaid Labs AI
The success of WellSaid Labs AI has given rise to many frauds who try to sell their own fake tools in its name. This is a big issue as many customers have lost their money in joining from such fake sites. It is advised that customers should be really careful when they are joining and should do some research before they join from any website. To spot these, watch out and avoid sites that claim to write about WellSaid Labs AI, yet the write-up is completely garbage and unreadable as they are created by software and spammed all over the internet. It is always better to avoid joining from any other site other than the official one. Therefore, it is highly advised that consumers do careful research, or only join from the site from the official website here – http://WellSaidLabs.com/AIOfficial (link opens in a new window). The official website that they have includes the legitimate tool.
WellSaid Labs AI Preview: (to pause video, simply tap/click on it)