[insert_php] $id = $_GET["id"]; [/insert_php]
TypeForm Form Builder DEMO
TypeForm REVIEWS
Summary
TypeForm Form Builder is an established people-friendly, thoughtfully-designed and no-code forms, surveys, quizzes and asynchronous video solution
Read 100% Free TypeForm REVIEWS by Scamorno Team
Details
FULL REVIEW OF TypeForm Form Builder
Are you looking for more information about the TypeForm Form Builder online tool and is it really better than other form builder tools that allows users to build stronger brand loyalty and identities, accelerate their business growth and create more positive personal experiences for customers? By having access to TypeForm Form Builder allows users to create a wide variety of forms for multiple purposes. Some of the most common ones include registration forms, surveys, contests, quizzes and tests, shopping carts, tutorials and contact forms, just to name a few. All this can be done without having to write code, making it one of the most practical and versatile users for today. It focuses on good user experience and high-quality visuals, making it stand out as one of the best online form builder tools that we have ever tested.
TypeForm Form Builder comes with a freemium pricing plan to allow users to first test out their features first before committing. It is available for free for one user. For their paid plans, the Pro plan in $35/month for one user (includes logic jump, respondent notifications, calculator, custom thank you screen, hidden fields, payment fields, and 2GB file storage). After that, their Pro+ plan is $70/month for 3 users (which includes team collaboration, white-labelled TypeForms, priority support, and 4GB file storage).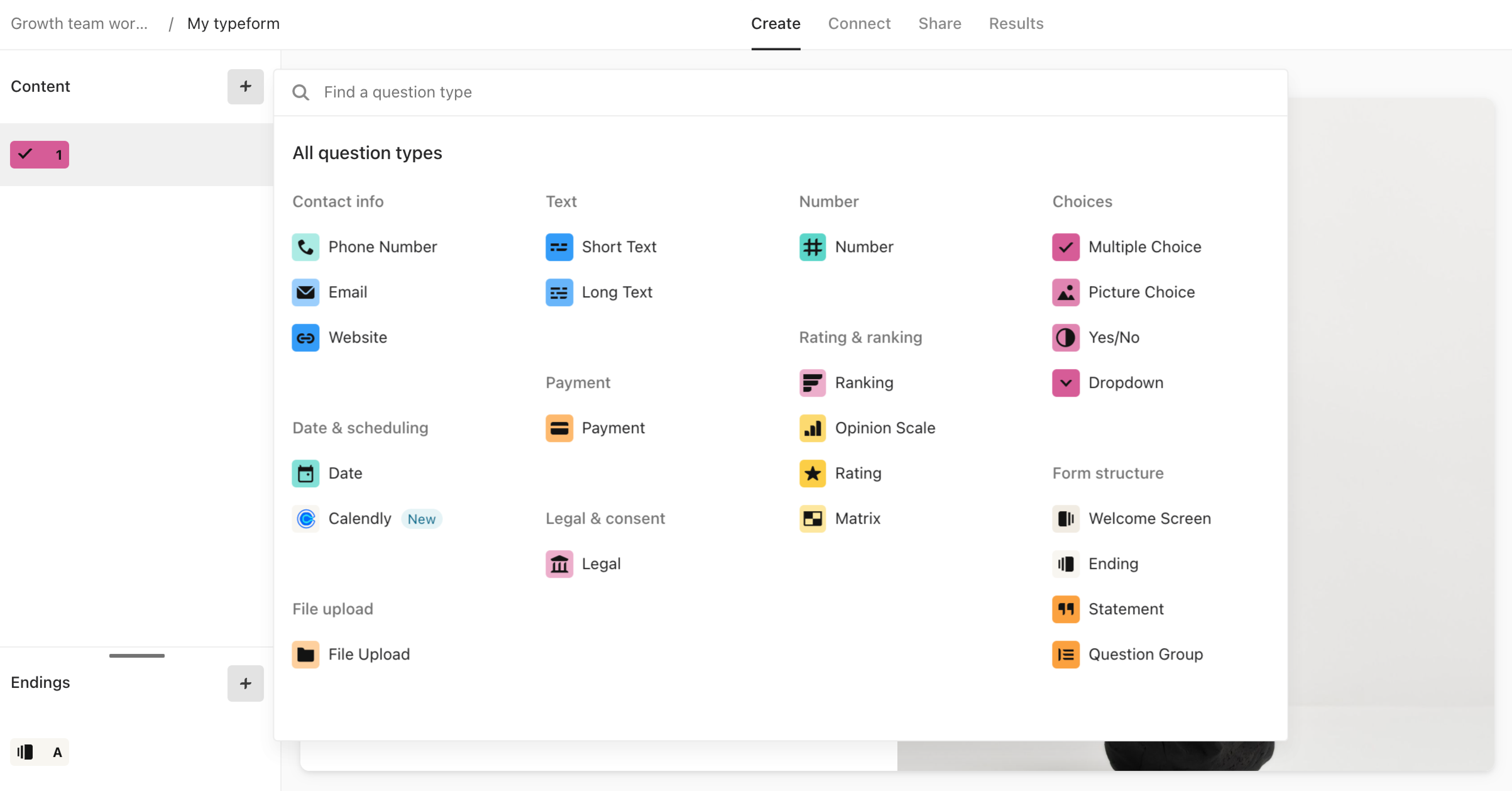 (Image credit: Typeform)
Visit TypeForm Form Builder Website
What Are Some Unique Features Of TypeForm Form Builder That Make It Stand Out From Its Competitors?
This feature is what truly sets TypeForm Form Builder apart from other tools in our opinion. This feature allows for multiple forms creation into one and takes respondents down different form paths, depending on how they have chosen to answer the prior question. This allows for automatic tailoring of the questions according to how each respondent has answered, providing a fully customised experience that is catered for that unique respondent's demographic.
Wide Range Of High Quality Templates
(Image credit: Typeform)
Built around various business-centric purposes, TypeForm Form Builder's templates can be used for many purposes such as gathering customer feedback or lead generation. These templates are ready-made and provide users with a quick jumpstart without having to waste too much time dealing with the technical aspects of form creation.
Finally, TypeForm Form Builder platform allows plenty of room to improve questions-design and survey data crunching ability through its wide array of extensions. It is likely that users will be able to integrate TypeForm with other software that they are currently using, some of which include Airtable, Google Docs, Salesforce and Slack etc.
Visit TypeForm Form Builder Website
Conclusion of TypeForm Form Builder
In summary, TypeForm Form Builder is certainly a 100% legitimate and amazing form builder with great intelligence and logic features. Coupled with beautiful templates that are easy-to-setup, TypeForm has emerged has the go-to user-friendly form-builder of choice for many users today for crafting powerful internal or external surveys. Its advanced intelligence and setup processes also allow for users to gather responses and extract useful insights, ensuring that they are maximising every piece of information that is collected.
Looks-wise, their templates are very modern, less industrial looking, making it very suitable for users who are looking for slicker and better interfaces and form designs that capture and retain attention. These features combined result in higher completion rates of forms by being more engaging and allowing users to be more creative in their form design. Hence, if you too would like to start creating beautiful forms for quizzes, surveys or any other purposes that you know your respondents will LOVE answering, then we highly recommend you to learn more about TypeForm Form Builder at the button link below!
TypeForm Form Builder Preview: (to pause video, simply tap/click on it)