[insert_php] $id = $_GET["id"]; [/insert_php]
Spivo REVIEW
Summary
Spivo Video Editing is an established and reputable online video editing service
Read 100% Free Spivo REVIEW by Scamorno Team
Details
FULL REVIEW OF Spivo Video Editing
Would you like to find out more about the Spivo Video Editing and is this really a video editing service worth paying for? People generally enjoy capturing videos of their surroundings. After returning from various occasions, such as vacations, weddings, or leisurely walks with pets, one often finds their mobile device brimming with recorded footage. Despite possessing video editing skills, individuals may not always find the time, motivation, or creativity required to transform this raw content into a presentable memory. This is where Spivo Video Editing plays a pivotal role, coming to the rescue.
In just a week, the Spivo Video Editing service can seamlessly convert hours of video footage and an extensive collection of photographs into a polished memory that can be effortlessly shared and relished to revisit joyful moments.
Spivo Video Editing functions as a versatile service, capable of transforming photographs and videos shot on various devices, including iPhones, action cameras, drones, or any other photographic or video equipment, into a harmonious video accompanied by music. Clients have the freedom to specify their desired video length, mood, quality, and musical accompaniment, in addition to providing instructions regarding particular scenes they wish to include. Alternatively, one can opt to entrust the selection process to the expertise of the Spivo Video Editing team. Within a week, a dedicated group of video professionals will deliver the final product. Should any concerns arise, clients can request modifications to ensure the video aligns perfectly with their envisioned outcome.
Review Verdict: Spivo Video Editing is a legitimate service that works
Visit Spivo Video Editing Website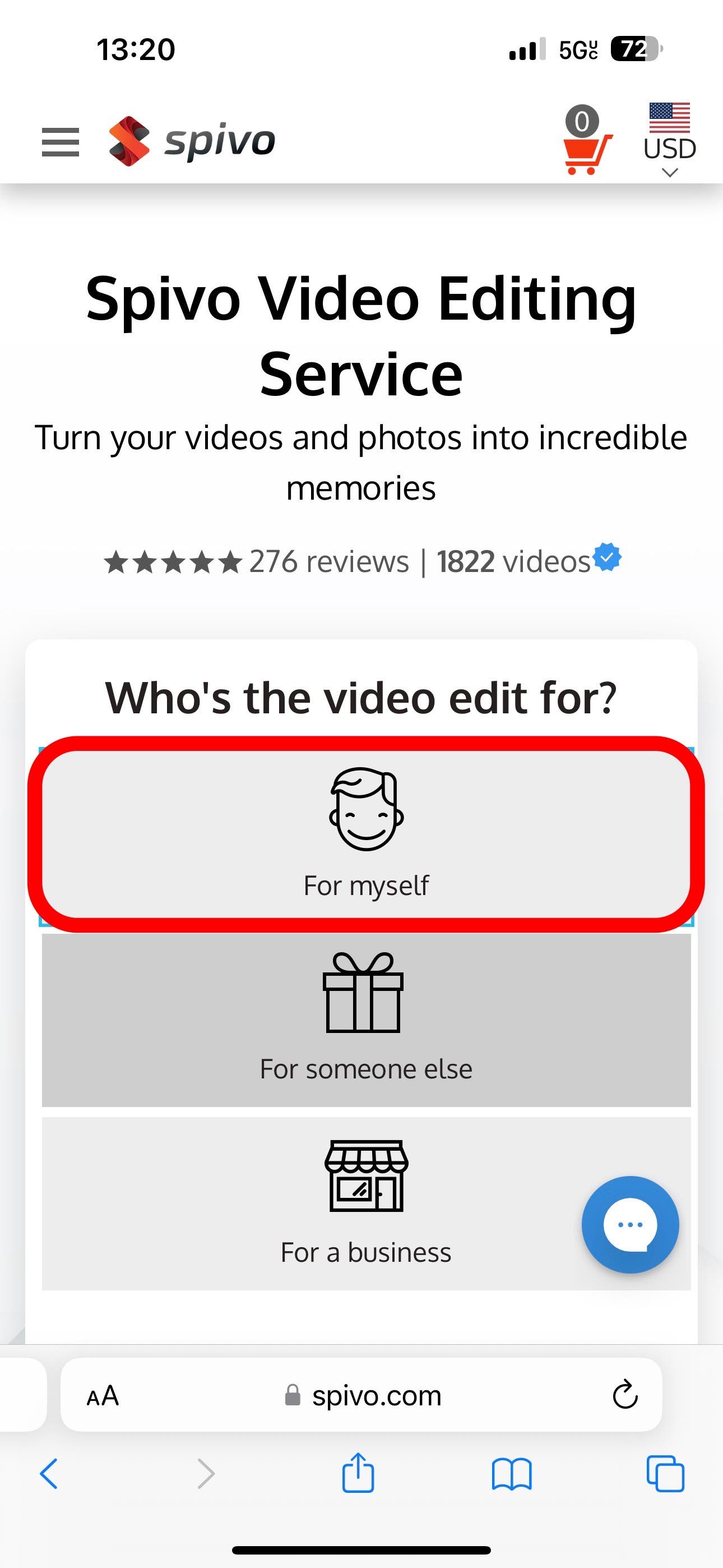 Who Is The Spivo Video Editing Service For?
Spivo Video Editing operates as a specialized video editing company, primarily focusing on adventure-themed video content, and they excel in this niche. In addition to their prowess in crafting captivating adventure videos by amalgamating diverse footage and imagery, the company operates a blog where camera equipment is offered for sale.
The modus operandi of Spivo Video Editing involves a cadre of highly skilled and seasoned video editors who stand prepared to transform less-than-optimal images and video clips into enduring and remarkable video creations. The following outlines how Spivo's operations are conducted:
Interested parties can visit the Spivo Video Editing website and access their video editing service.
Clients can place an order by specifying their preferred editing style and desired video length.
Customization options are available, allowing clients to communicate their creative ideas, including the selection of music for incorporation.
Clients are encouraged to upload their video clips or photographs.
Once the request is submitted, Spivo initiates the editing process.
The edited video is delivered to clients within a span of seven days, with the provision for revision requests.
Among the services Spivo offers, notable ones include video editing and the creation of illustrations.
What Is The Spivo Video Editing Cost And The Services Provided?
Spivo provides customers with the flexibility of unlimited revisions to ensure their satisfaction with the final outcome. In addition to this, clients have the option to request project files from their assigned editors if they wish to personally fine-tune the edits.
The typical turnaround time for Spivo's services is seven days, with an additional allowance of four days for any revisions deemed necessary.
As for pricing, Spivo offers editing services commencing at a base rate of $149. For precise and customized pricing, interested parties are encouraged to request a quote tailored to their specific requirements. Spivo Video Editing extends bulk discounts, making it an attractive choice for those with multiple editing needs. The company's specialization in adventure-themed footage, as well as their willingness to accommodate special requests, further enhances their appeal, all while remaining budget-friendly.
Review Verdict: Spivo Video Editing is a legitimate service that works
Visit Spivo Video Editing Website
Consumer Alert Regarding Spivo Video Editing
The success of Spivo Video Editing has given rise to many frauds who try to sell their own fake editing services in its name. This is a big issue as many customers have lost their money in joining from such fake sites. It is advised that customers should be really careful when they are purchasing and should do some research before they join from any website. To spot these, watch out and avoid sites that claim to write about Spivo Video Editing, yet the write-up is completely garbage as they are created by software and spammed all over the internet. It is always better to avoid joining from any other site other than the official one. Therefore, it is highly advised that consumers do careful research, or only buy from the site from the official website here – http://Spivo.com/VideoEditingOfficial (link opens in a new window). The official website that they have includes the legitimate service.
Conclusion about Spivo Video Editing
Spivo Video Editing Preview: (to pause video, simply tap/click on it)