[insert_php] $id = $_GET["id"]; [/insert_php]
Smart Prop Trader DEMO
Smart Prop Trader REVIEW
Summary
Smart Prop Trader is an established and reputable prop trading firm
Read 100% Free Smart Prop Trader REVIEW by Scamorno Team
Details
FULL REVIEW OF Smart Prop Trader
Are you considering joining the Smart Prop Trader Competition and is this really one of the best prop trading firms that you can join today? This recently established proprietary trading firm has simplified the process of passing challenges and obtaining funding. It provides a significantly longer time frame of 50 days for phase 1 and 100 days for phase 2, which is a considerable improvement compared to firms such as FTMO that only offer 30 and 60 days respectively.
What Is The Smart Prop Trader Evaluation Process Like?
The Smart Prop Trader (SPT) provides a cost-effective evaluation funding process, offering accounts ranging from $10,000 to $200,000, with just one evaluation process. Notably, their pricing is much cheaper than My Forex Funds, which is already recognized as one of the most inexpensive in the industry.
Two-Phase Evaluation Process The SPT Evaluation is divided into two phases, with a 7.5% profit target in phase 1 and a 5% profit target for phase 2. While the phase 1 profit target is the lowest among all proprietary trading firms, it is equivalent in difficulty to the 10% profit target of FTMO. This is because SPT has a maximum drawdown of only 7.5%, while FTMO has 10%. As a result, they both have a drawdown to profit target ratio of 1:1. However, the more extended time limits for the SPT evaluation make the challenge relatively more straightforward to overcome.
Leverage and Maximum Daily Loss SPT accounts have a 1:100 leverage and a 4% maximum daily loss, which is calculated based on both equity and balance. Moreover, the SPT evaluation has no minimum trading days, allowing traders to pass the process and get funded in as little as two days.
Funded Account Profit Splits and Scaling SPT's funded account profit splits are 80%, paid biweekly, and this percentage is increased to 90% with scaling. Traders' accounts are scaled up after four months of live trading with SPT, with no required profit. This scaling increases the account by 25%. As with most other proprietary trading firms, the evaluation fee is refunded with the first profit split payout.
As a whole, we have found that Smart Prop Trader provides a highly accessible and cost-effective evaluation funding process with longer time limits, lower profit targets, and a lower maximum drawdown than its competitors. Additionally, traders can be funded in as little as two days, and their profit splits are competitive, with the added benefit of scaling after four months of live trading.
Review Verdict: Smart Prop Trader is a legitimate prop trading firm platform
Visit Smart Prop Trader Website
How Can You Get Started With The Smart Prop Trader Competition?
Overall, it is truly a breeze to get started with Smart Prop Trader by just following three simple steps:
Step 1: Challenge:
Smart Prop Trader's challenge is designed to be uncomplicated, allowing traders to concentrate on their trading objectives. With a maximum of 50 days to complete the challenge, and no minimum trading days required, traders can advance to the next phase as soon as they achieve their goals.
Step 2: Verification
In the verification phase, traders have up to 100 days to complete their trading objectives, with no minimum trading days required. Once they've met these objectives, traders will be automatically upgraded to a fully funded account.
Step 3: Smart Prop Trader
As a fully funded Smart Prop Trader, traders can continue to trade in a consistent and responsible manner, qualifying for up to a 90% profit split, with accounts scaling up to $2.5 million.
Review Verdict: Smart Prop Trader is a legitimate prop trading firm platform
Visit Smart Prop Trader Website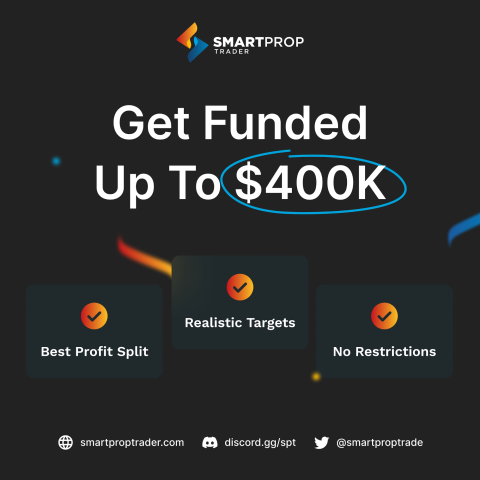 Consumer Alert Regarding Smart Prop Trader
The success of Smart Prop Trader has given rise to many frauds who try to sell their own fake platforms in its name. This is a big issue as many customers have lost their money in joining from such fake sites. It is advised that customers should be really careful when they are purchasing and should do some research before they join from any website. To spot these, watch out and avoid sites that claim to write about Smart Prop Trader, yet the write-up is completely garbage as they are created by software and spammed all over the internet. It is always better to avoid joining from any other site other than the official one. Therefore, it is highly advised that consumers do careful research, or only buy from the site from the official website here – http://Trader.SmartPropTrader.com/CompetitionOfficial (link opens in a new window). The official website that they have includes the legitimate platform.
Conclusion about Smart Prop Trader
Smart Prop Trader Preview: (to pause video, simply tap/click on it)