[insert_php] $id = $_GET["id"]; [/insert_php]
Skinception Rosacea Relief Serum REVIEW
Summary
Formulated by Dave David, M.D.
Skinception Rosacea Relief Serum is an established and reputable rosacea inflammation relief serum
Read 100% Free Skinception Rosacea Relief Serum REVIEW by Scamorno Team
Details
FULL REVIEW OF Skinception Rosacea Relief Serum
Are you looking for the truth regarding the Skinception Rosacea Relief Serum and doe sit really live up to the claims of being able to relief inflammation and calm the hot feeling and redness associated with rosacea? This serum has been meticulously crafted with a precise blend of ingredients designed to collaborate harmoniously in mitigating the symptoms commonly associated with rosacea outbreaks. These symptoms encompass facial redness, inflammation, and the uncomfortable sensation of prickling heat.
Within the composition of Skinception Rosacea Relief Serum, among various all-natural moisturizing and soothing agents, lie four active components, outlined as follows:
Renovage™: Renovage, also recognized by its trade name teprenone, extends the lifespan of DNA cells and thwarts the unraveling of DNA strands, thereby averting the demise of skin cells. This remarkable ingredient constitutes a groundbreaking achievement in the realm of anti-aging skincare. In a clinical trial involving individuals afflicted by rosacea, an astounding 90% reported a notable reduction in redness, with some experiencing up to a 30% decrease.

Actiflow®: Actiflow, derived from saccharomyces cerevisiae, commonly referred to as baker's or brewer's yeast, serves as an extract that enhances blood circulation beneath the skin's surface. It also alleviates vascular congestion, both of which are key contributors to rosacea. Scientifically proven to possess anti-inflammatory and anti-redness properties, Actiflow has been meticulously formulated to pacify and soothe sensitive skin.

Mediacalm®: Renowned as the "neurocosmetic solution for sensitive skin," Mediacalm contains an active ingredient in the form of Boerhavia Diffusa Root Extract. This component substantially restores the skin's sensitivity threshold to a normal state by significantly reducing inflammation and soothing red and irritated skin. It is this soothing effect that contributes to the alleviation of the sensation of "prickling skin."

Allantoin: Also recognized as Vitamin U, Allantoin boasts a historical usage dating back to the 16th century for the treatment of dry and damaged skin. It facilitates the softening of the skin's keratin, accelerating the healing process and enhancing the skin's capacity to absorb moisture effectively. Furthermore, it serves as a natural anti-irritant, aiding in the regeneration of healthy skin cells by facilitating the shedding of dead skin cells, thus enabling the emergence of fresh, healthy skin cells.
Incorporating this scientifically formulated serum into one's skincare regimen holds the potential to provide relief from the discomfort associated with rosacea outbreaks, ultimately promoting healthier, revitalized skin.
Review Verdict: Skinception Rosacea Relief Serum is a legitimate indicator that works
Visit Skinception Rosacea Relief Serum Website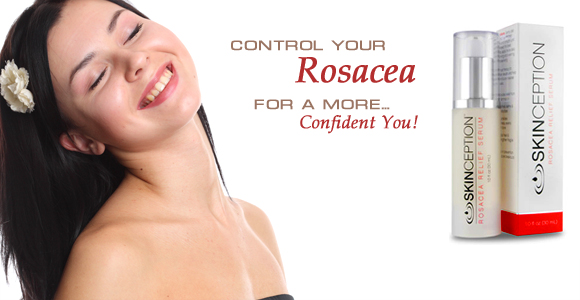 What Are The Main Benefits Of Using The Skinception Rosacea Relief Serum?
Skinception Rosacea Relief Serum offers considerable benefits to individuals afflicted by the challenging skin condition known as Rosacea. The effects of this condition can be particularly harsh, both on the skin itself and the individuals who endure it. However, the application of this serum has demonstrated remarkable efficacy in mitigating the adverse effects commonly associated with Rosacea, such as redness, skin irritation, itchiness, and a burning sensation.
Moreover, this serum extends its healing touch by providing soothing relief to the afflicted area, contributing to the reduction of redness. In a noteworthy clinical trial, it was observed that over 90% of the test subjects experienced a reduction in redness by a significant margin, often exceeding 30%.
Beyond its immediate soothing effects, Skinception Rosacea Relief Serum nourishes the skin from within, aiding in the gradual reduction of marks caused by Rosacea patches. Furthermore, it enhances blood circulation, fostering the development of a healthier skin layer. In addition to addressing the visible symptoms of Rosacea, this serum also recognizes and combats the signs of skin aging, offering a comprehensive approach to skincare.
In summary, Skinception Rosacea Relief Serum stands as a promising solution for those seeking relief from Rosacea-related skin issues. Its multifaceted benefits extend to:
Clearing up breakouts and preventing their recurrence as intended.
Reducing flush and inflammation, providing much-needed relief from the itchiness induced by heat.
Enhancing the appearance of marks caused by Rosacea patches.
Improving blood circulation, thereby minimizing the appearance of spider veins.
Calming and soothing reddened skin.
Fading staining and redness.
Lightening the red and blue hues associated with spider veins, while also enhancing blood circulation.
Restoring the skin's normal sensitivity threshold.
Reducing sensations of heat and prickling.
Diminishing skin thickness.
Enhancing skin quality, elasticity, and firmness.
Hydrating sensitive skin without causing irritation or flare-ups.
In essence, Skinception Rosacea Relief Serum boasts a cutting-edge and effective roster of ingredients designed to address the complexities of Rosacea. Whether seeking immediate relief or long-term benefits, this serum stands ready to deliver.
Review Verdict: Skinception Rosacea Relief Serum is a legitimate serum that works
Visit Skinception Rosacea Relief Serum Website
Consumer Alert Regarding Skinception Rosacea Relief Serum
The success of Skinception Rosacea Relief Serum has given rise to many frauds who try to sell their own fake rosacea serums in its name. This is a big issue as many customers have lost their money in purchasing from such fake sites. It is advised that customers should be really careful when they are purchasing and should do some research before they join from any website. To spot these, watch out and avoid sites that claim to write about Skinception Rosacea Relief Serum, yet the write-up is completely garbage as they are created by software and spammed all over the internet. It is always better to avoid purchasing from any other site other than the official one. Therefore, it is highly advised that consumers do careful research, or only purchase from the site from the official website here – http://RosaceaReliefSerum.com/SkinceptionOfficial (link opens in a new window). The official website that they have includes the legitimate serum.
Conclusion about Skinception Rosacea Relief Serum
Skinception Rosacea Relief Serum Preview: (to pause video, simply tap/click on it)