[insert_php] $id = $_GET["id"]; [/insert_php]&r=gen
SalesQL REVIEWS
Summary
SalesQL Extension is a new breakthrough sales and recruiting operations, email outreach, prospecting automation and social touches tool
Read 100% Free SalesQL REVIEWS by Scamorno Team
Details
FULL REVIEW OF SalesQL Extension
Are you interested in finding out the truth about the SalesQL Extension tool and does it really allow its users to create true relationships within the web browser without requiring them to go through the hassle of having to jump between apps constantly? If you have ever wondered if there was a tool that could help you find email addresses that are accurate and not just throwaway emails, then the SalesQL Extension tool is definitely something that is going to interest you. Its accuracy in finding good emails has thoroughly impressed us so far and makes it stand out from other similar tools we have tried in the past.
By using SalesQL Extension, users are now able to easily and quickly get contacts of their target clients and to reach out to them successfully. It truly helps its users do their job every day in less time and with more efficiency. At any time, users are able to extract 25 LinkedIn profiles with emails and numbers. The extracted raw contact data can also be exported to CSV and used as input to CRM or ATS software to maximise the value of every contact email even further.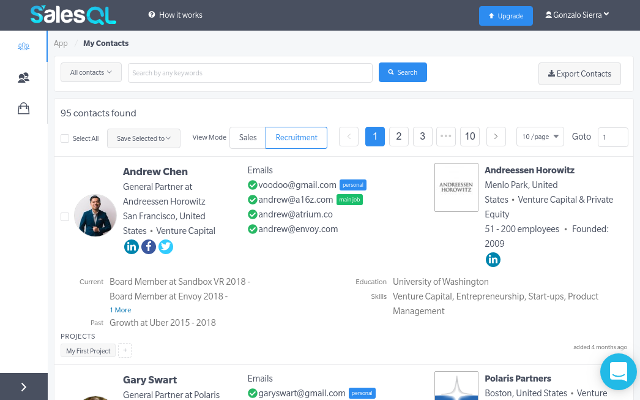 Visit SalesQL Extension Website
What Is The SalesQL Extension And How Does It Work?
One of the standout features about SalesQL is the fact that it has a Google Chrome Extension available on the Google Chrome Web Store. This plugin has garnered more than 700+ user reviews with a 4.9 out of 5.0 rating at the time of writing. There are also currently more than 50,000+ SalesQL Extension Plugin active users.
With the SalesQL Extension Plugin, users will be able to perform the following functions:
Get business and personal phone numbers and emails on 1st, 2nd and 3rd+ LinkedIn connections
Extract bulk results directly from LinkedIn's search pages
Manage contacts directly in their dashboards from LinkedIn Profiles to Excel/CSV into users'  CRM/ATS systems
Locate contact information from search engines that include Recruiter and Sales Navigator
and much more!
What Are The Pricing Plans The SalesQL Extension?
The free plan comes with contact management and list access features of personal and corporate email addresses.
Starter Plan ($39 per month)
This plan comes with everything included in Free Plan plus access to company phone numbers, connection with various apps and platforms and data export capability into Excel/CSV.
Tariff Advanced ($59 per month)
This plan includes all the above plus provides access to 3 users simultaneously with 4,000 credits per month.
Tariff Pro ($89 per month)
This option includes all the above with access provided for up to 15 users and 10,000 credits.
Consumer Alert Regarding SalesQL Extension
The success of SalesQL Extension has given rise to many frauds who try to sell their own fake tools in its name. This is a big issue as many customers have lost their money in joining from such fake sites. It is advised that customers should be really careful when they are joining and should do some research before they join from any website. To spot these, watch out and avoid sites that claim to write about SalesQL Extension, yet the write-up is completely garbage and unreadable as they are created by software and spammed all over the internet. It is always better to avoid joining from any other site other than the official one. Therefore, it is highly advised that consumers do careful research, or only join from the site from the official website here – http://SalesQL.com/ExtensionOfficial (link opens in a new window). The official website that they have includes the legitimate tool.
SalesQL Extension Preview: (to pause video, simply tap/click on it)