[insert_php] $id = $_GET["id"]; [/insert_php]&r=gen
SalesFlow Automation Platform DEMO
SalesFlow REVIEW
Summary
SalesFlow Automation Platform is an established and reputable Linkedin leads outreach and automation platform
Read 100% Free SalesFlow REVIEW by Scamorno Team
Details
FULL REVIEW OF SalesFlow Automation Platform
Are you looking for more information about the SalesFlow Automation Platform and is this really one of the best tools to use for automating your Linkedin lead generation and outreach efforts? This platform is one that is allowing its users to properly manage their entire Linkedin lead generation efforts that is also affordable enough for many small businesses. It is successfully helping users to fast-track their outbound sales and marketing efforts through the multitude of useful features.
Through the use of SalesFlow Automation Platform, users are finding it much easier, after and more effective to book meetings with decision-makers. It helps to ensure users are able to predictably and consistently see results from their Linkedin leads generation and outreach efforts every single month. Till date, SalesFlow Automation Platform is helping to power more than 10,000+ users from all over the world and 300+ agency partners to generate more than 500,000+ new leads for sales teams, agencies fast growing startups and scale-ups.
Visit SalesFlow Automation Platform Website
What Are The Main Features And Benefits Of The SalesFlow Automation Platform?
Allows for easy tracking of outreach campaigns and inboxes from directly inside SalesFlow without having to use native Linkedin
Clear instructions on how to set-up outreach campaigns from directly in the SalesFlow platform with a clear user-interface
Saves users plenty of time on Linkedin outreach through automation features and reaching leads they would not have reached manually otherwise
Amazing customer support team on-hand to help users deal with any technical issues quickly
Consultation session provided for new users to make sure they are able to maximally benefit from using SalesFlow Automation Platform
Focuses on reliable, simple and comprehensive navigation to help users get things done ASAP
Automates users' lead generation efforts and turns their Linkedin profiles into lead-conversion sales machines to close deals faster
Advanced filtering features to help users find their perfect prospects from Linkedin for their outbound processes
Creates and schedules multiple lead-generation campaigns that run concurrently
and much more!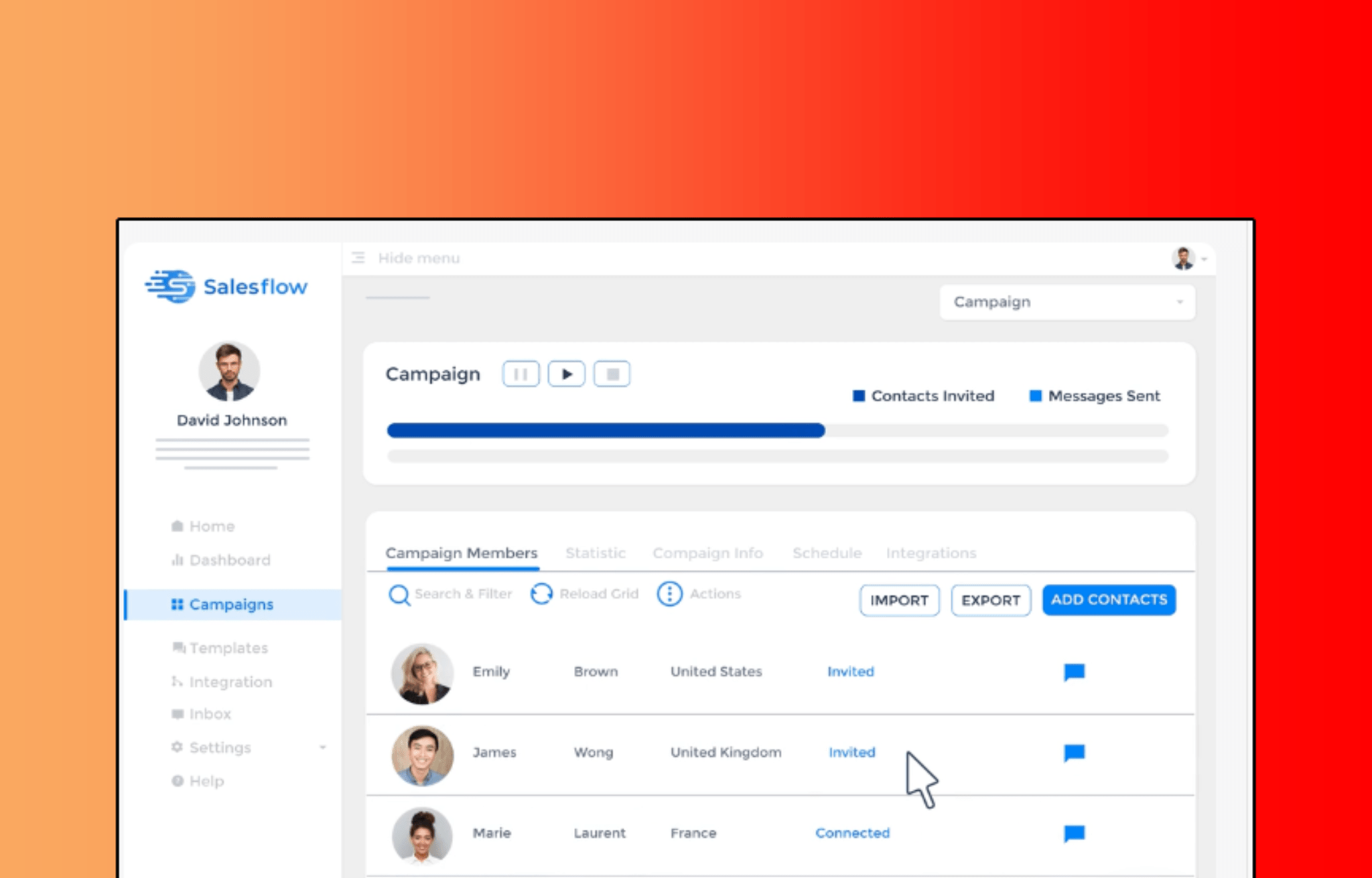 Consumer Alert Regarding SalesFlow Automation Platform
The success of SalesFlow Automation Platform has given rise to many frauds who try to sell their own fake platforms in its name. This is a big issue as many customers have lost their money in joining from such fake sites. It is advised that customers should be really careful when they are joining and should do some research before they join from any website. To spot these, watch out and avoid sites that claim to write about SalesFlow Automation Platform, yet the write-up is completely garbage and unreadable as they are created by software and spammed all over the internet. It is always better to avoid joining from any other site other than the official one. Therefore, it is highly advised that consumers do careful research, or only join from the site from the official website here – http://SalesFlow.io/AutomationPlatformOfficial (link opens in a new window). The official website that they have includes the legitimate platform.
SalesFlow Automation Platform Preview: (to pause video, simply tap/click on it)