[insert_php] $id = $_GET["id"]; [/insert_php]&r=gen
SafePal Wallet Hardware DEMO
SafePal Wallet REVIEW
Summary
SafePal Wallet Hardware is an established and reputable wireless cold-storage cryptocurrency hardware wallet
Read 100% Free SafePal Wallet REVIEW by Scamorno Team
Details
FULL REVIEW OF SafePal Wallet Hardware
Are you looking for more information about the SafePal Wallet Hardware and is it really one of the best and most secure cryptocurrency hardware wallet around today in the crypto world? With the SafePal Wallet Hardware, cryptocurrency owners are now able to access a one-stop solution that allows them to easy manage, store and trade their crypto assets all from through the SafePal App. It is built for crypto traders and investors alike who would like to use the high-security crypto hardware and software wallet technology available while still being able to access and move their crypto around efficiently, safely and quickly.
Based on the feedback received from the SafePal Wallet Hardware users, it is clear that this wallet is very appealing to crypto users of all skill levels, whether they are currently beginner traders and investors or are crypto enthusiasts who have been in this space for many years. Priced at an affordable #39.99 each, we have found this wallet to be amongst the best value-for-money crypto wallets in this industry. It even comes with a unique and innovative self-destruct mechanism that protects it against malware attacks, which is a problem that has plagued other hardware wallets in the past.
Visit SafePal Wallet Hardware Website
Is SafePal Safe To Use And How Is It Better Than Other Hardware Wallets?
If you know about crypto security, you probably already know that hardware wallets security are commonly referred to as cold storage because their usage is completely offline. However, many crypto hardware wallets in the industry are in fact still using technology such as Wi-Fi, Bluetooth or NFC etc. making them still vulnerable to offline hacks. The SafePal Wallet Hardware, on the other hand, utilises a 100% offline air-gapped signing mechanism, making it a REAL cold storage device. The device can be controlled by the SafePal App that is supported on both iOS and Google Play. Recently, SafePal has also added 3 new browser extensions for Firefox, Chrome and Microsoft Edge to make controlling the SafePal Wallet Hardware even more convenient through the desktop computer.
For making sure that users never lose their seed phrases, SafePal offers the Cyber Seed Protection Board, which is a board that is water, fire, acid and corrosive resistant board for users to record their seed phrases down on. The following graphic shows the specifications of the SafePal S1 Hardware Wallet:
Image credit: safepal.com
Visit SafePal Wallet Hardware Website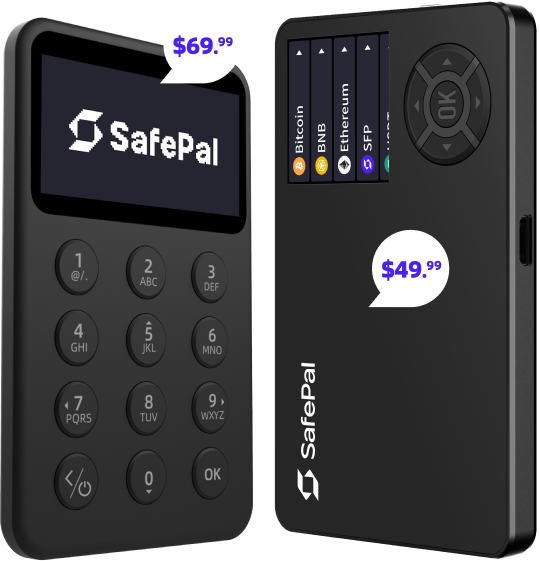 Image credit: safepal.com
Consumer Alert Regarding SafePal Wallet Hardware
The success of SafePal Wallet Hardware has given rise to many frauds who try to sell their own fake wallets in its name. This is a big issue as many customers have lost their money in joining from such fake sites. It is advised that customers should be really careful when they are joining and should do some research before they join from any website. To spot these, watch out and avoid sites that claim to write about SafePal Wallet Hardware, yet the write-up is completely garbage and unreadable as they are created by software and spammed all over the internet. It is always better to avoid joining from any other site other than the official one. Therefore, it is highly advised that consumers do careful research, or only join from the site from the official website here – http://SafePal.com/WalletHardwareOfficial (link opens in a new window). The official website that they have includes the legitimate wallet.
SafePal Wallet Hardware Preview: (to pause video, simply tap/click on it)