[insert_php] $id = $_GET["id"]; [/insert_php]&r=gen
Prime Ambassador Watch REVIEW
Summary
Prime Ambassador Watch is an established watch pieces collection
Read 100% Free Prime Ambassador Watch Review by Scamorno Team
Details
FULL REVIEW OF Prime Ambassador Watch
Are you looking to find out the truth about the Prime Ambassador Watch and do their watches really live up to there reputation of being high-quality, classical, beautiful while still being affordable for all watch lovers? The watch that we have gotten from this company is the Prime Ambassador Heritage 1863 from Sweden. Contrary to popular belief that the best watches must be made in Switzerland, this watch has shown the watch collector world that it is not necessarily the case. From what we have experienced, this Prime Ambassador Watch checks all the boxes for what makes a watch truly great.
Some of these characteristics includes looking great on the hand, evokes style and class while having the perfect dimensions and materials. For the Heritage 1863 which is one of their most popular watches, it is covered by a genuine sapphire glass with dimensions of 9mm thickness and 40mm diameter. It comes with a black background and beautiful contrasting color numerals in rose-gold roman. Its movement is miyota Japanese Quartz with ±20s accuracy per month, is 30m waterproof and made of 316-L Stainless Steel.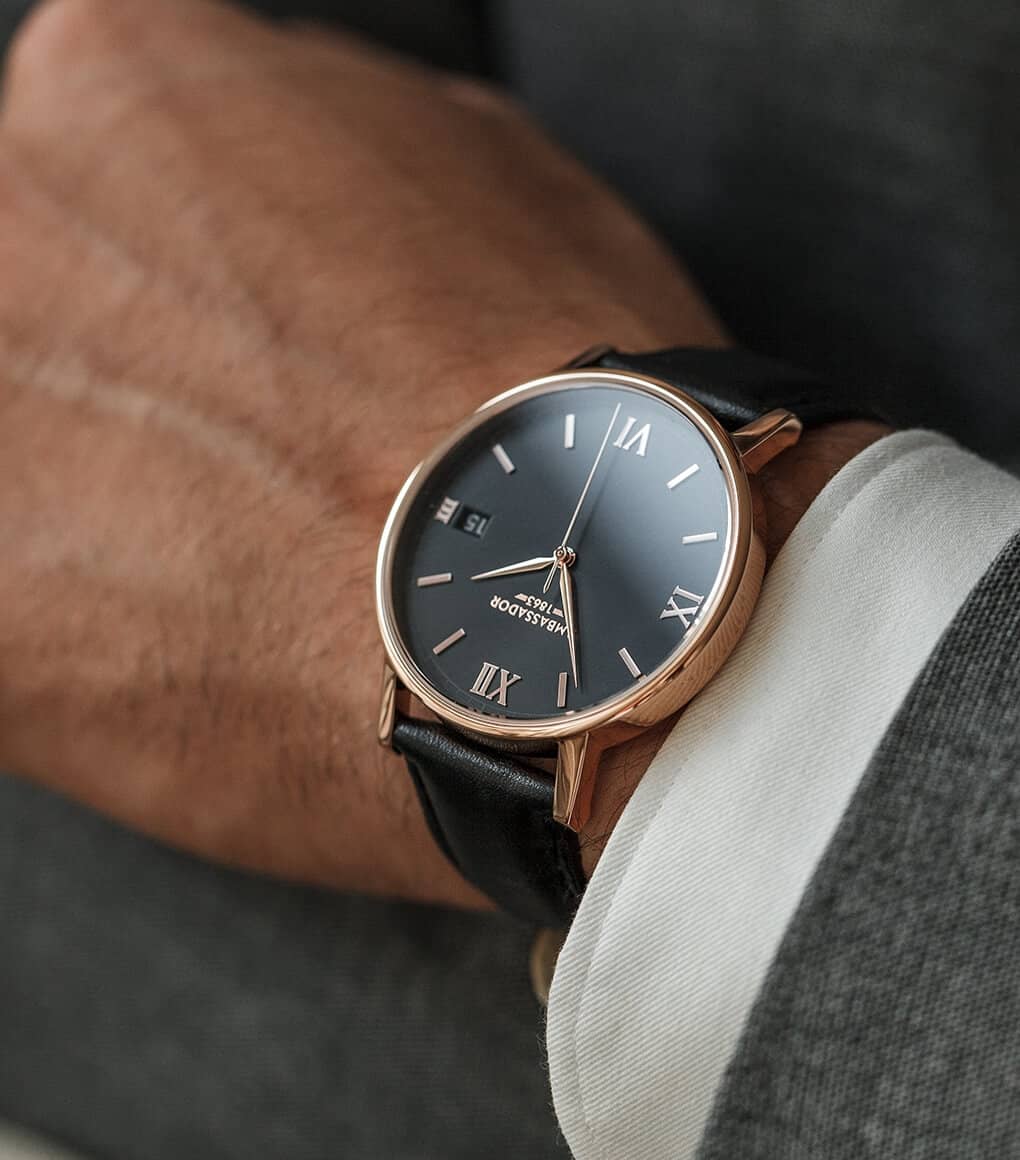 Image credit: primeambassador.com
Visit Prime Ambassador Watch Website
Prime Ambassador Watch Men's Collection
Prime Ambassador Watch come in both men's and women's collections. Besides the Heritage watches for men's, it also includes the other legendary models including the Audemars Piguet Royal Oak and other legendary watches, such as the Louvre in Paris, served as inspiration for the Heritage 1921's striking "Clous de Paris" guilloché design. All of the watches' indexes have polished silver embossing covering a large raised logo that is protected by real sapphire glass.
Prime Ambassador Watch Women's Collection
The women's collection also includes Heritage watches, namely the Heritage 1863, Heritage 1959 and Heritage model 1959 models. These watch models are known for helping individuals express their individuality while adding exuberance to impress, enthralled and inspire its wearers. Wearing them also makes women more inspired, remarkable and become the true role models and leaders of the world that they were meant to be.
What Are The Shipping Arrangements For Prime Ambassador Watch?
All orders that are received before 4pm EST are dispatched to a courier within 12 hours and are shipping for free worldwide. All watch shipments are also covered by insurance and will include a tracking number so customers are able to track their orders directly through Prime Ambassador Watch's website. Their shipping centres are located in the USA, United Kingdom, Australia and Sweden, and all orders are shipped from the one nearest to the customer.
With such a wide network of shipping centres, all customers are pretty assured of being able to receive their watches in a satisfactory and timely manner. Prior to purchase, all customers will be able to see the estimated delivery times after they have selected their destination countries so they can know when to reasonably expect their shipment.
Consumer Alert Regarding Prime Ambassador Watch
The success of Prime Ambassador Watch has given rise to many frauds who try to sell their own fake watches in its name. This is a big issue as many customers have lost their money in joining from such fake sites. It is advised that customers should be really careful when they are joining and should do some research before they join from any website. To spot these, watch out and avoid sites that claim to write about Prime Ambassador Watch, yet the write-up is completely garbage and unreadable as they are created by software and spammed all over the internet. It is always better to avoid joining from any other site other than the official one. Therefore, it is highly advised that consumers do careful research, or only join from the site from the official website here – http://PrimeAmbassador.com/WatchOfficial (link opens in a new window). The official website that they have includes the legitimate watch.
Prime Ambassador Watch Preview: (to pause video, simply tap/click on it)