[insert_php] $id = $_GET["id"]; [/insert_php]
Fliki AI Voices DEMO
Fliki AI REVIEW
Summary
Fliki AI Voice is a new breakthrough AI-powered text-to-video and text-to-speech voices generator
Read 100% Free Fliki AI REVIEW by Scamorno Team
Details
FULL REVIEW OF Fliki AI Voice
Are you currently considering whether to use the Fliki AI Voice generation software and is this really one of the best AI-powered voice generator tools that can convert your text-based content and blog articles into podcasts, videos and audiobooks with just a few clicks of the mouse? This Lifelike Text to Speech & Text to Video converter is a tool that assists users in creating audio and video content by utilizing AI voices. It allows the generation of realistic voiceovers for various purposes such as YouTube videos, educational content, marketing materials, and training videos.
With access to an extensive collection of over 850+ AI voices, Fliki AI Voice converter is capable of enabling the creation of high-quality content in under a minute. Currently, it is able to support a massive number of languages including:
Afrikaans, Amharic, Arabic, Azerbaijani, Bengali, Bosnian, Bulgarian, Catalan, Cebuano, Czech, Welsh, Danish, German, Greek, English, Estonian, Basque, Persian, Finnish, French, Irish, Galician, Gujarati, Hebrew, Hindi, Croatian, Hungarian, Armenian, Indonesian, Icelandic, Italian, Javanese, Japanese, Kannada, Georgian, Korean, Latvian, Lithuanian, Malayalam, Marathi, Malay, Nepali, Dutch, Norwegian, Punjabi, Polish, Portuguese, Romanian, Russian, Slovak, Slovenian, Somali, Spanish, Albanian, Serbian, Sundanese, Swahili, Swedish, Tamil, Telugu, Thai, Turkish, Ukrainian, Urdu, Uzbek, Vietnamese, Chinese (Simplified), Maltese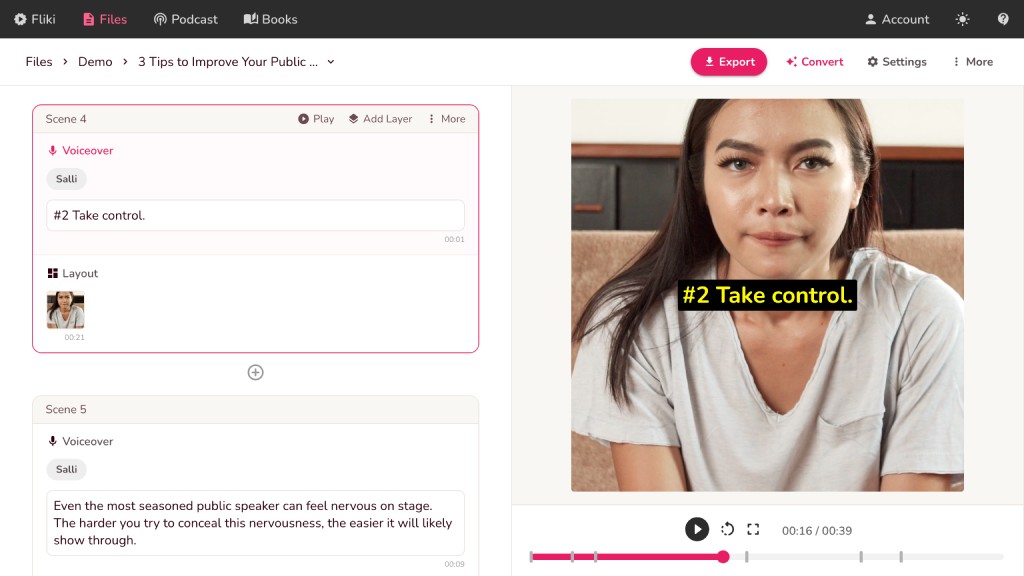 How Has Our Experiences With Fliki AI Voice Been Like So Far?
Our team now utilises this tool on a daily basis, relying on it exclusively for podcast production after discontinuing the use of Rumble Studio. It offers truly exceptional features in our opinion, such as remarkable voices, the ability to incorporate background music, and distinct sections for planning podcasts with different voices. Our overall experience has been exceptional, and the tool has outperformed its competitor, play.ht, in terms of quality, making it the preferred choice.
How Are The Main Features Of Fliki AI Voice?
With this script creation tool, users can easily select a voice and input their text to generate scripts. The tool allows for the creation of dialogue scripts with multiple voices, making it ideal for various applications.
Fliki AI Voice has the ability to transform text into videos with realistic narration. This is particularly useful for creating short news blurbs for platforms like TikTok and YouTube, or for promoting products and services on Instagram and Facebook.
For podcast production, Fliki enables users to generate intro and outro scripts with music and voices. These scripts can be seamlessly added to the beginning and end of podcast episodes. Additionally, users can create different ad reads to promote specific products within their podcast episodes.
Another impressive feature of Fliki is its audiobook functionality. Users can convert their blog posts into spoken word by creating a new book with chapters based on headings. This opens up possibilities for creating audiobooks that can be monetized.
The tool offers a diverse selection of 750+ voices, both male and female, which can be customized to match any project. Users can choose voices in their desired language, select accents, genders, and even styles such as 'Excited,' 'Angry,' or 'Sad.' The availability of child voices further extends the potential for targeting children with audio content, such as toys or children's audiobooks.
Users have access to over 75 languages, allowing them to create video and audio content in multiple languages. This allows users to expand the market appeal and reach of their content very quickly with just a few clicks of the mouse.
Review Verdict: Fliki AI Voice is a legitimate software that works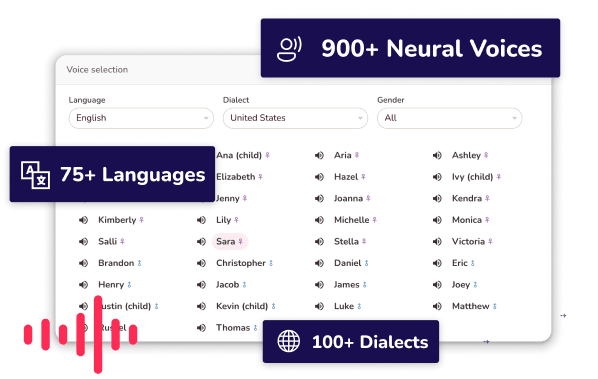 Consumer Alert Regarding Fliki AI Voice
The success of Fliki AI Voice has given rise to many frauds who try to sell their own fake software in its name. This is a big issue as many customers have lost their money in buying from such fake sites. It is advised that customers should be really careful when they are purchasing and should do some research before they buy from any website. To spot these, watch out and avoid sites that claim to write about Fliki AI Voice, yet the write-up is completely garbage as they are created by software and spammed all over the internet. It is always better to avoid buying from any other site other than the official one. Therefore, it is highly advised that consumers do careful research, or only buy from the site from the official website here – http://Fliki.AI/VoiceOfficial (link opens in a new window). The official website that they have includes the legitimate software.
Conclusion about Fliki AI Voice
In summary, we have found Fliki AI Voice to be a highly intuitive, easy to use, and efficient voice generation software. We truly appreciat the text-to-voice feature as the AI-generated voices created sound very natural compared to other AI tools we have used in the past. Hence, if you too are ready to start using one of the most powerful and intuitive AI-voices software with minimal technical knowledge required, then we highly recommend you to learn more about Fliki AI Voice at the button link below!.
Fliki AI Voice Preview: