[insert_php] $id = $_GET["id"]; [/insert_php]
Domain Money DEMO
Domain Money REVIEW
Summary
Domain Money is a new breakthrough active asset management platform for blockchain enthusiasts
Read 100% Free Domain Money Review by Scamorno Team
Details
FULL REVIEW OF Domain Money
Are you currently thinning about investing on the Domain Money platform and does it really offer clients high-quality crypto-centric investing services and a good range of actively management portfolios with varying degrees of exposure to cryptocurrencies? In total, Domain Money offers clients a total of 4 different actively managed strategies to choose from. They are a relatively new cryptocurrency and stocks investment platform that places a lot of emphasis on top-notch security while also making investing easy for all users.
To summarise what Domain Money offers, their team have described their services as "expertly curated strategies, actively managed by the Domain Money Investment team." All 4 risk-tiered strategies that they are offering are all actively managed and even though all the processes feel automated, this is not a robs-advisor service. Their strategies are a mix of crypto and stocks, with the most aggressive being 100% crypto while the most conservative one containing 100% stocks.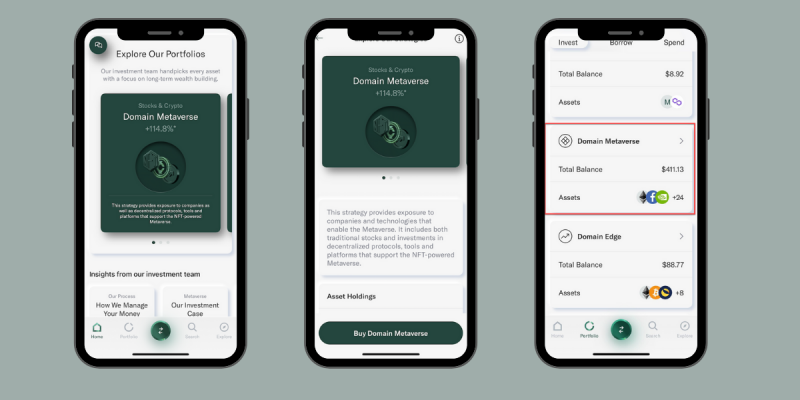 What Are The Main Features That Are Available Or Upcoming On Domain Money?
Today, Domain Money also supports stocks, crypto and ETF investing. More amazing and powerful features can be expected to allow clients to leverage their portfolios to borrow capital or increase the returns on their investment portfolio. Three of these upcoming features that are being developed and expected to be released soon include the following:
This is Domain Money's crypto rewards credit card that is expected to allow clients to earn crypto cash-back rewards. In addition, it is expected to allow clients to spend funds directly out of their accounts, and more information like APR and reward rates can be expected in a later date.
This feature is similar to what staking and lending platforms offer by allowing clients to deposit and earn passive income on their crypto holdings.
This feature is expected to allow clients to increase leverage on their portfolios by allowing the borrowing of up to 40% of their portfolios. This is similar to what several robo-advisors such as Wealthfront are offering, hence giving consumers more choices when it comes to portfolio leverage.
What Is The Minimum To Get Started On Domain Money And Is It Right For You?
For a self directed account, the minimum is $5 while the minimum for a managed portfolio is $100. Unlike the traditional actively-managed alternative investment fund, Domain Money does away with all the high barriers of entry typically associated with such investments, which typically means that only hedge-fund type investors are able to access. Instead, Domain Money provides similar types of services and gives access to the retail investor to help them grow and compound their wealth more efficiently.
With such a wide variety of managed portfolios available, all of which have different risk-reward profiles, Domain Money can be seen to as suitable and accommodating to investors of all risk-tolerances and timelines. Clients who are new to intermediate and active cryptocurrency investing have found Domain Money's active management services very helpful in getting started on crypto investing, allowing them to invest in coins that are suited to their profiles and needs. While they do charge fees for their professional management services, we have found their professional guidance to be very well worth the money and provide great value especially for the less or no-experience cryptocurrency investors.
Review Verdict: Domain Money is a legitimate platform that works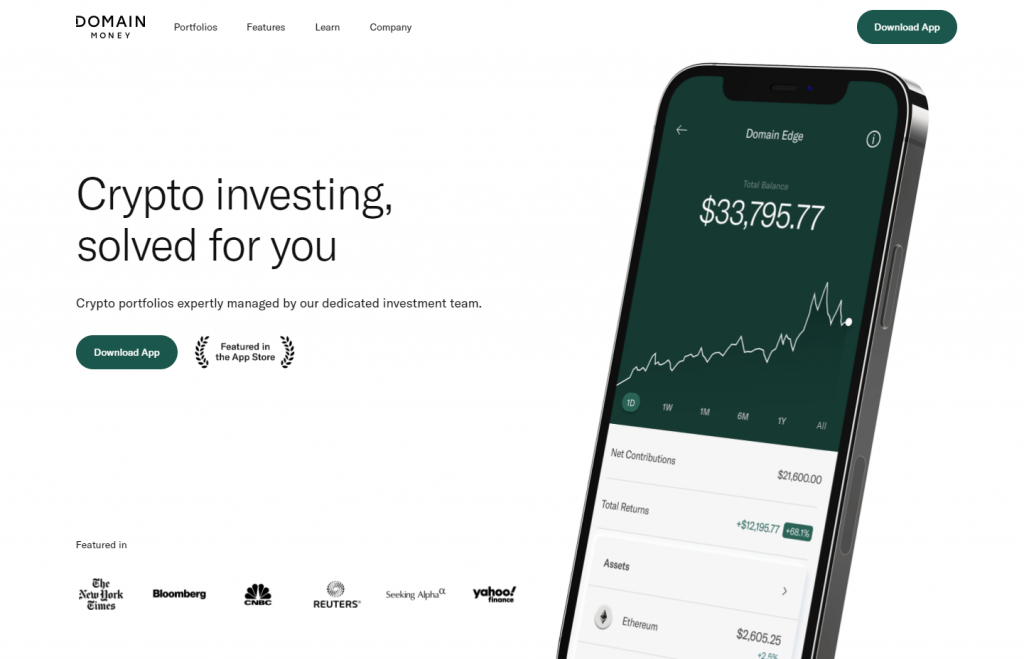 Consumer Alert Regarding Domain Money
The success of Domain Money has given rise to many frauds who try to sell their own fake platforms in its name. This is a big issue as many customers have lost their money in buying from such fake sites. It is advised that customers should be really careful when they are joining and should do some research before they buy from any website. To spot these, watch out and avoid sites that claim to write about Domain Money, yet the write-up is completely garbage and unreadable as they are created by software and spammed all over the internet. It is always better to avoid buying from any other site other than the official one. Therefore, it is highly advised that consumers do careful research, or only buy from the site from the official website here – http://try.DomainMoney.com/Official (link opens in a new window). The official website that they have includes the legitimate platform.
Conclusion about Domain Money
Domain Money Preview: (to pause video, simply tap/click on it)