[insert_php] $id = $_GET["id"]; [/insert_php]
Copy AI Copywriting DEMO
Copy AI REVIEW
Copy AI Copywriting Preview: (to pause video, simply tap/click on it)

Summary
Copy AI Copywriting is a new breakthrough AI-driven brainstorming and writing software
Read 100% Free Copy AI REVIEW by Scamorno Team
Details
FULL REVIEW OF Copy AI Copywriting
Are you currently thinking about using the Copy AI Copywriting tool and is it really one of the best tools for entrepreneurs and marketers to use to start collaborating more effectively and working faster to create more amazing content in much less time? Nowadays, there are more and more artificial intelligence (AI) writing tools with Copy AI Copywriting being one of the latest ones. While we were generally not very impressed with previous other softwares that we have tried, Copy AI Copywriting has so far proven to be very useful in generating high-quality content automatically.
Essentially, this too is driven by the GPT-3 language model and is built to be easy-to-use and conveniently accessible over the web. Instead of simply producing run-of-the-mill content, Copy AI Copywriting is able to distinguish content intent such as marketing copy, slogans and punchy headlines etc. to create the perfect style of content that sound natural and fits with the right context.
Review Verdict: Copy AI Copywriting is a legitimate software that works
Visit Copy AI Copywriting Website
What Kind Of Content Does Copy AI Copywriting Software Make And Who Is It Built For?
The types of content that this software can created can be generally summed up into the following 5 categories:
Google Ads, Social media posts and ads that can be used on major platforms including Facebook, Instagram, Twitter and LinkedIn ads etc.
Product descriptions that are perfectly suited for e-commerce stores
Sales copies for use on websites
Email copies for enhancing email open and click rates
Website copies for posting on blog outlines, posts, meta descriptions and more
Copy AI Copywriting is built specially for users to generate high-quality content for their landing pages, websites, sales-letters, social media and email marketing. For anyone looking to save time and speed up their content creation and copywriting processes, whether it be a digital marketer or online business owner, this software has proven that it can be a huge time-saver.
How Does Copy AI Copywriting Rate Across The Following Criteria?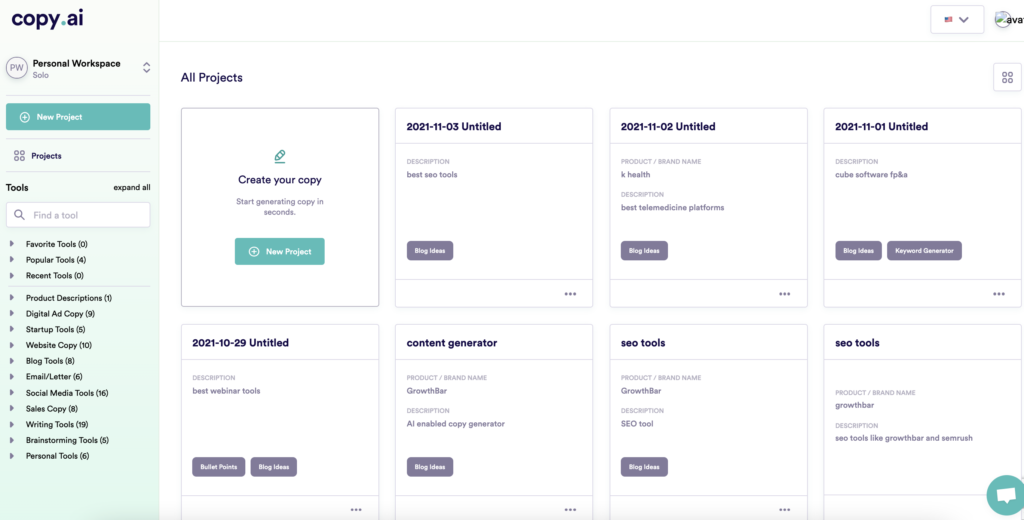 Simplicity is one of the main aspects of this tool that we really liked. As can be seen above, everything necessary is just one-click away on the left-hand side with text-generation options that is clearly organised and split into different industry sections.
Most of the content suggestions that we get through Copy AI are usually very engaging and catchy, though you do need to check and make sure to weed out the occasional irrelevant / inaccurate content.
Copy AI Copywriting has one of the most accurate plagiarism features that we have used. In fact, most AI writing software do not even feature plagiarism check functions as they are usually reserved for tools such as Grammarly, yet we were pleasantly surprised to find one in Copy AI Copywriting, and a good one at that.
This extension allows users to work simultaneously with Gmail and Google Docs tools to streamline their work processes. If you are like us and hate switching between multiple tabs and wasting much time in the process, then this plugin is definitely going to be very appealing to you.
Review Verdict: Copy AI Copywriting is a legitimate software that works
Visit Copy AI Copywriting Website
Consumer Alert Regarding Copy AI Copywriting
The success of Copy AI Copywriting has given rise to many frauds who try to sell their own fake software in its name. This is a big issue as many customers have lost their money in joining from such fake sites. It is advised that customers should be really careful when they are subscribing and should do some research before they join any website. To spot these, watch out and avoid sites that claim to write about Copy AI Copywriting, yet the writeup is completely garbage as they are created by software and spammed all over the internet. It is always better to avoid buying from any other website other than the official one. Therefore, it is highly advised that consumers do careful research, or only buy join the site from the official website here – http://Copy.AI/CopywritingOfficial (link opens in a new window). The official website that they have includes the legitimate software.
Conclusion about Copy AI Copywriting
In summary, the Copy AI Copywriting software is definitely a huge time-saver and high-quality AI content generator that is able to create amazing content for many different scenarios. Users are able to use it for a wide variety of purposes like webpage copywriting, creating social media ad copy and even for email marketing content creation. So far, it is really looking like the perfect AI content generator with all the features that users want that has been lacking in the marketing world for so long. Hence, if you too would like to start getting more great content at 10x the speed using AI technology, then we highly recommend you to learn more about Copy AI Copywriting at the button link below!