[insert_php] $id = $_GET["id"]; [/insert_php]
Wealthy Agency REVIEW
Summary
Created online agency expert Jamie Lewis
Wealthy Agency is a new breakthrough online agency creation training program
Read 100% Free Wealthy Agency Review by Scamorno Team
Details
FULL REVIEW OF Wealthy Agency
Are you searching for more information about the newly released training program called Wealthy Agency and you are interested to know more about whether this agency training program truly works? Once you get past the salesy, hyped-up marketing tactics on the main sales-page, at the heart of it is a legitimate business model you could actually make money with.
Does that mean we think you're going to make $100,000+ per month from day 1? Absolutely not! But you could get there eventually if you follow the Wealthy Agency strategy and work at it consistently over time.If you'd like to learn how to set up your digital service-based outsourcing agency then give Wealthy Agency a shot.
How Does Wealthy Agency Work?
If you sign up for $29 to Jamie Lewis' Wealthy Agency training course you're essentially going to be learning about how to start your own digital freelancing agency.
You'll be earning money taking on jobs from clients by offering services like:
Website creation and development
Logo design
Social media ad campaigns
Don't worry though, as you will not have to know how to do any of this yourself because you'll be outsourcing these tasks by hiring online freelancers to do this for you.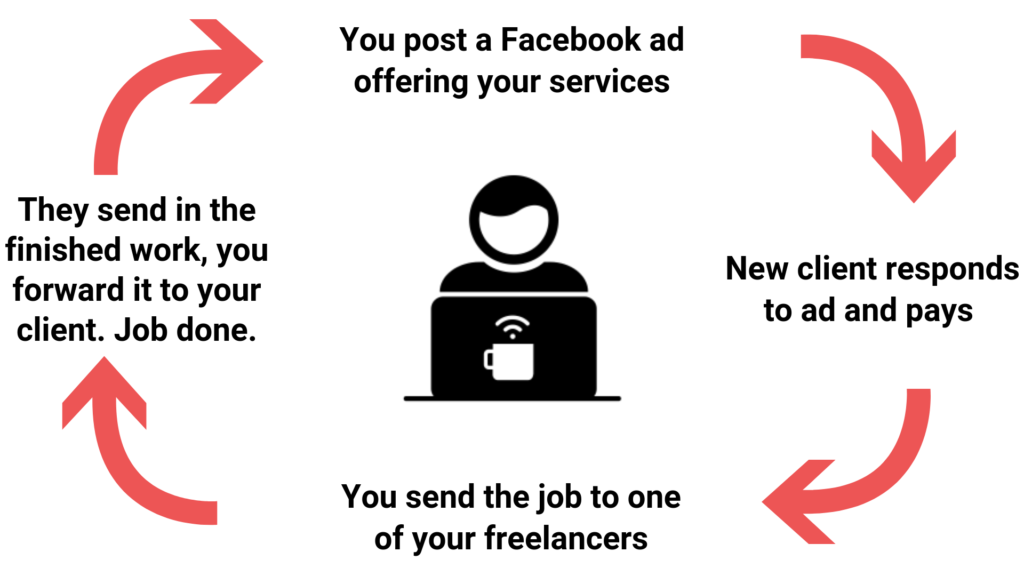 Jamie's training will take members through exactly how to look for clients, primarily by running Facebook ad campaigns, and how to outsource the work through sites like Upwork.com and Freelance.com, which effectively means that you are acting as a middleman.
Every single Clickbank product we have ever reviewed have upsells that come with it. Personally, upsells are a pet peeve of mine because we believe there should not be a need for upsells if the product is strong enough to stand on it's own.
The sad fact is, upsells are primarily a way for the product owner and promoters to get more money out of you.
Wealthy Agency has 3 upsells which amount to $677 in total:
UPSELL 1: WEALTHY AGENCY OUTSOURCE SUITE – $279
With this upgrade you will get Jamie's behind-the-scenes to get his exact ad templates that he uses to find outsourcing agents as well as tutorials on how to agree the right prices and screening applicants to make sure you only hire the best workers.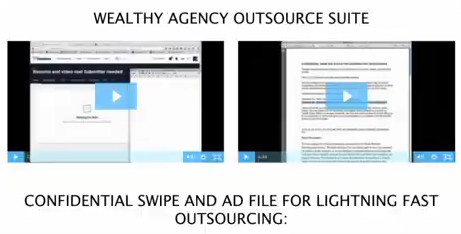 UPSELL 2: WEEKLY TRAINING CLASSES – $149
This upsell gives members an 'all-access pass' to Jamie Lewis' weekly teaching webinars so they can get ongoing training. In a radio show style format Jamie usually invites special guests and runs live Q&A sessions.
UPSELL 3: WEALTHY AGENCY BUSINESS IN A BOX – $249
This is a 2GB zip file of Jamie's done-for-you (DFY) Facebook ad campaigns and additional training videos. Now of course these upsells are completely optional, but in all honesty we think that you are going to want the Wealthy Agency Outsource Suite to have a decent chance of success at this.
v
Does Wealthy Agency Really Work?
As we said before, becoming a service outsourcer is certainly a legitimate path to start making money online. There will always be online entrepreneurs and companies who require a website building for them, or a logo designed or a Facebook page made.
There are a lot of sites out there that have people willing to perform these kinds of jobs for a reasonably low price (we use them all the time) and so if you can get good at finding clients and being the go-between then there is definitely income earning potential.
Review Verdict: Wealthy Agency is a legitimate program that works
Consumer Fraud Alert Regarding Wealthy Agency
The success of Wealthy Agency has given rise to many frauds who try to sell their own fake programs in its name. This is a big issue as many customers have lost their money in buying from such fake sites. It is advised that customers should be really careful when they are purchasing and should do some research before they buy from any website. To spot these, watch out and avoid sites that claim to write about Wealthy Agency, yet the write-up is completely garbage as they are created by software and spammed all over the internet. It is always better to avoid buying from any other site other than the official one. Therefore, it is highly advised that consumers do careful research, or only buy from the site from the official website here – http://WealthyAgencyOfficial.com/ (link opens in a new window). The official website that they have includes the legitimate program.
Conclusion about Wealthy Agency
In our opinion Wealthy Agency is legit, but we still think it's crazy to expect to make $100,000 a month, especially as a beginner. Maybe (and we emphasise maybe!) after building up a list of clients and expanding your outsourcing team, you can get to this level of income after 2-3 years of consistent hard work, but certainly not before then. So if you have the patience to build up a legitimate online agency business, you will definitely want to learn more about Wealthy Agency at the button link below!
Wealthy Agency Preview: