True Forex Funds Review
Summary
True Forex Funds Prop Firm is an established and reputable proprietary funds trading broker
Read 100% Free True Forex Funds Review by Scamorno Team
Details
FULL REVIEW OF True Forex Funds Prop Firm
Are you currently thinking about joining the True Forex Funds Prop Firm and are they really a legitimate prop trading firm for trading a wide variety of assets including indices, Forex, oil, metals and cryptocurrencies? From our first exploration of True Forex Funds, we have found that the firm  facilitates a straightforward introduction into prop firm utilization for trading. We also found the support, user-friendly interface, and reliability of True Forex Funds to be exceptional, contributing to the establishment of high standards in the industry. Today, they are widely acknowledged as an industry leader when it comes to prop firm trading.
Regarding the withdrawal process, we found it to be both uncomplicated and reliable, with nothing to complain about. This positive experience adds to our overall favorable impression of True Forex Funds, portraying them as a leader in the industry, offering a seamless and reliable platform for those entering the world of prop firm trading.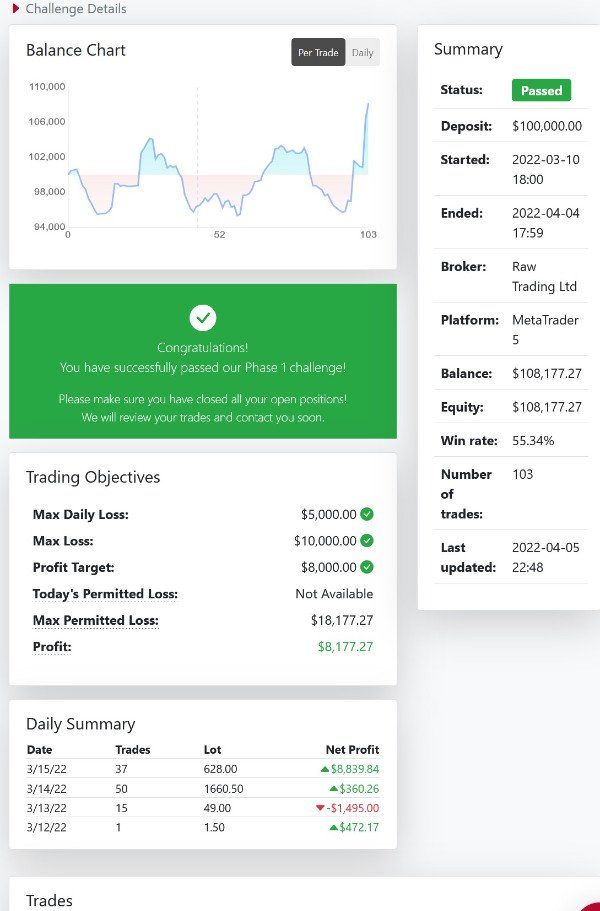 Visit True Forex Funds Prop Firm Website
What Are The True Forex Funds Rules?
True Forex Funds FAQ
Is True Forex Funds Prop Firm Legitimate?
The legitimacy of True Forex Funds (TFF) is affirmed, with a burgeoning reputation in the prop trading world. Despite being relatively new to the prop trading scene, TFF has garnered trust through numerous verified payouts and a commendable standing among prop traders.
Can Anyone Join True Forex Funds Prop Firm, Including Americans?
True Forex Funds welcomes participants from diverse backgrounds, including Americans, and currently boasts a global presence with traders from 110 different countries.
Does True Forex Funds offer discounts or promo codes?
When it comes to discounts or promo codes, TFF typically does not offer them; however, any future promotions will be promptly shared.
How do you pass the True Forex Funds Prop Firm's evaluation?
The evaluation process to secure a funded trading account with TFF involves a two-phase assessment. The first phase necessitates achieving an 8% profit within 30 days, adhering to a 5% daily loss limit and a 10% overall loss limit. The second phase extends a 60-day period to attain a 5% profit target, with the same loss limits in effect.
What trading platforms can you use with True Forex Funds Prop Firm?
For trading platforms, TFF currently operates exclusively on MT4 and MT5, with plans to integrate cTrader in the upcoming months.
Is True Forex Funds Prop Firm regulated?
While True Forex Funds is not regulated, a common characteristic among prop trading firms offering funded accounts, they operate outside the broker/dealer classification.
What can I trade with True Forex Funds Prop Firm?
In terms of tradable assets, TFF offers a diverse portfolio, including 30 stocks, 28 cryptocurrencies, 13 equity indices, metals, energies, and a variety of CFDs, in addition to 40 currency pairs.
How do I contact True Forex Funds Prop Firm?
Contacting True Forex Funds is facilitated through various channels. Headquartered in Hungary, they offer live chat support on their website 24 hours a day, five days a week. Additionally, they can be reached via email at support@trueforexfunds.com or through traditional mail at Bajcsy-Zsilinszky út 27, 3rd floor office, 9021, Győr, Hungary.
If I violate the trading objectives do I get a second chance?
TFF extends second chances exclusively to profitable traders who fall short of profit targets but remain within trading rules and loss limits.
Consumer Alert Regarding True Forex Funds Prop Firm
The success of True Forex Funds Prop Firm has given rise to many frauds who try to sell their own fake prop firm challenges in its name. This is a big issue as many customers have lost their money in joining from such fake sites. It is advised that customers should be really careful when they are joining and should do some research before they join from any website. To spot these, watch out and avoid sites that claim to write about True Forex Funds Prop Firm, yet the write-up is completely garbage and unreadable as they are created by software and spammed all over the internet. It is always better to avoid joining from any other site other than the official one. Therefore, it is highly advised that consumers do careful research, or only join from the site from the official website here – http://TrueForexFunds.com/PropFirmOfficial (link opens in a new window). The official website that they have includes the legitimate platform.
Read more "True Forex Funds Review – What Are The True Forex Funds Rules And Is It Legit?"