[insert_php] $id = $_GET["id"]; [/insert_php]&r=gen
SurveySparrow DEMO
SurveySparrow REVIEW
Summary
SurveySparrow is an established amazing surveys builder tool
Read 100% Free SurveySparrow Review by Scamorno Team
Details
FULL REVIEW OF SurveySparrow
Do you want to find out more about the SurveySparrow tool and does it really help users to build highly-engaging, mobile-first surveys that offer visitors surveys with chat-like experiences? The first question we asked is how SurveySparrow is different from other survey tools out there and the unique-value proposition that it delivers. It turns out that SurveySparrow is a unique survey-builder that is capable of building chat-like surveys that increase their completion rates by 40%+.
At SurveySparrow, users get access to an end-to-end omni-channel experience management platform that comes with Employee and Customer Experience Tools like Offline, NPS, Classic and 360° surveys designed to be user-friendly, highly-engaging and mobile-first. It is capable of turning classic surveys into dynamic, conversation-type surveys that asks one question at a time, which is a proven way of increasing their completion rates.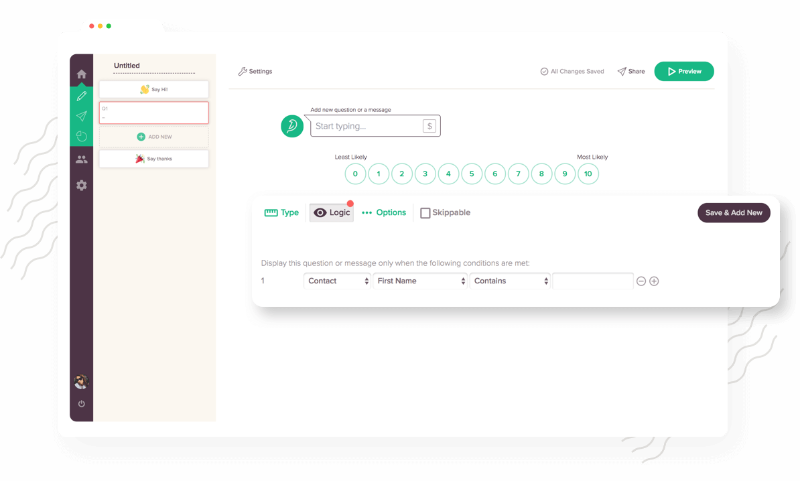 Is SurveySparrow Right For You?
The truth is that SurveySparrow can be used across many different departments in a company / organisation. For example, marketers can use it to get ideas and valuable insights from clients, while customer support can use it to get feedback on the quality of support that they are getting.
In all the past with other survey-making tools, we have found them to be very clunky and difficult to get enough visitors to respond and provide feedback to our surveys. This meant that the time that we spent on creating and designing our surveys were wasted, and if you don't want that to happen to your surveys, then you will definitely want to consider using SurveySparrow to make sure your surveys do not get neglected. To improve response rates even further, all surveys are provided in a mobile chat-like interface which typically gets people more interested because it is just like they were texting a family or friend.
What Are Some Of The Features Of The Surveys Created With SurveySparrow?
Users can leave responses after each survey response, giving them another outlet to provide you and your business with valuable feedback
Use different types of display logic like branching to personalise your surveys further
Options to distribute your surveys over different channels like social media and email platforms
Analyse survey results by downloading and analysing responses through Excel and CSVs formats
Personalise each survey with unique links to keep track of responses
and much more!
Consumer Fraud Alert Regarding SurveySparrow
The success of SurveySparrow has given rise to many frauds who try to sell their own fake platforms in its name. This is a big issue as many customers have lost their money in joining from such fake sites. It is advised that customers should be really careful when they are joining and should do some research before they join from any website. To spot these, watch out and avoid sites that claim to write about SurveySparrow, yet the write-up is completely garbage and unreadable as they are created by software and spammed all over the internet. It is always better to avoid joining from any other site other than the official one. Therefore, it is highly advised that consumers do careful research, or only join from the site from the official website here – http://SurveySparrow.com/Official (link opens in a new window). The official website that they have includes the legitimate platform.
Continue reading "SurveySparrow Review – Is SurveySparrow Legit?"