[insert_php] $id = $_GET["id"]; [/insert_php]
Civil Templates REVIEW
Summary
Civil Templates is a new breakthrough civil engineering templates platform
Read 100% Free Civil Templates Review by Scamorno Team
Details
FULL REVIEW OF Civil Templates
Are you currently thinking about joining and using the Civil Templates platform, and does it really provide the best templates available online for civil engineers? Civil Templates platform serves as the primary hub for an extensive collection of Project Management document templates and forms designed for application in various Construction and Civil Engineering Projects. The platform consistently introduces fresh templates and boasts a library of over 400 premium project management templates, forms, and reports.
Irrespective of whether one operates as a General Contractor or a Sub-contractor within a specific trade, Civiltemplates.com provides a comprehensive array of resources to efficiently oversee and manage all aspects of their projects. The platform is committed to ongoing development, continually expanding its repository of document templates, forms, and reports to cater to the evolving needs of project professionals.
Civiltemplates.com prides itself on offering user-friendly solutions, sans the complexities of software, lengthy application forms, or the necessity for trial period subscriptions. All the templates provided are accessible in widely used formats such as Excel, Word, and PowerPoint for maximum convenience and ease of use.

What Are The 6 Different Types Of Civil Templates Available?
All project management documents, forms, and templates provided by the platform are meticulously pre-configured and readily accessible for use in Excel, Word, or PowerPoint. The repository includes a diverse selection of templates, which can be effortlessly downloaded, customized, and promptly employed in various business applications.
Project Management Templates (48 Templates): This comprehensive package encompasses a wide array of templates dedicated to Project Management and Productivity. It encompasses forms, reports, schedules, checklists, and more.
Quality Control Templates (38 Templates): The Quality Control Templates package features resources for effective Quality Control Management. It offers templates for QC Plans, Inspection reports, record sheets, method statements, and other pertinent documents.
Planning and Scheduling Templates (33 Templates): This package caters to planning and scheduling needs. It includes templates for management plans, progress reports, WBS schedules, risk registers, program templates, and more.
SHE Templates (51 Templates): The Health and Safety Templates package focuses on Health Safety Environment documentation, providing templates for QC Permits, Notices, Inspection reports, checklists, and related documents to ensure a secure and compliant work environment.
Procurement / Buying Template (35 Templates): The platform offers a range of procurement and buying templates, encompassing various essential resources for project procurement analysis. These templates include tracking forms, purchase orders, procurement processes, and guidelines, among other tools necessary for efficient procurement management.
Geotechnical Templates (22 Templates): There is a selection of Geotechnical templates, consisting of 22 templates tailored for geotechnical engineering requirements. These templates cater to engineering tests, soil investigation tests and logs, soil analysis tests, and forms related to road works. The package also includes checklists and measurement templates to support geotechnical endeavors effectively.
Review Verdict: Civil Templates is a legitimate templates platform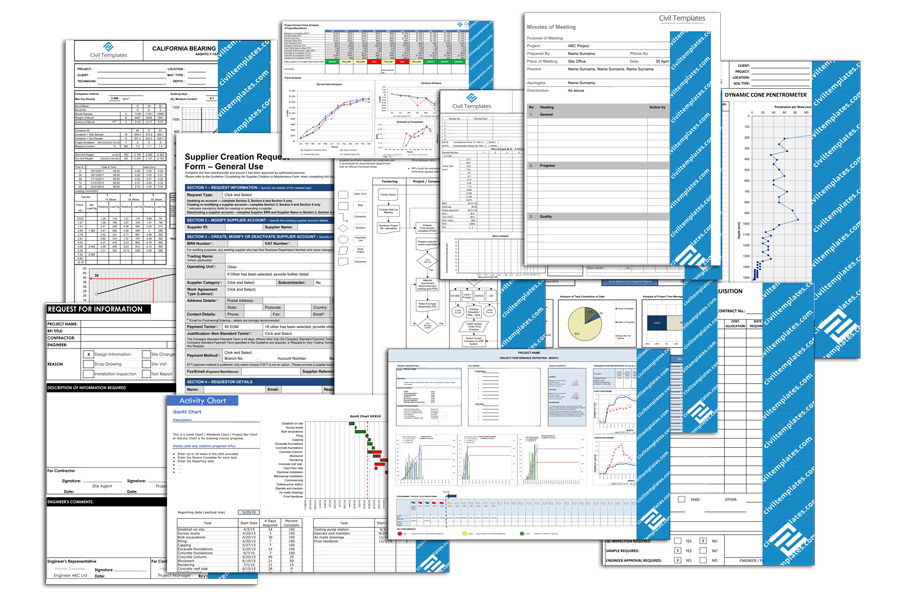 Consumer Alert Regarding Civil Templates
The success of Civil Templates has given rise to many frauds who try to sell their own fake templates in its name. This is a big issue as many customers have lost their money in buying from such fake sites. It is advised that customers should be really careful when they are purchasing and should do some research before they buy from any website. To spot these, watch out and avoid sites that claim to write about Civil Templates, yet the write-up is completely garbage and unreadable as they are created by software and spammed all over the internet. It is always better to avoid buying from any other site other than the official one. Therefore, it is highly advised that consumers do careful research, or only buy from the site from the official website here – http://CivilTemplates.com/Official (link opens in a new window). The official website that they have includes the legitimate templates platform.
Conclusion about Civil Templates
Read more "Civil Templates Review – Is Civil Templates Platform Legit?"