[insert_php] $id = $_GET["id"]; [/insert_php]
Acebeam X75 Flashlight DEMO
Acebeam X75 Flashlight REVIEW
Summary
Acebeam X75 Flashlight is an established and reputable high output and extremely bright flashlight
Read 100% Free Acebeam X75 Flashlight Review by Scamorno Team
Details
FULL REVIEW OF Acebeam X75 Flashlight
Are you looking for more information about the Acebeam X75 Flashlight and is this really a legitimate high-output bright flashlight that lives up to its claims? Acebeam offers a range of options within the X75 series, with the most formidable in terms of luminous output, boasting an astonishing 80,000 lumens at a color temperature of 6500K. Remarkably, there is no typographical error in the number of zeroes; this powerhouse indeed emits a staggering 80,000 lumens.
This impressive illumination emanates from 12 CREE LED chips, each contributing over 6500 lumens individually. Thanks to precision reflectors, the light is skillfully directed over a wide 90° angle, casting a central spotlight and achieving a maximum range of 1150 meters.
Visit Acebeam X75 Flashlight Website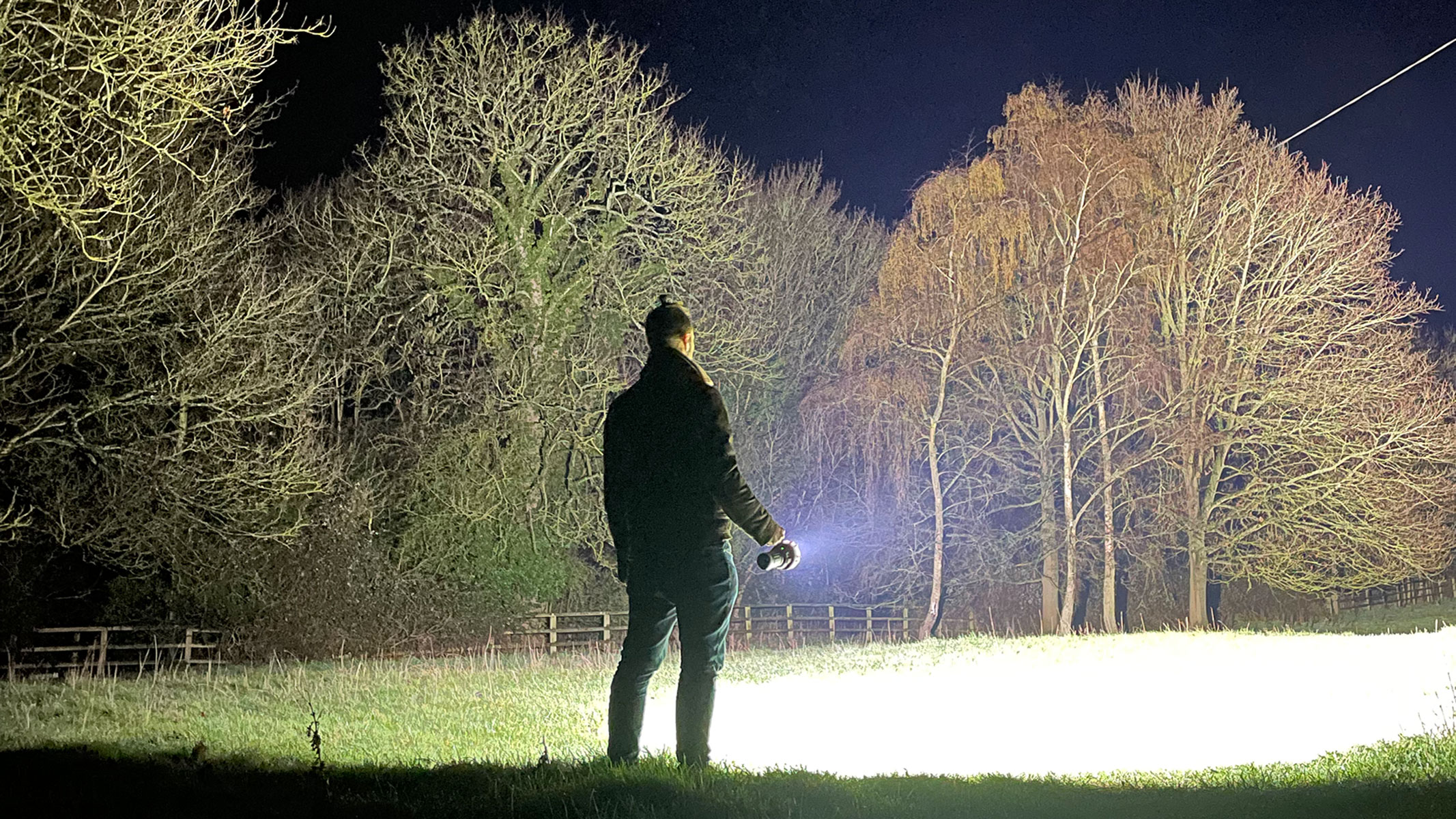 What Are The Different Modes On The Acebeam X75 Flashlight?
The device offers various modes to cater to different needs. Here's a breakdown of these modes at their highest levels:
Turbo: 80,000 lumens with a reach of 1150 meters.
High: 23,000 lumens with an impressive range of 622 meters.
Medium High: 11,000 lumens, extending up to 415 meters.
Medium Low: 5,000 lumens, providing illumination across 300 meters.
Low: 2,000 lumens, casting light up to 207 meters.
Switching between these modes is a straightforward process. To initiate the mode switch, users should power on the light using the lower of the two buttons and hold it down until the desired mode is activated. The upper button is designated for engaging the turbo mode. Simply press and hold it to access the maximum output and release when it fulfills your lighting requirements.
What Is The Acebeam X75 Flashlight's Battery Specifications?
The flashlight is equipped with a rechargeable Lithium-Ion battery pack (4 x 21,700), ensuring sufficient longevity for most applications. For instance, it can reliably support a three-hour night hike without approaching the battery's end, assuming that the most potent setting is not frequently activated. Activation of the highest setting, however, will lead to a considerably faster battery drain.
The device is reputed to possess waterproof capabilities, with an IP rating of IP68 that indicates it can withstand submersion up to two meters underwater. While the device hasn't undergone testing to confirm this claim, it has been tested in rainy conditions without encountering any operational issues.
For users intending to utilize the device for extended periods exceeding four hours, certain challenges may arise. The limited battery life requires on-the-go charging. Unfortunately, the design of the flashlight and the placement of the charging port make charging during outdoor activities unfeasible. Charging the battery involves unscrewing the base and connecting a USB-C cable, requiring proactive charging before venturing out. To mitigate the risk of being left without light, it's advisable to carry a backup flashlight if you anticipate approaching the battery limit.
Is The Acebeam X75 Flashlight Worth It?
The Acebeam X75 Flashlight casts a powerful beam of light across a field, illuminating distant trees and the fence line in the foreground.
At a price point of approximately $400, acquiring the world's most potent flashlight may seem extravagant to some. However, the sheer intensity and capability of this device can justify the investment, especially if one frequently ventures out in rural areas after nightfall. Whether it's for nighttime walks or activities like dog walking, the Acebeam X75 Flashlight offers peace of mind, ensuring one remains visible and secure in low-light conditions. Conversely, for individuals with less need for such extreme luminosity, exploring more cost-effective alternatives may be a prudent choice.
Review Verdict: Acebeam X75 Flashlight is a legitimate high-output bright flashlight
Visit Acebeam X75 Flashlight Website
Consumer Alert Regarding Acebeam X75 Flashlight
The success of Acebeam X75 Flashlight has given rise to many frauds who try to sell their own fake flashlights in its name. This is a big issue as many customers have lost their money in buying from such fake sites. It is advised that customers should be really careful when they are purchasing and should do some research before they buy from any website. To spot these, watch out and avoid sites that claim to write about Acebeam X75 Flashlight, yet the write-up is completely garbage and unreadable as they are created by software and spammed all over the internet. It is always better to avoid buying from any other site other than the official one. Therefore, it is highly advised that consumers do careful research, or only buy from the site from the official website here – http://Acebeam.com/X75FlashlightOfficial (link opens in a new window). The official website that they have includes the legitimate flashlight.
Conclusion about Acebeam X75 Flashlight
Read more "Acebeam X75 Flashlight Review – Are Acebeam Flashlights Any Good?"