At scamorno.com, we stick to strict standards of a review process. We may receive compensation from the companies mentioned in this post.
[insert_php] $id = $_GET["id"]; [/insert_php]
M1 Finance DEMO
M1 Finance REVIEW
Summary
M1 Finance is a new breakthrough hybrid brokerage and robo-advisor
Read 100% Free M1 Finance Review by Scamorno Team
Details
FULL REVIEW OF M1 Finance
Do you wish to learn more about M1 Finance and is it really the future of the robo-advisor sector? Founded in 2015, M1 Finance provides services such as Asset Management, Investing, Lending and other financial services. Today, they are a company that also maintains a preset portfolio allocation for its users, and automates monthly deposits for them.
M1 Finance allows trading on all modern platforms. They provide both iOS and Android applications for fast download, and also allows members to trade in their web-based dashboard.
How Can M1 Finance Help You?
M1 Finance is a platform that is programmed with investment strategies that match different profiles of its users. Therefore, once you have signed up and provided your personal information, you will then be suggested investment categories based on your own profile. In the platform, you will also be able to view each security's price history, past performance, expense ratios and other information.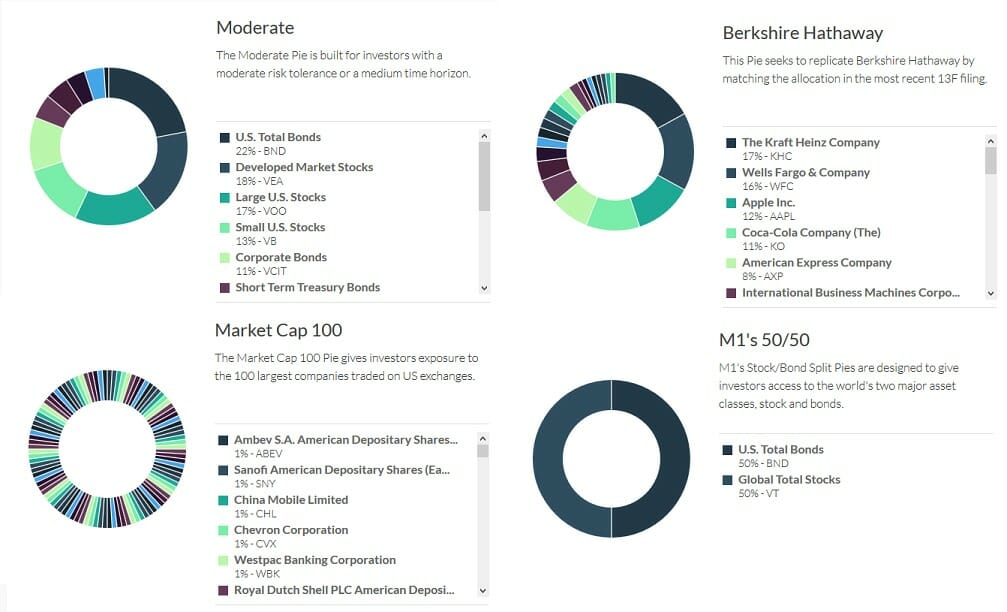 After you have been offered the suggestions, you can still reallocate and customise your portfolio again by making your own adjustments. There are dozens of other pre-built pies that users are allowed to choose from.
Review Verdict: M1 Finance is a legitimate platform that works
What Are Some Features Of M1 Finance?
Low Starting Requirements: At M1 Finance, the minimum amount to get started with is just $100, making it a great choice for beginner and young investors who do not have a lot of capital. The retirement accounts on the other hand will require at least $500.
Zero management fees and commissions: This is a feature that makes M1 Finance much less costly than other robo-advisors, as its ETFs and stocks can all be traded for free.
Fractional Shares: Every dollar you have can be invested, meaning you can buy a fraction of a share instead of one whole share if there is not enough capital left to buy a whole share, allowing you to maximise every dollar you have invested
Individual ETFs and Stocks: This platform allows you to trade anything that is currently traded on the US stock exchanges, and offers a wide range of more than 1,900+ ETFs to trade.
Tax-Efficient: The platform automatically calculates for you the best way to sell your shares that minimise your tax liability. For example, the longest-term gains are sold first before the short-term gains, and losses are sold first to offset future gains.
Recurring Deposits Option: Simply link your bank account to M1 Finance and you will be able to invest without manually logging in every single time.
Customisable Portfolio: Take full control of your own investments by making full use of robo-advisor technology
One-click portfolio rebalancing: If and when your investment portfolio's pie becomes too skewed in certain assets, you can simply click one button and M1 f Finance will automatically rebalance it again back to its optimised ratios.
Automatic Dividend Reinvestment: Set a level so that once your dividends hit that level, they are automatically reinvested again
Retirement Account Options: If you have an old retirement account with an employer, M1 Finance automatically helps you roll it over into their platform. They offer both IRA and Roth IRA options for their retirement accounts.
Fast Deposits: Deposits made into the platform is usually available within 1 business day, which is much faster than most other platforms that we have tested.
Trial Before Using: New users can create their portfolios first and test every feature before they link it to their bank accounts and transfer real money into it, simply by providing a email and password to get access
M1 Borrow: This feature allows users to borrow at a low interest rate up to 35% of their account balances
Tax Software Integration: M1 Finance easily integrates into other tax software such as H&R Block and TurboTax, providing a much more complete snapshot of the finances at any given time.
Review Verdict: M1 Finance is a legitimate platform that works
Consumer Fraud Alert Regarding M1 Finance
The success of M1 Finance has given rise to many frauds who try to sell their own fake websites in its name. This is a big issue as many customers have lost their money in joining from such fake sites. It is advised that customers should be really careful when they are joining and should do some research before they join from any website. To spot these, watch out and avoid sites that claim to write about M1 Finance, yet the write-up is completely garbage and unreadable, as they are created by software and spammed all over the internet. It is always better to avoid buying from any other site other than the official one. Therefore, it is highly advised that consumers do careful research, or only join from the site from the official website here – http://M1Finance.com/Official (link opens in a new window). The official website that they have includes the legitimate platform.
Conclusion about M1 Finance
In summary, this platform has proven itself to be the right choice for anyone looking to automate their savings for as little cost as possible while using tapping into the power of robo-advisors. Its best value-add in the industry is its investor-profile analysis and expert portfolio pre-allocation features that make it so useful and convenient for M1 Finance users. Therefore, if you too would like access such a smart money management platform with the most intelligent financial solutions around, then we highly recommend you to learn more about M1 Finance at the button link below!
LEARN MORE ABOUT M1 Finance HERE!