[insert_php] $id = $_GET["id"]; [/insert_php]
GreenGeeks Hosting DEMO
GreenGeeks Hosting REVIEW
Summary
GreenGeeks Hosting is an established green web hosting platform
Read 100% Free GreenGeeks Review by Scamorno Team
Details
FULL REVIEW OF GreenGeeks Hosting
Are  you interested to learn the truth about the GreenGeeks Hosting company, and do they really deliver on their promises having 99.9% uptime and 100% customer satisfaction? This is a web-host that was founded by Trey Gardner in the year 2008 and today is hosting more than 300,000+ websites all around the world with data centers in the US, Netherlands and Canada.
What Are The Benefits Of Using GreenGeeks Hosting Services?
If you are someone who cares about the environment and would like to play your part in conserving while still getting access to a great web-host, then GreenGeeks Hosting is one web-host that you have to find out more about. This company has a 300% power offset with renewable energy, provides great value-for-money hosting services and provides a ton of unique and innovative features that we have seen in the web-hosting space. Certainly, when it comes to green energy hosting, GreenGeeks Hosting is miles ahead of every other web-host out here.
The average website today generates 4,500 pounds of CO2 per year, which is the same as driving a new average car more than 10,000 miles, as Web Neutral Project founder Jack Amend has calculated. Yet, environmental concerns are, alarmingly, not high on the list of priorities of web-hosts. GreenGeek Hosting's technology is not just carbon-neutral, but it is in fact carbon-reducing. This means that for every amperage that they pull from the grid, they actually invest 3x that amount in the form of renewable energy through the Bonneville Environmental Foundation. Hence, there is actually incentive to get more and more web-hosts with the GreenGeek Hosting's movement.
Review Verdict: GreenGeeks Hosting is a legitimate web-host that works
Visit GreenGeeks Hosting Website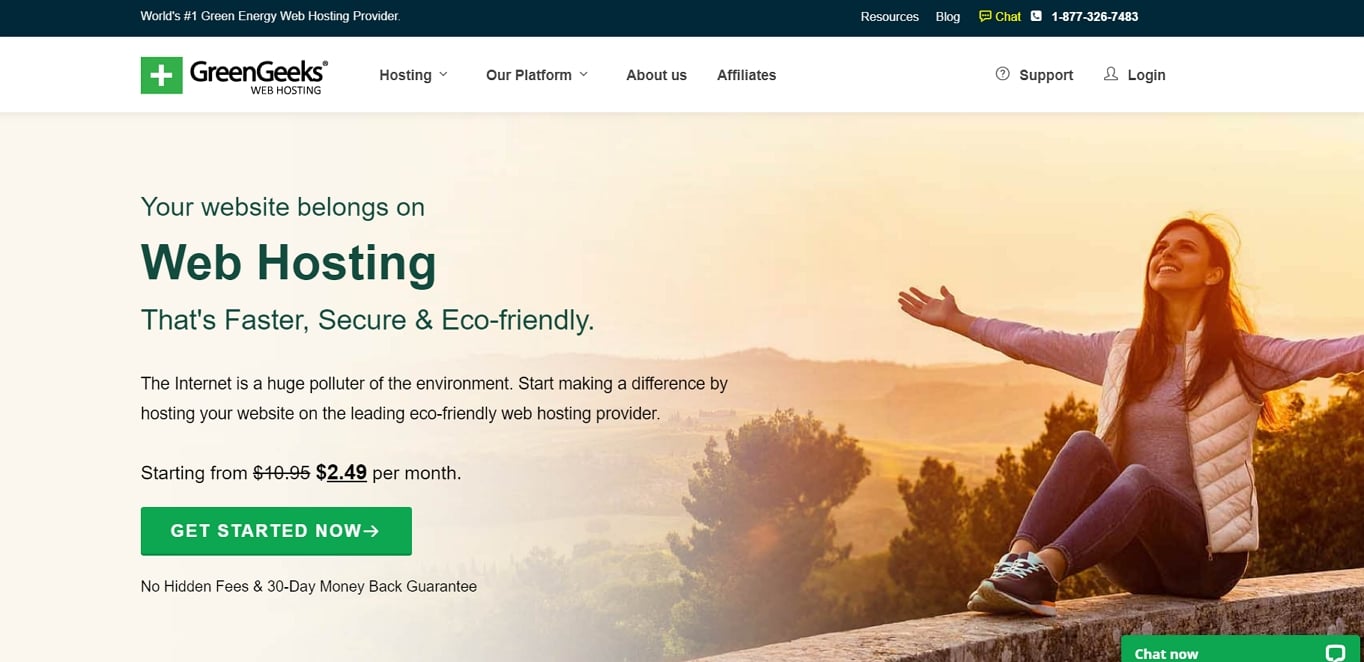 Does GreenGeeks Live Up To Their Reputation Of Delivering Fast Website Load Speeds?
From our own experiences, we have found that our sites hosted on GreenGeeks achieve some of the fastest website load speeds out of all the sites that we have. GreenGeeks are constantly innovating and implementing new technology to keep themselves in the lead when it comes to fast website load speeds. These include the following:
SSD Hard Drives: Your site's files and databases are stored in SSD hard drives, which are faster than HDD (Hard Disk Drives).
Fast Servers: When a site visitor clicks on your website, the web and database servers deliver content up to 50 times faster.
CDN Services: Use the free CDN services, powered by CloudFlare, to cache your content and deliver it fast to site visitors.
Built-in Caching: They use customized, built-in caching technology.
HTTP/2: For faster page loading in-browser, HTTP/2 is used, which improves client-server communication.
PHP 7: As one of the first to provide PHP 7 support, they make sure you are taking advantage of the latest technologies on your website too.
Is GreenGeeks Customer Support Any Good?
From our interactions with the customer support agents, we have found them to be very friendly and always willing to assist us with any issues we have, whether they are technical, billing or sales related. All their hosting packages come with 24/7/365 customer support through live chat, phone (for USA and Canada users) as well as email for free. On top of that, there are already hundreds of video tutorials and articles ready made that solve practically every situation that have been encountered before, and can be found by doing a simple search through their database.
Review Verdict: GreenGeeks is a legitimate web-host that works
Other Features You Can Expect To Find In GreenGeeks:
The sitebuilder and theme installer if you're using the website builder
The ever-popular Softaculous software one-click installer
cPanel account migration
Enhanced security options
Video tutorials on everything related to hosting
Database performance tweaks
Search engine submission and SEO tools
Polls and survey software
Form generators
Magento, osCommerce, and PrestaShop shopping carts
What Are The Hosting Plans That Come With GreenGeeks?
GreenGeeks hosting plans generally fall under 3 packages: Ecosite Starter, Ecosite Pro and Ecosite Premium.
| Features | Ecosite Starter | Ecosite Pro | Ecosite Premium |
| --- | --- | --- | --- |
| Storage / Bandwidth | Unlimited | Unlimited | Unlimited |
| Addon Domains | Unlimited | Unlimited | Unlimited |
| CPU Cores | 2 | 2 | 3 |
| Memory | 384 MB | 512 MB | 1024 MB |
| Dedicated IP | $48/year | $48/year | $48/year |
| Disk I/O | 4 MB/sec | 10 MB/sec | 20 MB/sec |
| Signup (12-mo) | $4.95/mo | $7.95/mo | $13.95/mo |
| Signup (24-mo) | $3.95/mo | $6.95/mo | $12.95/mo |
| Signup (36-mo) | $2.95/mo | $5.95/mo | $11.95/mov |
Their premium plan hosting plan accounts are put on servers with few customers and they also come with added features like more Memory, CPA and Resources.
Review Verdict: GreenGeeks is a legitimate web-host that works
Consumer Fraud Alert Regarding GreenGeeks
https://www.youtube.com/watch?v=8QR6ofZ6DYM
The success of GreenGeeks has given rise to many frauds who try to sell their own fake services in its name. This is a big issue as many customers have lost their money in joining from such fake sites. It is advised that customers should be really careful when they are joining and should do some research before they join from any website. To spot these, watch out and avoid sites that claim to write about GreenGeeks, yet the write-up is completely garbage and unreadable, as they are created by software and spammed all over the internet. It is always better to avoid buying from any other site other than the official one. Therefore, it is highly advised that consumers do careful research, or only join from the site from the official website here – http://GreenGeeks.com/Official (link opens in a new window). The official website that they have includes the legitimate web-host.
Conclusion about GreenGeeks
In summary, we have found GreenGeeks to have lived up to their reputation of being a great web-host with friendly and professional staff, a great business model for conserving energy for web-hosts, easy-to-use and feature-rich hosting technologies and tools that make them one of the best web-host companies around today. They are highly suitable for anyone looking for a stable web-host that checks all the boxes when it comes to what a good web-host should be. Hence, if you too would like to start using the more secure, eco-friendly and faster web-host in the industry today, then we highly recommend you to learn more about GreenGeeks at the button link below!
GreenGeeks Preview: (to pause video, simply tap/click on it)