[insert_php] $id = $_GET["id"]; [/insert_php]&r=gen
Brand24 DEMO
Brand24 REVIEW
Summary
Brand24 is an established cloud-based marketing solution
Read 100% Free Brand24 Review by Scamorno Team
Details
FULL REVIEW OF Brand24
Do you want to find out if the Brand24 platform is right for you and will it really help you monitor mentions about your business online while also helping you find new business and leads? Brand24 has been a very useful platform for us to track and analyse online conversations about specific brands, clients, competitors and products that can be selected by the user. today, thousands of agencies and brands of all sizes and industries are using Brand24 to monitor these conversations and make sure they get respond quickly to the most critical ones.
Through Brand24, we now have a user-friendly, affordable and highly effective public relations solution. It effectively does various tasks like tracking our campaign results, monitor online reputation, stopping PR crises, creating brandable PDF reports in just seconds, finding cooperation opportunities to help us get more coverage, and so much more!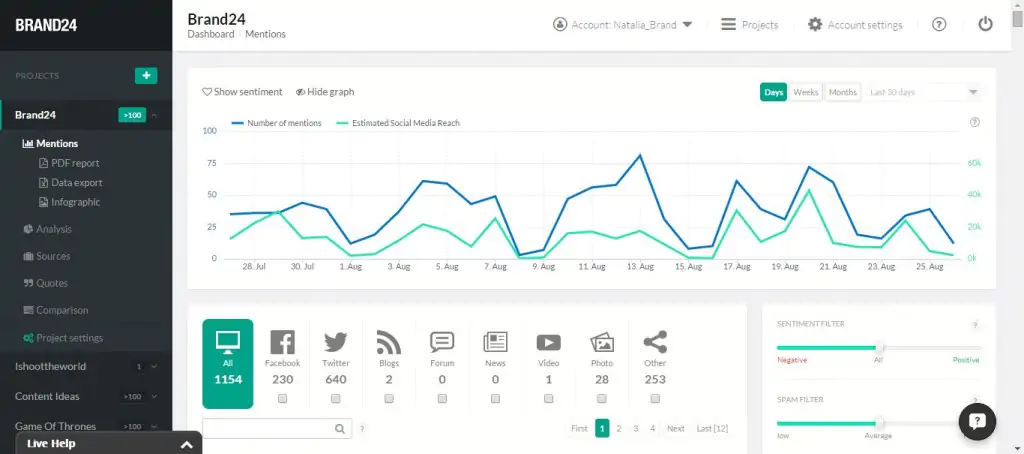 How Can You Start Using Brand24?
Basically, everything that can be done on Brand24 are instantly accessible through its dashboard as shown above. All that is needed is to press on the "plus" sign on the left-side navigation to set up a project to monitor right away. Once done, the user will end any one of the 4 different social data types (brand/company, competitor, sales leads or specific hashtag or topic they wish to monitor).
After this, the user will enter a keyword to create the project, along with additional keywords for narrowing the monitor's results. Under the Premium plan, users will be abl eto work with 10 keywords that include both excluded and required keywords in order to refine the data.
Is Brand24 Right For You?
If you are currently looking for the best way to start identifying and analysing online conversations about your products, brands and competitors on the internet, then Brand24 is certainly something that you have to find out more about. It prides itself on being a reliable and simple social media monitoring solution, and so far has lived up to its reputation of being one of the best.
With Brand24, users get to track and assess all their marketing campaigns, manage online reputations, get customer feedback, track the competition, do social selling and more. It also helps get customer insights, reveal what is being said about a business online, find new sales leads, engage communities, reach out to influencers, boost social customer service levels, monitor the competition, and everything else required maintain a brand's prestige and good reputation online.
Consumer Fraud Alert Regarding Brand24
V
The success of Brand24 has given rise to many frauds who try to sell their own fake platforms in its name. This is a big issue as many customers have lost their money in joining from such fake sites. It is advised that customers should be really careful when they are joining and should do some research before they join from any website. To spot these, watch out and avoid sites that claim to write about Brand24, yet the write-up is completely garbage and unreadable as they are created by software and spammed all over the internet. It is always better to avoid joining from any other site other than the official one. Therefore, it is highly advised that consumers do careful research, or only join from the site from the official website here – http://Brand24.com/Official (link opens in a new window). The official website that they have includes the legitimate platform.
Brand24 Preview: (to pause video, simply tap/click on it)