[insert_php] $id = $_GET["id"]; [/insert_php]&r=gen
10xBNB REVIEW
Summary
10xBNB is a new breakthrough short-term rentals business setup blueprint
Read 100% Free 10xBNB REVIEWS by Scamorno Team
Details
FULL REVIEW OF 10xBNB
Are you currently thinking about joining the 10xBNB training course and does its strategy of short-term rentals and bed-flipping really work to turn Airbnb into a lucrative business? This is a training course that is showing aspiring entrepreneurs how to build their own 6-figure Airbnb businesses through a strategy that its founders call bed-flipping. It is for anyhow who is serious about maximising their successes and making massive profits from Airbnb hosting.
At the core of the 10xBNB course is its main system known as The Perfect Host System. This system is designed to help members eventually replace 100% of their monthly incomes with the profits that they can make from bed-flipping with Airbnb. The strategy can be broadly dissected into 3 broad steps that anyone can seamlessly set-up and scale. These 3 parts are known as: #1 Bed Flipping, #2 Retail Arbitrage and #3 Ownership.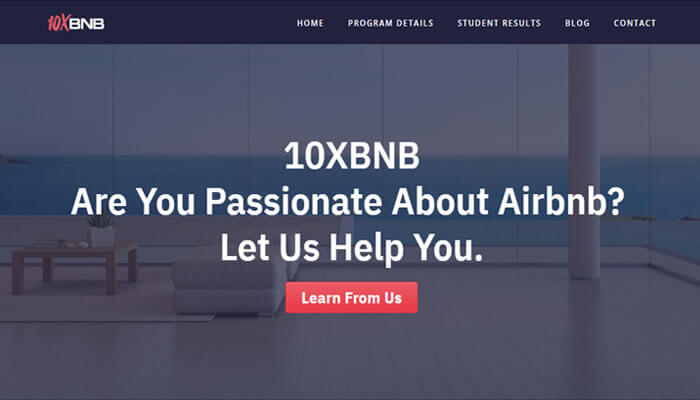 Who Are The Founders Of 10xBNB And Are They Credible?
The coaches behind this course are Shaun Ghavami and his business partner Ari Rahmanian. Both of them do not any of the properties that they are profiting from on Airbnb and have generated more than $1.1 million last year on just one of their Airbnb profiles that has about 45 beds. Both coaches are highly credible in what they teach and have today established themselves amongst the top 0.1% of all Airbnb hosts.
One of the standouts about 10xBNB compared with other Airbnb courses is coach Shaun's promise of working with all students until they achieve a 5-figure semi-passive monthly income at the minimum. So far, they have established the track-records of keeping to this promise for all their students, which explains why 10xBNB is so highly rated by its students. By learning from real experts who are successful at what they are teaching through 10xBNB, students get to ensure they avoid all the most common and costly mistakes of setting up this business, cutting short their learning curves and helping them get to profit in the fastest way possible.
What Is The 10xBNB Price And Is It Worth Joining?
One of the main concerns of prospective students is its high starting cost of $7,000 non-negotiable sign-up fee. While this fee might appear high, the great credibility and profitable Airbnb hosting opportunities that are taught make this fee very good value-for-money. It is also advised that students have realistic expectations as this is not a get-rich-quick scheme but is something legitimate that will require effort and time to set-up.
To reduce the barriers of entry for students are who truly serious about making this their main income sources, 10xBNB is available for sign-up with plenty of funding opportunities and payment options. Currently, 10xBNB has established the track record of helping more than 200+ students achieve more than $100,000 each on their properties by following the strategies covered in this course.
Consumer Alert Regarding 10xBNB
vvv
The success of 10xBNB has given rise to many frauds who try to sell their own fake courses in its name. This is a big issue as many customers have lost their money in joining from such fake sites. It is advised that customers should be really careful when they are joining and should do some research before they join from any website. To spot these, watch out and avoid sites that claim to write about 10xBNB, yet the write-up is completely garbage and unreadable as they are created by software and spammed all over the internet. It is always better to avoid joining from any other site other than the official one. Therefore, it is highly advised that consumers do careful research, or only join from the site from the official website here – http://10xBNB.com/Official (link opens in a new window). The official website that they have includes the legitimate course.
10xBNB Preview: (to pause video, simply tap/click on it)